How Much Does Live Scan Cost?
Live Scan fingerprinting is commonly used for background checks for employment, licensure, volunteer opportunities, and certifications. This a new technology used by private entities and law enforcement to electronically capture both fingerprints and palm prints. All of this is done without the need for paper or ink, as it was done in the past.
How much does Live Scan cost?
When talking about the costs of the Live Scan service, there are two types of fees you should know about. One is the fingerprint rolling fee, which usually is around $25, and the other one is the background investigation fee. This last one is mainly affected by the type of required service (often referred to as the ORI number) and the type of application you have.
When you sum up these two fees, The cost of Live Scan becomes $55 to more than $110 in total. These estimates are based on information pulled from companies and institutions that presented their costs online.
For example, according to a State of California Department of Justice document, the State of California CORI processing fees are anywhere between $25 and $42 and the State and Federal CORI fees start at around $15 and go up to $18.
A notary service in Inglewood, California charges a rolling fee of around $25, plus DOJ and FBI fees, which depend greatly on the reason for the visit. Considering all costs, you will have to pay total government fees that would start at just $35 and go up to more than $120.
In the table below you will find the estimative prices for the types of Live Scan fees required.
| | |
| --- | --- |
| Type of Fee | Price Estimate |
| Child Fee | $20 |
| DOJ Fee for Record Review | $22 |
| DOJ Fee | $37 |
| Rolling Fee | $25 to $35 |
| FBI Fee | $22 |
Live Scan definition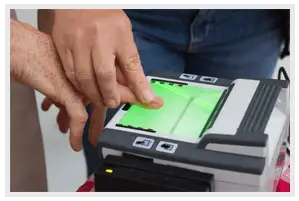 Live Scan is a modern way through which your fingerprints are taken digitally, instead of having them taken using traditional methods like paper and ink. Your fingerprints are digitalized and sent to the Department of Justice, where they are verified for any known criminal record. After that, the agency that requests your fingerprints will receive a response.
You might also like our articles about the cost of fingerprint scanners, becoming a US citizen, or TWIC cards.
In general, the results should be available in three to seven days as long as you don't have a criminal record.
Live Scan fingerprinting process
You will have to go to an approved Live Scan fingerprint location with the specific Live Scan Request Form you received from your entity or employer. There, an operator will introduce the information from this form into the computer. This information must be filled out by the requesting agency and applicant. The Live Scan locations cannot help you with filling it out. Also, you will have to provide picture identification, like a passport or a driver's license.
Once your identity is verified, a Live Scan employee will capture your fingerprints digitally, which will then be sent via a secured data line to the authority that requested the information. After that, you will get two copies of your requested form from the licensed operator. You will have to return one of these to the authority that requested your fingerprints in the first place.
You can visit the NBInformation website to find a Live Scan location.
Check out the Live Scan Process
Important things to consider
Even if you have been fingerprinted in the past, you will have to be fingerprinted again with every new application you receive from an authority. This rule has no exceptions.
You will not receive a copy of your fingerprints at the Live Scan locations. So, they will not supply any hard copies.
The whole fingerprinting process takes up to half an hour, and because of this, some Live Scan locations ask for an appointment. Though, there are locations that accept only walk-ins.
Make sure you contact the Live Scan location ahead of time to ask about your payment options as some will not take credit cards.
Depending greatly on your criminal background history, Live Scan results may take up to seven days.
In case your fingerprints were rejected, you should be allowed to go back to the location you went to in the first place to have your fingerprints taken again for free. Usually, Live Scan fingerprints are rejected for different reasons but, in general, because of the features that are hard to capture like a scar or a cut.
https://www.thepricer.org/wp-content/uploads/2023/05/live-scan-cost.png
380
610
Alec Pow
https://www.thepricer.org/wp-content/uploads/2023/04/thepricerlogobig.png
Alec Pow
2023-05-18 06:22:33
2023-05-13 22:23:55
How Much Does Live Scan Cost?