The Cost of The DeLorean From Back To The Future
Although to everyone's sadness, the DeLorean won't help you travel in time, it is finding its way into the future of sports cars without any flux capacitor or other gadgets.
In the present days, a lot of people continue spending thousands of dollars to have their own DeLorean that resembles the detail to the original one from "Back to the Future" a movie from 1985.
One aspect that makes these cars desirable is the fact that in 1981 to 1982 just 9,000 DeLorean DMC-12 cars have been produced before the company went bust and only 6,500 of them are still available worldwide. They aren't too hard to spot out, with their stainless steel body and gullwing doors.
Everything from full reconstructions to a simple oil change is still handled by DeLorean Motor Co. from Huntington Beach, the current brand owner. Although this brand has always received great attention from the public, as the 30th anniversary of "Back to the Future" gets closer, more and more people look to buy a replica of this iconic care, as Orange County Register states.
The general manager of DeLorean Motor Co., Cameron Wynne, explains his emotional connection to the car by saying that he grew up around DeLoreans his entire life. "I was dropped off to kindergarten in the actual `Back to the Future' car. A DeLorean was my first car at age 16,`Back to the Future' has been a huge part of the business. The car is so well known from a 90-year-old person to a 4-year-old because of that movie. That shows how timeless the car and the brand is."
Also Check Out The Price of a Working Batmobile
All kinds of people get DeLorean replicas, from corporate appearances and movie cameos to newlywed couples that use it as their wedding ride.
One of  DeLorean Motor Co. mechanics, Danny Botkin, has built 6 movie replica cars till now, just by relying on photos that he took while restoring the original "Back to the Future" car. He says that he still gets a lot of requests for replicas, mainly from people that have seen the movie in 1985, when they were children, and now have enough money to afford this luxury.
So how much will you spend on a DeLorean replica?
If you want your own "time-traveling" DeLorean, where you can push a "destination time" button on the control panel or pull a lever to activate the pulsing lights of the time circuit, be prepared to spend around $45,000 for one piece. Military surplus and other equipment like jet engine oil cooler will be used to recreate the replica.
Botkin also said that they never advertised that they build these kinds of replicas, it was just something that people asked for.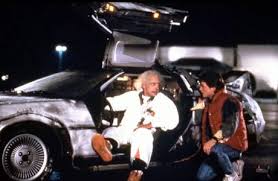 Stephen Wynne, Cameron Wynne's father, was the one that launched the current DeLorean Motor Co.
To do it, he had to buy the remaining parts of the original company. Among these remaining parts were 1,000 gullwing doors, that fill 40,000 square feet of space in a warehouse in Houston, according to Cameron Wynne.
Seven years ago, when DeLorean started to re-build these types of sports cars, they did it by using donor cars that have been stripped and fitted with remanufactured or remaining parts.
Cameron Wynne also said that they get constant requests to take cars from customers that are keeping them in storage for 10, 20, or 30 years and want to get rid of them.
Also Read The Cost of Reupholstering an Old Car
How about the real "Back to the Future" DeLorean? How Much For the Original Car?
Someone already got one of the original DeLoreans used to travel in time in the "Back to the Future" movie trilogy for a whopping $541,000. Yes, that's a lot to pay for a car that "can't even travel in time".
How about our average Joe? Would he afford this luxury?
If you're on an average salary, we wouldn't even think about telling you to get the original. Not even a replica will be worth the hard time you'll face trying to get the necessary funds. If you are a real fanatic and really want a DeLorean of your own, look for a second-hand piece and start rebuilding it yourself. It will be a great experience and will end up costing a lot less. You might have a hard time finding some parts, but in the end, you'll pay a lot less for your desired "time-traveling car".
https://www.thepricer.org/wp-content/uploads/2014/09/company-plans-to-bring-the-delorean-back-to-t-L-eNz0r2.jpeg
380
615
Alec Pow
https://www.thepricer.org/wp-content/uploads/2023/04/thepricerlogobig.png
Alec Pow
2014-09-10 23:35:21
2023-03-21 13:29:31
The Cost of The DeLorean From Back To The Future