How Much Does the Maketewah Country Club Cost?
Located in Cincinnati, Ohio, the Maketewah Country Club is one of the most popular private country clubs in the area. It provides a vast range of family activities and sports, which means it is a great place for members and their whole families.
How much does a Maketewah Country Club membership cost?
The costs of becoming a member of the Maketewah Country Club is somewhere between $5,000 and $13,000 in initiation fees while monthly dues are between $300 and $700 per month depending on the membership you're going for and whether you want to become an equity or non-equity member.
It's always a great idea to get in touch with the club directly before you make any plans, as these prices are periodically subject to change and you want to get the official pricing before you figure out the budget.
There is an additional fee of $45 per month that goes towards food and beverage minimums regardless of the membership type you pick.
The membership options
Regular Golf — This membership level gives you full golf privileges, along with full access to the indoor practice facility, full use of the clubhouse, bowling, and dining privileges.
Junior Golf – This membership type offers similar privileges as the Regular Golf membership but is intended for people between the ages of 21 and 35.
Intermediate Golf – Going for this type of membership will mean that you will get the same benefits and privileges as you'd get from a Regular Golf membership, although it is designed for people between the ages of 36 and 38.
Non-Resident – If you live 45 miles or more from the club, then the Non-Resident membership is designed for you.
Social – A Social Member will be able to rent private bookings and participate in social events. These members will also enjoy dining facilities. You won't get any golf privileges with this membership class.
Corporate – This is a membership for one primary member and five designees. It is mainly used by corporations. With this membership, you get the same options as with the Regular Golf membership.
Golf Cost
If you don't want to pay the membership fees, then you can go for the golf packages at the Maketewah Country Club. Expect to pay between $2,000 and $3,500 per year, depending on how many rounds you want to play. You should also consider around $70 plus gratuity going towards the club's caddie, and this fee is per bag. The card fee is around $25 per round.
Dining Cost
When joining the Maketewah Country Club, will have access to several dining options. The club offers a bar and grille and a snack bar next to the pool. You can also go to their brasserie for some casual dining, going to the dining room will enable you to enjoy formal dining.
You might also like our articles about the cost of membership at the Firestone Country Club, Scioto Country Club, or Muirfield Village Golf Club.
You will have to spend $45 on food and beverage minimum, a fee that can be spent on purchases at any of the dining options provided by the club.
Maketewah Country Club, Cincinnati overview
The 18-golf course inside the club is very finely manicured and was initially designed by Donald Ross and Tom Bendelow. You can check out the course holes in detail on the official website, on an interactive slideshow.
There are several articles all over the internet with personal views of this course.
Aside from the popular golf course, the club offers other amenities, including four training bays and a dynamic putting green as part of the indoor learning center, a bowling alley, and distinct dining options. Throughout the year, the club offers social events for its members.
What are the extra costs?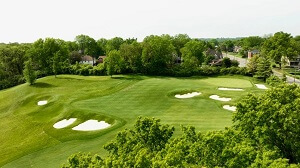 According to Golf Digest, you should expect a weekend green fee of about $87 at the club. This fee will get you a free golf cart. You will only pay this fee if you're a guest or a member without golfing privileges.
Social events are held throughout the year and although you aren't forced to participate, most of those in which you want to take part will be charged a fee.
There are some other costs associated with becoming a member of the Maketewah Country Club, aside from the dining costs, golf packages, and membership fees. There is a maintenance fee of $180 that is paid quarterly and a one-time capital improvement fee of $1,500. Members are also responsible for any charges incurred by their guests while at the club.
Important things to consider

According to recent stats, Maketewah Country Club has the largest number of single-digit handicaps in Ohio.
Maketewah has been used by the USGA for nearly four decades as the site for the U.S. according to OhioGolf.com.
https://www.thepricer.org/wp-content/uploads/2023/09/Maketewah-Country-Club-membership-cost.png
380
610
Alec Pow
https://www.thepricer.org/wp-content/uploads/2023/04/thepricerlogobig.png
Alec Pow
2023-10-02 06:25:23
2023-09-23 08:52:43
How Much Does the Maketewah Country Club Cost?