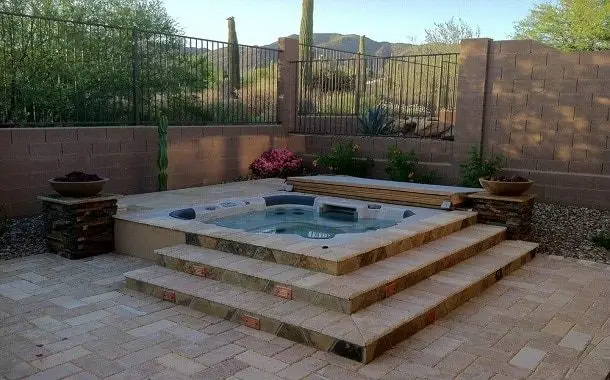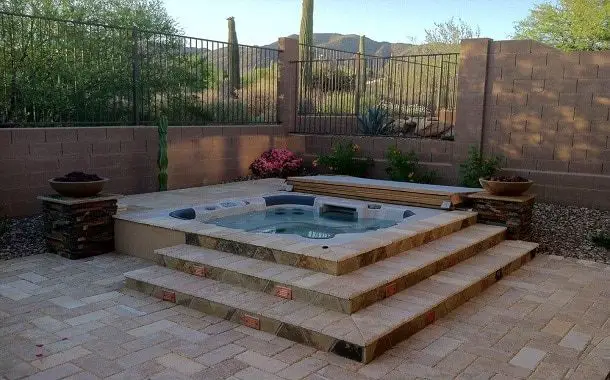 If you are looking around for a hot tub and aren't planning to move anytime soon, an in-ground design is one of the best ways to go. In-ground hot tubs are longer lasting than their above-ground equivalents and provide a more attractive look. They can be integrated into your existing outdoor patio or swimming pool deck and made to match the design of your yard. They will also increase the resale worth of your house if you even decide to sell. An in-ground hot tub does come at a greater expense than an above-ground type, however, it will also provide better quality and a nicer design.
In-Ground Hot Tubs
When hot-tubs were initially invented, many individuals considered them as nothing more than an addition to a swimming pool. However, as time went on and hot tubs received more and more popularity (particularly throughout the 1960s), individuals started to consider them as a standalone product. An in-ground hot tub is a fantastic way to provide your house with some additional design and give yourself a casual and pleasurable way to destress.
Different Types Of In-Ground Hot Tubs
There are 2 main kinds of in-ground hot tub: custom-made and prefabricated.
Custom-made hot tubs are normally made from a kind of concrete called gunite. They will have fewer jets and have basic seating arrangements. They tend to be bigger than premade hot tubs and have an almost unlimited amount of style choices. Generally, ornamental tiles are overlaid on the concrete to offer more comfort and visual appeal.
Prefabricated hot tubs have factory-built shells, typically made from acrylic or stainless steel. While there are various shapes readily available, there are just a few design alternatives in contrast to custom-made spas. Some prefabricated shells come pre-plumbed and can seat approximately 10 individuals.
In-ground hot tubs can also be made from wood, however, this is uncommon. In the 1960s and '70s, wood jacuzzis were rather popular. While they're no longer as popular as they were at some point, wood jacuzzis are making a very small comeback. These designs are readily available as custom-built or prefabricated models.
Just How Much Do In-Ground Hot Tubs Cost?
The expense of in-ground hot-tubs is tough to pinpoint, as aspects such as added capabilities, the brand name, size, and the supplier you buy through will play a role in the final cost. The expense will also vary based upon the kind of jacuzzi you actually get.
You should also read our articles about the cost of a walk-in bathtub, a swimming pool, and the cost to pebble tec a pool.
Custom-made Jacuzzi Costs to Expect
Typically, custom-made in-ground hot tubs cost around $5,000. A custom-made tub can realistically cost as much as your budget plan lets you, however, bigger prices tend to come in at around $15,000.
Prefabricated Hot Tub Costs
Usually more economical than custom-made jacuzzis, the expense of prefabricated in-ground ht tubs averages between $3,000 and $10,000. Any add-ons or additional functions will contribute to this cost. You must prepare an extra $3,000 to $5,000 for installation charges. To offer you an example:
The expense of an in-ground, pre-plumbed hot-tub that seats 3 people starts around $3,000 – $5,000.
The expense of an in-ground, pre-plumbed hot tub that seats 6 people starts around $5,000 – $7,000.
No matter what kind of in-ground hot tub you go for, you have to also consider the cost of upkeep and cleaning. Be ready to spend between $20 and $40 monthly for the electrical energy to run your hot-tub and between $200 and $300 a year on the chemicals to clean it.
Benefits of an In-Ground Hot Tub
An in-ground hot tub is a significant financial investment. They will directly affect the visual appeal of your house, take some time to get built, and come at a bigger cost than above-ground jacuzzis. However, they also give a handful of benefits, such as:
Sturdiness: In-ground hot-tubs are made to last. Whether custom-made or prefabricated, they are made with products developed to handle many years of usage. They are even created with upkeep in mind, making in-ground hot tubs very easy to use, clean, and preserve effectively.
Health: Had a long day? There's no better way to unwind than your in-ground hot tub. Let all of your stress and tension disappear with a good soak. Jacuzzis also provide some hydrotherapy benefits, aiding to overcome pains and discomforts in your muscles or joints.
Design: In-ground hot tubs are seen as the most elegant of the spa alternatives. Able to be personalized to fully fit the aesthetic appeals of your house and yard, in-ground hot tubs offer you the possibility to pick the best suitable for you in a manner that above-ground spas just can't.
https://www.thepricer.org/wp-content/uploads/2020/09/in-ground-hot-tub-cost.jpg
380
610
Alec Pow
https://www.thepricer.org/wp-content/uploads/2023/04/thepricerlogobig.png
Alec Pow
2020-09-30 10:35:47
2022-12-18 22:56:56
In-Ground Hot Tub Cost