Insomnia Cookies Menu Prices
Last Updated on September 27, 2023 | Written by CPA Alec Pow
First Published on August 11, 2022 | Content Reviewed by

CFA Alexander Popivker
Insomnia Cookies is an American bakery chain with more than 200 locations, specialized in serving cookie cakes, brownies, baked goods, and even ice cream. Most of the stores are located near university campuses so students can order something sweet at any point throughout the day.
People just love Insomnia Cookies because their products are served fresh and warm, and on time. In the table below you can find the latest Insomnia Cookies menu prices in order to get an idea of how much you should budget for when you crave some warm cookies.
Food
Size
Price

Deluxe Cookies

Chocolate Peanut Butter Cup
$4.29
S'mores
$4.29
Triple Chocolate
$4.29

Traditional Cookies

Chocolate Chunk
$2.19
Classic With M&M's
$2.19
Double Chocolate Chunk
$2.19
Double Chocolate Mint
$2.19
Oatmeal Raisin
$2.19
Peanut Butter Chip
$2.19
Snickerdoodle
$2.19
Sugar
$2.19
White Chocolate Macadamia
$2.19

Brownies

Chocolate Chip Brownie
$4.19

Cakes

Cake
Mini Cake
$13.79
Cookie Cake
10″
$23.99
Football Cookie Cake
$23.99
Moon Cookie Cake
$23.99
Triple Threat Cookie Cake
$23.99

Ice Cream

Ice Cream
Small
$4.79
Ice Cream
Medium
$6.19
Ice Cream
Pint
$8.19
Ice Cream
Quart
$13.49

Add A Scoop

Cookie With A Scoop
$4.79
Deluxe With A Scoop
$6.39
Brownie With A Scoop
$6.39

Wiches

Bigwich
$6.69
Cookiewich
$6.69
Deluxe Bigwich
$8.89
Deluxe Cookiewich
$8.89

Deals

Delicious Duo
$7.39
Sixpack
$10.19
Sugar Rush
12 Traditional
$19.39
Major Rager
18 Traditional
$27.19
Insomniac
24 Traditional
$35.99
Cookies
50 Cookies
$68.19
Cookies
100 Cookies
$135.69

Beverages

Bottled Water
$2.99
Whole Milk
$4.29
Chocolate Milk
$4.29
Strawberry Milk
$4.29
Brand History
The Insomnia Cookies business idea was created by Seth Berkowitz in 2003 during his studies at the University of Pennsylvania in Philadelphia. He started to bake and deliver cookies from a dorm room to students on campus at late hours. His colleagues loved the taste of these baked goods and the idea of cookie delivery expanded. The next year, in 2004, the first Insomnia Cookies retail store was opened in Syracuse, New York.
You might also like our articles about the prices on the menus of Krispy Kreme, Crumbl Cookies, or Dunkin' Donuts.
Insomnia Cookies is based in Philadelphia and New York and their bakeries are located, in general, close to university and college campuses. Their target customers are students who want to order cookies and ice cream after the closing time of traditional cookie stores.
In March 2021 Insomnia Cookies launched the "Cookie Magic" membership service, which costs around $10 per month. With such a membership you will benefit from free local delivery from Insomnia Cookies stores, a free classic cookie every day, and other advantages.
Over time, the Insomnia Cookies company has expanded all over the United States and in 2016 it opened its 100th store.
The 200th Insomnia Cookies store was opened in June 2021 in Exton, Pennsylvania. Nowadays, there are more than 215 stores situated in various areas of the United States, including Kansas City, Philadelphia, St. Louis, New York City, and Baltimore.
Our review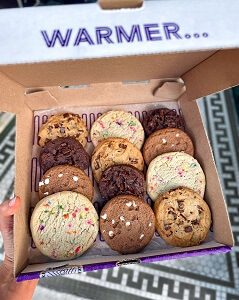 Insomnia Cookies not only delivers cookies and other baked goods, but they have brick-and-mortar locations where you can sit down and enjoy a sweet treat. You can choose between a wide variety of items.
The Insomnia Cookies menu includes around 17 different types of classic cookies, containing a variety of deluxe cookies, gluten-free chocolate chip cookies, and vegan options. Some other products include ice cream sandwiches, cookie cakes, ice cream, milk, and brownies. Moreover, Insomnia Cookie offers milk for every cookie you order.
If Insomnia Cookies is new to you, you should definitely try their chocolate peanut butter and the triple chocolate chunk as these are the customers' favorites. Also, a good choice for parties is their cookie cake, which is a custom-made dessert with different toppings.
The staff in their locations is very friendly and will enlighten your day. They will make sure that every customer will receive their cookies warm along with a glass of cold milk.
Insomnia Cookie FAQs
At what time does Insomnia Cookie open?
Most of the Insomnia Cookie stores open at 09:00 a.m. from Monday until Friday, and at 11:00 a.m. on weekends. But you should check the opening hours of the location you are interested in on their official website.
At what time does Insomnia Cookie close?
In general, Insomnia Cookie stores close at 03:00 a.m. every day. However, it will vary from one location to another and it is recommended to verify which is the closing time of the location you are interested in on their official website.
Why is Insomnia Cookies so special?
Insomnia Cookies is different from other cookie stores because it makes deliveries after midnight and its stores are located close to the university and college campuses.
Who owns Insomnia Cookie?
Insomnia Cookie is owned by Krispy Kreme Doughnut Corp company.
Are Insomnia Cookies overpriced?
Insomnia Cookies products might be a little overpriced, but they are delivered warm and flavorful right at your door, even after midnight. So, they are worth every penny.
How many stores does Insomnia Cookies have?
Insomnia Cookies has more than 215 stores located all over the continental United States. Most of them can be found close to university campuses.
Does California have Insomnia Cookies?
Yes, now you can also find Insomnia Cookies in California.
What type of flour does Insomnia Cookies use?
Insomnia Cookies uses enriched wheat flour to prepare their tasty, delicious cookies.
https://www.thepricer.org/wp-content/uploads/2022/08/insomnia-cookies-menu-prices.jpg
380
610
Alec Pow
https://www.thepricer.org/wp-content/uploads/2023/04/thepricerlogobig.png
Alec Pow
2022-08-11 10:20:39
2023-09-27 20:15:07
Insomnia Cookies Menu Prices