Last Updated on December 9, 2021 | Written by CPA Alec Pow
First Published on August 7, 2021 | Content Reviewed by

CFA Alexander Popivker
John Deere launched its first Gator in the year 1993. Since that time, a few variations and different models of the Gator have been released.
The John Deere Gator is an amazing line of small all-terrain utility vehicles that can handle any situation. These are produced by the John Deer Corporation and manufactured in a variety of configurations and with different features for use on ranches, farms, or worksites rather than as pure off-road vehicles.
How much does a John Deere Gator cost?
From what we could gather, the cheapest John Deere Gators that only come with basic features and no attachments will have a price that starts from $7,500 to $17,000. However, as soon as you start to add attachments, the final price could easily increase by up to 40%. The expected price will usually be dependent on factors like seat capacity, power type, engine power, terrain capabilities, cargo-hauling needs, drive system preference (2WD, 6×4 or 4WD0), and power steering if required.
Reading the table below will give you a better understanding of the difference in price between the top-selling models, so you can budget accordingly:
| Gator Model | Starting Price |
| --- | --- |
| MY17 ProGator 2030A | $29,115 |
| XUV855D S4 | $16,099 |
| XUV825i S4 | $14,759 |
| XUV855M | $14,499 |
| XUV855D | $13,399 |
| XUV855E | $13,399 |
| XUV825M | $13,359 |
| HPX815E | $12,959 |
| RSX860i | $12,299 |
| XUV825E | $12,199 |
| XUV825i | $11,999 |
| XUV590M | $11,799 |
| TE 4×2 Electric | $11,659 |
| XUV590E S4 | $11,599 |
| XUV590i S4 | $11,599 |
| HPX 4×4 Diesel | $11,379 |
| XUV590M S4 | $11,359 |
| XUV625i | $10,859 |
| HPX615E | $10,299 |
| TH 6×4 Gas | $10,249 |
| XUV590i | $9,999 |
| XUV590E | $9,999 |
| XUV560 S4 | $9,739 |
| XUV560E S4 | $9,739 |
| TX 4×2 | $8,279 |
| XUV560E | $8,139 |
| XUV560 | $8,129 |
| TS 4×2 | $7,039 |
With John Deere, finding the right Gator for your needs is as easy as answering a few questions. This will lead to an appropriate product list with corresponding prices – all you have to do now is pick one.
Different types of Gators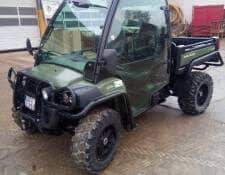 John Deere offers a variety of Gator vehicle options to suit your needs. These include the Work Series, Crossover Utility vehicles, High-Performance, and Military utility models, plus their Turf series for those who need more power in difficult conditions.
The Work Series (TS, TX, TH, HPX) is a modern take on the traditional utility vehicle. They're easy to use, very hard-working, and come in mid-range and full-sized options for your every need.
You might also like our articles about the cost of dune buggies, four-wheelers, or mini excavators.
The Crossover Utility Vehicles (XUV) are a new line of utility vehicles that offer off-road performance with models ranging from mid-sized to full-sized.
The High-Performance service is similar to the Crossover, but they are used for more strenuous tasks. They can handle light hauling and difficult trails with ease.
The Gator also has some Military Utility models, that are perfect for multiple military operations on different terrains.
The last type of vehicle is the one made for Turf Utility, being great for heavier loads and larger projects.
Any additional expenses to consider?
Gator has a wide selection of attachments to choose from for your series. Each one comes with different costs and features that can be added, including roofs, lights, winches, or even snow removal options if you live in the north.
The estimates you can find above don't include delivery fees or taxes, so make sure you ask about those before ordering.
Is there any way to spend less?
eBay is a great place to get deals on used John Deere tractors. Hundreds of models are available at prices 60% less than MSRP which makes it easy and affordable for all people, including farmers with tight budgets or hobbyists looking to start their own farm.
If you're in the market for a new John Deere, then don't forget to check out their official website because they often have special offers and discounts available.
https://www.thepricer.org/wp-content/uploads/2021/08/John-Deere-Gator-cost.jpg
380
610
Alec Pow
https://www.thepricer.org/wp-content/uploads/2023/04/thepricerlogobig.png
Alec Pow
2021-08-07 14:38:33
2021-12-09 12:50:40
John Deere Gator Cost