Kiddie Academy Tuition Cost
Kiddie Academy, a countrywide networked educational-based child care service, provides childcare for families as well as youngsters ranging from 6 weeks to 12 years old, providing multiple program offerings, consisting of full-time, part-time, before, and after-school care.
Recognized as "more than just a daycare," the Kiddie Academy provides days of fun utilizing the essential components of its Life Essentials educational program.
How much does the Kiddie Academy Tuition Cost?
According to the company's main FAQ web page, the tuition will be influenced by each individual location, your kid's age, and also what kind of program your child enlists in (complete vs. part-time). While the main website doesn't especially state the rates, we did discover parents who wanted to share their prices through third-party websites online.
As an average, based upon this example registration form, the one-time enrollment/application charges appeared to be in the $150 per kid or $250 per household range, whereas the yearly non-refundable re-registration was kept in the same range too. Additionally, at the time of registration, a down payment of about $200 per kid was also charged which can later be applied to future tuition payments.
For the regular monthly tuition, the costs, again, will depend upon your geographical location, the kind of program you join, and also your child's age. Based on these aspects, costs might vary anywhere from as low as $400 for a part-time program to as much as $1,200+ for a full-time program. Remember, these are just averages we sourced from the internet and should be used as an estimate only. For exact prices, we do urge you to call a local place as they will give you prices based on your own situation, either over the phone or through email.
Also read our articles about the cost of Mathnasium, daycare, and a nanny.
On a DCUrbanMom forum thread, for instance, one parent claimed she paid $1,400 a month for her three-year-old's full-time program, while another said she paid upwards of $1,500 per child.
One testimonial on Yelp noted they were quoted $75 a day for drop-in prices and $180 a week for two days a week, whereas another customer on the very same review page specified she paid $800 monthly for three days a week.
Program and Average Regular monthly Expenses (depending on age)
Full-Day Program – 2 days: $800
– 3 days: $850
– 4 days: $950
– 5 days: $1,200
Part-time Program – 2 days: $400
– 3 days: $425
– 4 days: $500
– 5 days: $600
Before- or After-school Care – around $25 a day each
Drop-in – around $75 a day
KEEP IN MIND: These are averages only and discounts may be offered if you sign up more than one child. As each place is franchise-owned, your results will certainly vary.
Extra costs to be ready for
A late charge of around $30 will be added if the tuition was not paid on schedule, with the deadline written in the enrollment form.
A late pick-up charge of around $5 will be included every five mins after the academy closes.
Kiddie Academy educational program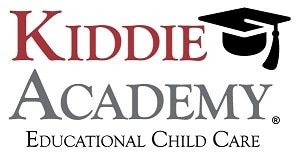 The educational program at the Kiddie Academy for younger individuals concentrates on 6 areas of development: cognitive, interaction, psychological, fine motor, gross motor as well as social abilities. For older kids, added focuses consist of language arts, literacy mathematics, scientific research as well as gross motor and also social abilities, social and emotional abilities, and also personality education and learning. STEM, according to the company's educational program page, will certainly be integrated throughout the company's Life Essentials curriculum plan.
The childcare, right now, supplies the following programs:
Baby (6 weeks to one year)
Toddler (13 to 24 months)
Early Preschool (2 years of age)
Preschool (3 years of age)
Pre-K (4 years of age)
School-Age Programs (5-12 years old)
Summer Camp (2-12 years of age)
Music (every age)
STEM (all ages)
Kiddie Academy locations
AL – Birmingham
AZ -North Phoenix Az
AR – Little Rock
CA – Almaden Valley
CA – Brentwood
CA – Chino Hills
CA – Claremont
CA – Cupertino
CA – Diamond Bar
CA – Fontana
CA – Glendora
CA – Huntington Coastline
CA – Irvine
Carbon Monoxide – Erie
Carbon Monoxide – Parker
CT – Rocky Hill
DE – Middletown
DC – West End
FL – Apopka
FL – Bloomingdale
FL – Boca Raton
FL – Carrollwood
FL – Clermont
FL – Coral Reefs Springs
FL – Gainesville
FL – Lakewood Cattle Ranh
FL – Longwood-Lake Mary
FL – Miami Lakes
GA – Alpharetta
GA – Comming
GA – Dacula
GA – Johns Creek
IL – Algonquin
IL – Arlington Heights
IL – Batavia
IL – Bolingbrook
IL – Carpentersville
IL – Chicago-Lincoln Square
IL – Crystal Lake
IL – Darien
IL – Frankfort
IL – Glenview
IN – Crown Point
IN – Fishers
IN – Fort Wayne
IN – Munster
IN – Southwest Fort Wayne
MD – Abingdon
MD – Arnold
MD – Columbia
MD – Elkridge
MD – Elkton
MD – Ellicott City
MD – Gaithersburg
MD – Hanover
MD – Kent Island
MD – Lanham
MA – Burlington
MA – Cambridge
MA – Framingham
MA – Stoughton
MI – Rochester Hills
MN – Edina
MO – Des Peres
MO – O'Fallon
NE – Elkhorn
NV – Henderson
NH – Windham
NJ – Brick
NJ – Bridgewater
NJ – Cedar Knolls
NJ – Delran
NJ – Eatontown
NJ – Fair Grass
NJ – Florham Park
NJ – Property
NJ – Hamilton
NJ – Hamilton Park
NM – North Albuquerque
NY – Albany
NY – Bethpage
NY – Brightwaters
NY – East Setauket
NY – Farmingdale
NY – Farmingville
NY – Floral Park
NY – Flushing
NY – Greenlawn
NY – Hartsdale
NC – Asheville
NC – Brier Creek
NC- Cary
NC – Charlotte-Blakeney
NC – Fuquay-Varina
NC – Holly Springs
NC – Morrisville
NC – West Cary
NC – Wilmington
OH – Dublin
OH – Gahanna
OH – Hilliard
OH – Lewis Facility
OH – Mason
OH – Powell
OH – Reynoldsburg
OH – West Chester
OH – Westerville
PA – Center Valley
PA – Collegeville
PA – Cranberry Township
PA – Feasterville
PA – Harleysville
PA – Hilltown
PA – Horsham
PA – Langhorne
PA – Montgomeryville
PA – North Pittsburgh
SC – Five Forks
TN – Franklin
TN – Nolensville
TX – Aliana
TX – Allen
TX – Alliance
TX – Cave
TX – Bryan
TX – Canyon Springs
TX – Castle Hills
TX – Clear Lake
TX – University Terminal
TX – Cypress
VA – Alexandria
VA – Ashburn
VA – Centreville
VA – Gainesville
VA – Leesburg
VA – Midlothian
VA – Moorefield Station
VA – North Springfield
VA – Reston
VA – South Riding
WA – Bellevue
WA – Bothell
WA – Kenmore
WA – Kirkland
WA – Lacey
WA – Mill Creek
WA – Redmond
WA – Renton
WA – Seattle at Queen Anne
WA – Vancouver– Fishers Touchdown
NOTE: Accurate as of 2020.
Tips to remember
Not all areas provide specific programs, and the franchise business motivates you to get in touch with a local place to see which alternatives are available.
A lot of locations, based on the FAQ, do use webcams, enabling parents to see their kids throughout the day.
Since each area is independently owned, make sure to look into the testimonials as they do seem to be mixed. Some places have outstanding rankings, whereas other places have lower-than-average scores in comparison to other childcare businesses in the area.
https://www.thepricer.org/wp-content/uploads/2020/08/kiddie-academy-cost.jpg
380
610
Alec Pow
https://www.thepricer.org/wp-content/uploads/2023/04/thepricerlogobig.png
Alec Pow
2020-08-31 08:41:42
2023-02-28 23:10:26
Kiddie Academy Tuition Cost