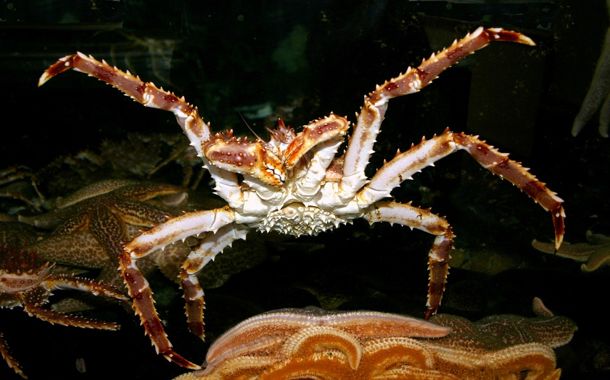 Referred to as the real "king" of the Alaskan waters, king crab is known for its meaty legs and claws, however, although it's the king of the Alaskan waters, it can also be seen along the coasts of Russia, South America, and Japan. These crabs are known for their size, tender breast meat, and every day, fishermen risk their lives bringing home a catch.
Just how much does king crab cost per pound?
Typically, you should be ready to spend anywhere from $30 to $55+ per pound. This cost will depend upon the time of year, the size of the crap, where you live, and where you're acquiring it from. On the east coast, for instance, the expenses might be easier to take than cost someone who resides in the middle of the United States would have to face.
You might also like our articles about the cost of a Walmart fishing license, fiberglass boat repair, or the price of an airboat.
At Costco, for instance, you can buy a 10-pound box for around $300, while Sam's Club offers one-pound bundles for about $35 per pound.
ChowTimes has written a guide where they talk about how you should purchase an Alaskan king crab. According to the short article, the offseason rate would be around $30 per pound, and with each crab weighing approximately 5 pounds, your expense might be somewhere close to $150. Nevertheless, throughout the AKC season, which is usually from late February to late March, the rates might drop to as low as $10.
King crab details
When buying king crab, it will be graded in sizes that show the number of legs it will have in a 10 pounds container. The number 9/12, for instance, will mean there will be 9 to 12 legs in a 10-pound container. You might also see other terms, aside from king, such as large, extra-large, colossal, or even jumbo. While there is no market standard size, according to CaptainJacksAlaska, the size terms utilized by businesses offering jumbo crab legs will be graded by the processors. These sizes will be 6/9, 9/12, 12/14, 14/17, 16/20, 20/24, and 24/+.
There are 3 different types of king crab: the red king, golden king, and blue king, and the name "king" will bring6 all 3 of these types together because of the similar size. According to one Fox News short article, the most valuable is the red king, which can cover over 5 feet and can weigh as much as 24 pounds; nevertheless, the typical weight will be somewhere around 10 pounds. A close 2nd, according to the post, will be the blue king, which is somewhat smaller sized, however, cooked, it can redden, typically looking like the popular red king crab. The tiniest of the 3, the golden king, will be considerably smaller and will also come with the least amount of taste.
King crab season will start on October 15 every year, the time when anglers are lawfully permitted to fish.
King crab bought at local sellers will typically be wild-caught from a natural sea unless something else is specified and should be fully cooked so you can eat it either raw or prepared.
What are the additional expenses?
If bought online, you might need to pay another $10 to $25 in expedited shipping charges.
Tips to keep in mind
If purchasing online, some merchants might need a minimum order. According to our research study, we had actually discovered lots of online seafood markets needed a 3 to a five-pound minimum.
The only crab legally caught in Alaska can be called "Alaskan king crab". If it does not say "Alaskan" on the product label, try to find find out where did the crab come from.
How can you save some money?
Purchasing wholesale at either a local wholesale club or fish market can typically bring the expenses down by as much as $5 to $10 per pound.
https://www.thepricer.org/wp-content/uploads/2021/03/alaskan-king-crab-cost.jpg
380
610
Alec Pow
https://www.thepricer.org/wp-content/uploads/2023/04/thepricerlogobig.png
Alec Pow
2021-03-22 07:37:12
2021-03-22 07:37:12
King Crab Cost