How Much Does Lump Crab Meat Cost?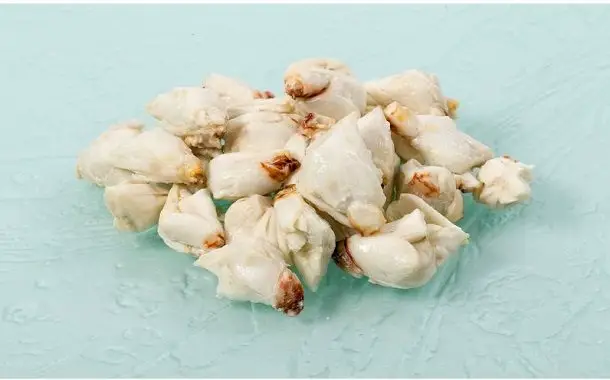 Also known as Backfin meat, lump crab meat is the extra-large portion of meat that is removed from the crab body. Compared to the meat in the crab legs, this meat comes from the heart of the body, which is pretty small in the majority of blue crabs. This meat is very appreciated for its delicate, sweet, and soft taste, and you can find it fresh and pasteurized.
In general, lump crab meat is used to prepare salads, crab cakes, and other pre-made dishes.
How Much Does Lump Crab Meat Cost?
The cost of lump crab meat is anywhere between $15 and $50 per pound, on average. The price is determined by a few factors such as the place you purchase it from, the time of the year, the place where you are living, and how you buy it.
Depending on the retailer and your location, a can of lump crab meat may cost anywhere between $12 and $18 per six-ounce or eight-ounce can.
For example, you can purchase a six-ounce can of the Crown Prince lump meat from Walmart for around $15.

On the other hand, you can purchase lump crab meat in bulk from Amazon.com. For instance, the best-seller Miller's Select Lump Crab Meat retails this product for around $3.5 per ounce.
According to the members of the ChowHound.com online forum, the cost of lump crabmeat at warehouse clubs like Costco or Sam's Club is around $15-$20 a 1 lb tub of lump crab might sell for $15-$20, while at a local seafood market in California, the cost is around $30 per pound.
The fresh seafood markets in Maryland are known for their blue crab meat from the Chesapeake Bay. The typical prices of fresh Maryland crab meat are from $18 to $28 per pound for lump meat and $25 to $40 per pound for jumbo lump meat.
At restaurants, entrées featuring lump crab can run $25-$40.
You might also like our articles on the cost of blue crabs, crab legs, or King crabs.
Lump crab meat vs jumbo lump crab meat
You can find two types of "lump" meat on the market: lump and jumbo lump. The lump crab meat is a mix between special grade crab meat and broken pieces of jumbo lump, while the jumbo lump crab meat is practically the two large muscles that are attached to the swimming fins of the crab.
There is a notable difference in cost between jumbo lump crab meat and regular lump crab meat:
Jumbo Lump – This refers to the largest, most pristine chunks of crab meat from the body and claws. It typically costs $25-$50+ per pound.
Lump – Smaller, broken chunks of meat from the body and claws. About $15-$25 per pound on average.
Jumbo lump commands the highest price due to its unbroken chunks and pure white color from the body and claws. As the grades go down, the pieces get smaller, and pricing declines. But lower grades still contain delicious 100% crab meat.
For most crab recipes, lump or backfin provides good quality and value. But for a premium dish that contains large chunks, jumbo lump meat is worth the splurge. The difference between the top grades can be $10-$20+ per pound.
To choose the best-canned crab meat, determine what quality is needed and whether pasteurization matters to you, and make sure the meat has not expired. All crab meat has a grade depending on where it was taken from and its size. For example, broken meat is much less valuable than large pieces of crab meat, even if the taste is the same.
The best canned crab meat depends on what you intend to do with it. A salad with a drop of crab meat for a true taste sensation can be made with almost any crab meat in a box. Crab cakes should be made with the highest quality crab meat available. High-quality crab meat is not usually pasteurized, and the label says it should be refrigerated at all times.
What are the extra costs?
In case you purchase the lump crab meat from an online retailer, you will have to pay for the shipping fees and your order must be at your doorstep within 24 to 48 hours.
Important things about crabmeat
If the color is important in a recipe, the lump crab will be the best choice as it is white meat in color.
Thanks to its hearty texture and sweet taste, lump crab meat is considered to be one of the favorite crab meats.
Useful properties of crab meat
The composition of crab meat contains a huge amount of vitamin A and the whole group of B vitamins. It also has trace elements – calcium, iodine, copper, phosphorus, selenium, potassium, and iron. There are a lot of amino acids and fatty acids in meat as well, in the form of omega-3 and omega-6. Some people compare crab meat to a healthy but much less tasty product, such as fish oil.
A large number of omega-3 fatty acids and ascorbic acid in the product make crab meat indispensable in the fight for immunity, which is especially true during flu and cold season.
Crab meat is considered a dietary product, very soft and easily digestible. It is necessarily included in the diet of rehabilitation of patients after a serious illness. In addition, meat is useful for the digestive system and relieves constipation, bloating, and flatulence.
If you eat crab meat regularly, it helps lower cholesterol and improves the functioning of the heart and the entire cardiovascular system.
The composition of crab meat contains antioxidants that stimulate cell renewal processes, which slow down the aging of tissues, skin, hair, etc.
Crab meat has a low-calorie content, which is why it is often used in the weight loss process.
How to cook lump crab meat
Lump crab meat contains the sought-after chunks of white flesh from the body and claws but without the inedible shell. Handle lump crab gently when preparing recipes to keep the pieces intact. Quickly cook using moist heat methods like steaming, baking en papillote, or gently folding into pasta, salad, or seafood seasoning, just until warmed through.
Overcooking makes the meat rubbery. Lightly enhance lump crab with ingredients like lemon, parsley, mayo, or a sprinkle of Old Bay seasoning to let the sweet crab flavor shine.
You can use it in soups and add lump crab right at the end so it's just heated through.
Store cooked lump crab chilled in the fridge and use within 2-3 days. With careful handling and brief cooking, the gorgeous chunks of lump crab meat really stand out.
Fresh lump crab meat has a relatively short shelf life. When stored properly in the refrigerator, it's recommended to use it within 1 to 2 days of purchase to ensure optimal quality and safety.
Pasteurized lump crab meat has a longer shelf life compared to fresh crab meat. Unopened vacuum-sealed containers can typically last in the refrigerator for about 2 to 4 weeks after the sell-by date. However, once the container is opened, it's best to use the crab meat within a few days to maintain its flavor and texture.
How can I save money?
In order to find the best possible deals on lump crab meat, you should check out your retailers like local Costco and Sam's Club.
https://www.thepricer.org/wp-content/uploads/2022/07/lump-crab-meat.jpg
380
610
Alec Pow
https://www.thepricer.org/wp-content/uploads/2023/04/thepricerlogobig.png
Alec Pow
2022-07-05 06:12:55
2023-08-30 07:18:46
How Much Does Lump Crab Meat Cost?