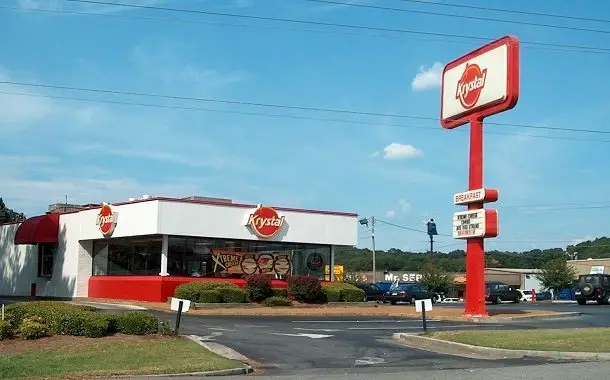 Krystal is an American fast-food restaurant chain well-known for its small, square slider burgers with steamed-in onions. Even the name of the restaurant comes from their signature burger, the Krystal. Besides these burgers, their menu also includes different chicken meals, breakfast items, sides, desserts, soft drinks, and ice cream milkshakes.
The prices charged by Krystal for their food are similar to those you can find at White Castle. Even the sliders are very similar to those from White Castle. In general, you can not find both Krystal and White Castle restaurants in the same state.
In the table below you will find the latest Krystal menu prices.
Food
Size
Price

Breakfast

Original Scrambler – Combo
$6.69
Low Carb Scrambler – Combo
$5.99
Sausage Gravy Scrambler – Combo
$6.89
3 Egg Breakfast – Plate
$7.29
Sausage Gravy Biscuit – Plate
$5.39
2 Sunrisers – Combo
$5.99
Breakfast Toast Sandwich – Combo
$5.99
Breakfast Biscuit – Combo
$5.99
Chik Biscuit – Combo
$5.99

Chik' & Pup' Combos

Combo Includes Medium Side & Drink

3 Chiks – Combo
$8.59
3 Pups – Combo (Choose Any 3)
$8.59
Corn Pup
$2.79
Wings – Combo
6 Pc.
$9.99

Value Packs

Combo Includes 2 Medium Sides & 2 Medium Drinks

12 Krystal Sackful – Combo
$18.99
Krystal Burger – Only
12 Pc.
$13.29
Cheese Krystal Burger – Only
12 Pc.
$15.79
Krystal Burger – Only
24 Pc.
$23.29
Cheese Krystal Burger – Only
24 Pc.
$25.99
Krystal Burger – Only
48 Pc.
$42.99
Wings
12 Pc.
$13.29
Wings
24 Pc.
$23.29
Wings
48 Pc.
$42.99

Krystal Combos

Combo Includes Medium Side & Drink

4 Original Krystals – Combo
$8.19
3 Double Krystals – Combo
$8.89
3 Triple Krystals – Combo
$9.79
5 Cheese Krystals – Combo
$10.29
3 Bacon & Cheese Krystals – Combo
$8.89
3 Loaded Krystals – Combo
$8.89

Sides

French Fries
Small
$2.99
French Fries
Medium
$3.49
French Fries
Large
$3.74
Chili Cheese Fries
$4.69
Chili Bowl
Large (12 oz.)
$3.99
Grits
Bowl
$2.29
Hashbrown Kryspers
$2.29
Krystal
$1.49

Kid's Meals

Meal Includes Side, Drink & Desert Treat

Krystal Burger – Meal
$5.39
Krystal Chik – Meal
$5.39
Pup – Meal
$5.39

Treats

Apple Turnover
$1.79

Beverages

Soft Drink
Small
$2.99
Soft Drink
Medium
$3.29
Soft Drink
Large
$3.49
Iced Tea
Small
$2.99
Iced Tea
Medium
$3.29
Iced Tea
Large
$3.49
Tea
1/2 Gallon
$4.19
Signature Coffee
16 oz.
$2.79
Milk
$2.99
Orange Juice
$2.99
Bottled Water
$2.99
Arctic Blast
$3.79
Milkshake (Chocolate, Vanilla, or Strawberry)
$5.19
Brand History
The history of Krystal starts back in the Great Depression Era in America. Despite the awful economic climate from that time, J. Glen Sherrill and Rody Davenport Jr. thought that people would still come to them to eat. So, in 1932 they founded Krystal restaurant in Chattanooga, Tennessee. The idea for this business came after Rody visited a White Castle restaurant.
You might also like our articles on the prices for the items on the menus of Wahlburgers, Freddy's Frozen Custard and Steakburgers, and IHOP.
These two founders knew that their company would be successful if they had the lowest possible menu prices, the staff was very welcoming and friendly and the restaurant was really clean. They created their signature burger named Krystal, which was smaller in size than the rest and had an onion flavor.
The Krystal restaurant sustained itself even though there was a depression going on. Moreover, it was growing and developing a real business. The store was busy most of the time and many orders needed to be "to go". Also, despite the fact that they had to face the competition from White Castle, another burger restaurant, they expanded in a short time.
From competitors, Krystal and White Castle become partners and made an agreement not to compete head-to-head ever. Instead, they made the Mason-Dixon line of burger restaurants. Also, Krystal operates mostly in the Southern United States, while White Castle is present in the Midwest and Northeast.
Throughout the 1950s and 1960s, drive-through-only restaurants were opened. Between 1994 and 1997, the Krystal franchise experienced legal troubles from lackluster profits and different lawsuits. Port Royals Holdings bought Krystal restaurant and focused on improving this franchise. Nowadays there are more than 360 Krystal restaurants located mainly in the Southeastern United States.
Our review
Since its opening in 1932, Krystal was loyal to one principle: hygiene and cleanliness. Members of the staff spent a lot of time making sure that the restaurant is pretty and presentable. Thanks to this, all of Krystal's stores look very clean. Also, the service is irreproachable and the staff is kind and gracious.
Krystal restaurant has a very simple ambiance as the tables are not fancy, there are metal floors and soft chairs. It will be very nice to eat inside and you will not have to wait too long for your order. The busiest times tend to be around lunch.
It is unusually cheap to eat at Krystal. For example, the price of one Krystal is less than $3 and you will have to pay just as low for some other types of dishes. Krystal's menu includes a large variety of food items. Some of the recommended meals are the breakfast items such as the 2 Sunrisers combo which costs around $6 and the Chik Biscuit which costs almost $6.
This is the right place for dining even for families with children as there is a kid's menu as well. All of the kids' meals cost around $5.5 and the treat offered is the Apple Turnover, which costs around $2. Some other tasty meals you should try are the 12-wing combo, which costs around $12, and the 12 Krystal Stickful which is around $17.
In conclusion, Krystal's menu includes a wide variety of options you can choose from and some of them are really affordable.
Krystal FAQs
At what time does Krystal open?
Most of the Krystal restaurants open every day at 06:00 a.m. Though it depends on the day of the week and location. So, you should verify this information on their official website.
At what time does Krystal close?
In general, Krystal closes at 10:00 p.m. from Monday until Sunday. However, it depends on the location and the day of the week. It is recommended to check their official website and see the closing hours.
Who owns Krystal?
Krystal is owned by the private investment firm Argonne Capital Group, LLC, which is based in Atlanta, GA.
What states have Krystal restaurants?
You can find at least one Krystal restaurant in a minimum of nine states in America such as Arkansas, Georgia, South Carolina, North Carolina, Tennessee, Mississippi, Alabama, Kentucky, and Florida.
Are Krystal's hot dogs made of beef?
Krystal's hot dogs are 100% USDA all-beef.
Are Krystal burgers healthy?
One plain Krystal burger contains 330 mg of sodium, six grams of fat, and 130 calories. The overall calorie and fat consumption will increase if you add other topping items such as cheese or chili.
https://www.thepricer.org/wp-content/uploads/2022/05/Krystal-menu-prices.jpg
380
610
Alec Pow
https://www.thepricer.org/wp-content/uploads/2023/04/thepricerlogobig.png
Alec Pow
2022-05-22 09:18:32
2022-05-19 12:57:00
Krystal Menu Prices