La Petite Academy Cost – Infant to Five Year Old Tuition Fees
Last Updated on October 7, 2023 | Written by CPA Alec Pow
First Published on April 5, 2021 | Content Reviewed by

CFA Alexander Popivker
The La Petite Academy offers educational daycare programs to children of all ages. It was founded in 1968 and since then, it has functioned as an educational daycare center.
Having over 450 locations all around the United States, it considers itself one of the largest, as well as one of the best educational daycare companies. But how much does La Petite Academy cost? And does it have the same costs for children regardless of their age?
How much does La Petite Academy cost?
The average cost of the La Petite Academy tuition is between $250 and $500 per week, although the exact prices will depend on the age of your child and your location. Like most daycare centers, La Petite Academy doesn't list its prices on its official website. Instead, the prices we came up with were obtained from third-party websites like Yelp and people who have paid for their children's childcare.
If you want to get an exact quote, then your best approach, at this time, at least, is to request a callback by filling out the signup form that you can find at this link or to call the official toll-free number at 888.330.1458. You can also get more information by calling one of their daycare centers or going to a location closer to you.
You might also like our articles about the cost of Children's Learning Adventure, Lightbridge Academy, or Kiddie Academy.
So even though the company doesn't make it easy for you to find out the prices on the official website, let's see what we were able to find from other parents who left reviews online. These should only be considered estimates.
According to this PDF found on the Loudoun County governmental website, The LaPetite Academy location in Ashburn Virginia charges about $155 per week for first grade and up, the kindergarten program costs $190 a week, while the one-year-old program would only cost about $315 a week.
Discussions on a forum called Babycenter.com revealed that the location of the center had a big influence on how much different members had to pay. The prices overall were around $240 per week for the infant room and $400 a week for children that were younger than two years old.
According to discussions on the same website, in higher-cost-of-living areas, it isn't uncommon for parents to pay as much as $1,400 per month for just one child enrolled in a La Petite childcare center.
| Age | Weekly Part-Time Tuition | Weekly Full-Time Tuition |
| --- | --- | --- |
| Two years old | $242.00 to $335.50 | $253.00 to $440.00 |
| Infant | Unavailable | $275.00 to $511.50 |
| Three years old | $159.50 to $291.50 | $231.00 to $346.50 |
| Summer camp (6-12 years old) | $110.00 to $165.00 | $170.50 to $275.00 |
| One year old | Unavailable | $264.00 to $506.00 |
| Before- and/or after-school programs (6-12 years old) | Unavailable | $104.50 to $220.00 |
| Four to five years old | $159.50 to $258.50 | $170.50 to $275.00 |
What Should the Tuition Money Cover
The inclusions you get for the La Petite Academy's tuition will depend on the location you pick and the program you enroll your child in.
The following items should be included in the tuition regardless of your preferred location:
Diapers and wipes at most academies, for children that need them
Meals and snacks
Educational programming
Additional Costs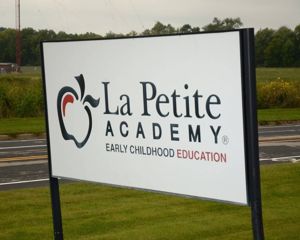 When you want your child to attend La Petite Academy, you will have to consider the other costs associated with the tuition as well. Among the most common ones, are:
LaPetite Registration Fees
Expect registration fees between $130 and $150 per child. When you enroll more than one child, you will be charged a single-family registration fee that can range between $220 and $280 in some locations.
Drop-In Care
You can drop off your child at La Petite Academy when you need care, as it has a Flex Care program. This includes school holidays.
There are prepaid cards at La Petite Academy, that are good for five days of child care and can be purchased from the main office of each location. These Prepaid Flex Care cards are usually priced similar to a week of tuition.
Summer Activity Fee
If you're interested in special summer activities, some day care centers offer these for an annual fee. This will usually be around $75, although it will differ between locations.
Materials Fee
For older age groups, you might also be charged an annual materials fee in some locations. This will depend on the particular academy you're going to but as a general rule, you will pay between $50 and $90 per child.
Programs offered
Newborn, Infants, and Toddlers – The unique curriculum provided by LaPetite Academy for early education is called the "Learn to Start" program Utilizing the "Learn the Start program, will help these children get ready for preschool. It helps with exploring each developmental milestone.
Children aged 2 and Early Preschool – This is a program that focuses on active learning, speaking, self-regulation, attention, and licensing. It is meant to help the children learn more about self-help abilities, alphabet, and number introductions, as well as making new friends.
Preschool – This program is made to help children with reading abilities, writing, and mathematics, as it focuses on collaborative abilities, responsible listening, and analytical learning.
Pre-K – Kindergarten prep programs are meant for kids who are enrolled for kindergarten in the upcoming fall months. They are made to introduce the child to kindergarten-level principles, prolonged seat work, and additional reading and math.
Junior Kindergarten – A kindercare program meant to teach your child how to develop their vocabulary, understand stories, read, and write typical sight words. It concentrates more on making the child follow directions, manage impulses, and organize their work.
Private Kindergarten – This program is made for children who need to discover set objectives, work individually, think critically, and find out how to read and write independently to communicate different concepts.
Before and After-School Programs – These are meant for all school ages, made with interesting and enjoyable curricula. They concentrate on reflection and setting goals
Educators and the classroom
The company states that every academy location has staff made of really experienced and trained instructors devoted to helping children reach their full potential. Every instructor has also gone through a complete comprehensive training in the academy's curriculum and is prepared to fulfill child-care requirements. Staff members are made to receive continuous annual developmental training.
All classes have a PIN-based lock. This can only be accessed by the parents.
The classroom family design enables meals to be served inside. They offer foods that are made to satisfy the dietary requirements of the children every day and satisfy regional state licensing requirements as well.
Important things to consider
All of the schools are certified by several important nationally acknowledged companies including the National Accreditation Commission for Early Care and Education Programs (NAC), the Accredited Professional Preschool Learning Environment (APPLE), the National Early Childhood Program Accreditation (NECPA),  or National Association for the Education of Young Children (NAEYC). They are also accredited by the state they run in.
Payment Schedule and Methods
You can pay online using Family Link, set up automatic payments, and view tuition statements.
La Petite Academy tuition has to be paid on a weekly basis.
If you can't afford the daycare fees, you should consider financial aid programs like government subsidies, child care assistance programs, corporate discounts, scholarship and grant opportunities, and so on, which are created to help you save on things like child care services.
https://www.thepricer.org/wp-content/uploads/2021/04/la-petite-academy-cost.jpg
380
610
Alec Pow
https://www.thepricer.org/wp-content/uploads/2023/04/thepricerlogobig.png
Alec Pow
2021-04-05 12:14:36
2023-10-07 23:39:02
La Petite Academy Cost – Infant to Five Year Old Tuition Fees