Last Updated on October 9, 2021 | Written by CPA Alec Pow
First Published on September 29, 2021 | Content Reviewed by

CFA Alexander Popivker
Few secrets remain to be revealed about detergents, their effect, and their qualities. The last 30 years have also brought a real revolution in technology in terms of washing machines and new fabrics. But they also called for the inspiration of chemical engineers if we think about the innovation in detergents used for washing clothes.
Bonux, for example, is said to have been launched as a powder detergent in 1958 in France by Procter & Gamble, but a marketer came up with the idea that, in addition to its success as a product, also consecrated its name. Initially, it was called Bonus, and in the packaging of each detergent was a hidden small object – a children's toy or a small household object. In 1960 it was renamed Bonux, and for a long time, in the memory of the French, it was synonymous with the idea of a helpful product and the bearer of a surprise gift.
How much does laundry detergent cost?
Laundry detergent prices vary depending on the brand, type, size of the bottle, and place you buy it from. For example, the price for one fluid ounce is anywhere between $0.07 and $0.50. The cost of 210-ounce bottles would be $0.10 to $0.18 per ounce, while the most expensive ones would be the laundry detergents "pacs". Expect to pay around $15 or $0.55 per ounce for a Tide PODS 42-count pack and $15 or $0.15 per ounce for the 100-ounce Tide Mountain Spring scented liquid laundry detergent.
The price for bulk detergent, specially made for commercial use, is anywhere between $27 and $48 per 40-pound pail.
In the table below, you can find the price of the most common laundry detergent brands, along with the quantity offered.
e.
| Brand | Loads (on the box) | Price |
| --- | --- | --- |
| Arm and Hammer | 100 | $10 |
| All Free and Clear | 40 | $6 |
| Dreft | 40 | $13 |
| Dreft | 64 | $16 |
| Cheer | 68 | $12 |
| Era | 96 | $11 |
| Earth Friendly | 100 | $9 |
| Gain HE | 40 | $8 |
| Gain | 80 | $13 |
| Purex | 100 | $14 |
| OXICLEAN | 67 | $10 |
| Sun | 80 | $6 |
| Seventh Generation | 106 | $13 |
| Tide | 68 | $13 |
| Surf | 46 | $6 |
| Tide HE | 40 | $10 |
| Tide Free and Clear | 40 | $10 |
| Walmart Great Value | 120 | $13 |
| Woolite | 50 | $11 |
| Wisk | 66 | $11 |
Laundry detergent details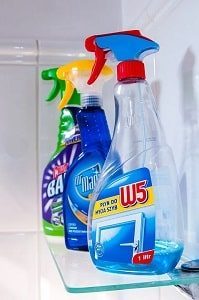 Laundry detergents come in a variety of forms, ranging from liquid to powders or tablets. The term "2X" can be found on labels for the more concentrated formulas which will make your clothes cleaner than regular laundry detergents. Powder laundry detergent will be straightforward, and you'll have to scoop it out before adding the right amount for your laundry load. Tablets come in packs similar to dishwasher tablets.
You might also like our articles about the cost to start a laundromat, the price of dry-cleaning a blanket, or fur coat cleaning cost.
These laundry detergents have special features to make them more interesting, free of the common ingredients found in many cleaning products. Depending on what you want, they can be alcohol-free, fragrance-free, paraben-free, hypoallergenic, or ammonia-free. Most of them are also made using no form of cruelty for animal testing purposes.
A fascinating mix of chemical ingredients will be used to produce the perfect cleaning solution for your clothes. Surfactants, bulking and building agents, bleaches, or optical brighteners are some of the most used ingredients. Some detergents use enzymes, while others utilize solvents like those found in paint thinner.
What are the extra costs?
Scent boosters can keep your laundry fresh and renewed at just $8 to $16 per 56-count pack. They come in many different scents, from floral bouquets like jasmine or lavender all the way through woodsy fragrances such as cedar tree logs.
Important things to consider
Consumer Reports recently conducted a study analyzing the best detergents for all machines and found that the best one was Tide, which costs about $0.38 per load. However, they also noted Sam's Club and Costco to have similar qualities at half price.
The first step to getting your clothes clean is knowing the right detergent for you. For an HE machine, make sure that any bottle or package clearly displays "HE" on its label so as not to end up with too many suds during washing time.
How much laundry detergent to use?
When using a laundry detergent, refer to the label on your bottle/pack for guidelines. Following incorrect usage could result in different outcomes such as too much or not enough laundry cleaning. The amount you use will depend upon how dirty clothes are, the size of the load, and the water's hardiness.
It's always important to look at the lines inside the detergent's cap and use enough detergent, but you should also pay close attention to the suds. If there are too many, it can be an indication that too much detergent is used in proportion with how much fiber is being washed on each load.
Feel the clothes after a clean load to see if they're still wet if you are still unsure. You may have too much soap residue or stiff fabric because of this detergent excess.
But how do we choose the right one?
We think about what we want to wash, what kind of clothes we have: white, colored or dark. We can take only one detergent for all or one for each category. We also consider the type of detergent: powder, liquid, or capsules. Powder detergents may be preferred because they do not dissolve as quickly as liquid ones, especially on short programs. A laundry detergent suitable for the whole family must have a discreet smell, not very strong, possibly also contain a scent booster or even bleach. For those who prefer detergents without chemicals, you can choose the ecological ones, with the hypoallergenic formula, without perfume. Also, pay attention to the label of the clothes, especially if you also wash children's clothes.
A good detergent for children's laundry will not contain sodium hypochlorite, phosphates or phosphonates, phenols, ethoxylates, and artificial dyes in large quantities.
How can I save money?
Making your own detergent is a lot cheaper than buying the name-brand stuff. For instance, Bargain Babe found that you could make one load of laundry detergent for just $0.05 compared to spending about $0.31 on Tide.
It is easy to find laundry detergent coupons online, in local newspapers, or even on a grocery store app. All you have to do is search "Laundry Detergent Coupons" and see what pops up.
Store brands can be just as good, if not better, than their more expensive counterparts. Consumers should know that there are many store-brand laundry detergents out on the market with high quality and low prices.
https://www.thepricer.org/wp-content/uploads/2021/09/detergent-cost.jpg
380
610
Alec Pow
https://www.thepricer.org/wp-content/uploads/2023/04/thepricerlogobig.png
Alec Pow
2021-09-29 21:45:12
2021-10-09 00:23:24
Laundry Detergent Cost