Last Updated on October 22, 2021 | Written by CPA Alec Pow
First Published on October 22, 2021 | Content Reviewed by

CFA Alexander Popivker
Lowe's is a popular home improvement retailer with more than 2,000 stores in 49 states. You can find the nearest one by browsing Lowe's official store locator webpage and inputting your zip code into their search engine. Here you can make a copy for your standard or custom-designed car key.
How much does it cost to copy a key at Lowe's?
The price to make a key copy at Lowe's varies by location and, also depends on the type of key you want. You will have to pay only for the blank key and the retailer will cut it for free. On average, prices are anywhere between $5 and $8 per key.
You can also purchase the blank keys online by visiting the official website page of your local Lowe's. At the time this article was written, the price for 564 of the 607 keys was less than $8 each.
For example, the cost of a regular Kwikset or Schlage branded key is around $8, while you may have to pay around $5 each for a painted key. However, in case you need a coded car key, be prepared to spend much more, as one of these may cost around $75.
You might also like our articles about the cost of key cutting at Ace Hardware, the cost of programming a key fob, or keyless entry installation prices.
According to a post from a Lowe's worker on Quora, the price for most basic keys is anywhere between $5 and $8 each.
Key blank brands available at Lowe's
Hillman
Axxess
Medeco
BALDWIN
Kwikset
Fanatix
Hy-Ko Products
Different ways to make a key copy at Lowe's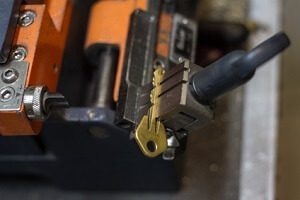 In case you need a copy key done, there are two different ways to make it happen at Lowe's. Below you will find the two different ways and details on how the copy is done in each way.
By using a key kiosk at Lowe's
If you lost your house key, or you need to make a new copy for the babysitter, Lowe's tries its best to make it convenient to have it done via key-making machines. Lowe's key machines automate the process and are often found close to the entrance and exits of the store. Though, sometimes, they're found in the hardware and key aisles.
In order to make the copy, you will have to bring the key you want to be copied to the store. From that point on, the machine will walk you through the process step by step and show you exactly how you can make your own key.
By having the key professionally done at Lowe's
In case you need a special type of key (like a car key) or just don't have a key kiosk at your nearby Lowe's, you will have to walk towards the store's key section. This is often found near the lock section or the door section. Once you get to the key-making part of the store, you will have to pick out the key base, ask a staff member to copy your key, and after that (usually) pay for the service.
The same way with the electronic kiosk; you must have the original key you want to make the copy of.
Important things to consider
For those who don't know, key duplication at Lowe's is not possible for all of the different types of chip keys because the new keys often need to be programmed simultaneously and this greatly depends on the make and model of the car as well. To find out for certain if they can make your car key contact them directly.
According to a customer service associate, Lowe's locations are not able to cut a laser-cut key or a switchblade key. The laser-cut key is a key with the center bored out and a smooth side.
https://www.thepricer.org/wp-content/uploads/2021/10/key-cutting-at-lowes-cost.jpg
380
610
Alec Pow
https://www.thepricer.org/wp-content/uploads/2023/04/thepricerlogobig.png
Alec Pow
2021-10-22 22:36:59
2021-10-22 22:36:59
Lowe's Key Copy Cost