How Much Does Miracle Ear Cost? – Is It Worth the Price?
Last Updated on October 29, 2023 | Written by CPA Alec Pow
First Published on March 12, 2017 | Content Reviewed by

CFA Alexander Popivker
One of the most popular hearing aids on the market is Miracle Ear. It is used by people who have partial hearing aids and is considered one of the more modern hearing aids you're able to buy, even though other products have been invented, that come with Bluetooth and even some computerized features.
If this type of device sounds interesting, then you should know that Miracle-Ear hearing aids are usually covered by health insurance. This isn't a surprise, as most insurance companies provide plans that cover hearing aids in general to a certain degree. But how much does Miracle Ear cost and is the price worth the features?
How Much Does Miracle Ear Cost?

Based on our research, a pair of Miracle-Ear hearing aids costs anywhere between $1,000 and $5,000. There are several factors that will influence Hearing aid prices, including the level of technology they feature, the device you go for, the care and servicing you get after purchasing, as well as any custom fitting needed to be done by a hearing care professional.
Most online sources, including the official Miracle-Ear website, offer only a general idea of the pricing of these products, giving a general range between $1,000 and $5,000 regardless of the model you're going for.
The Miracle Ear website has a free online hearing test page, which might help you figure out whether you have a hearing problem or not. While some review sites talk about prices closer to the lower end of the range, at about $1,000, others give prices of $5,000 and in some instances, even more.
The general type of device and its features will usually dictate the price. You will probably only be able to get a price of around $1,000 if you go for a second-hand Miracle Ear device that has been slightly used. New versions will almost always cost closer to $5,000.
When it comes to hearing devices, even though used devices might be cheaper, it isn't a great idea to get a secondhand one. Keep in mind that this is a medical tool that goes inside your body, and if it doesn't work how it should, it can possibly damage your hearing even more.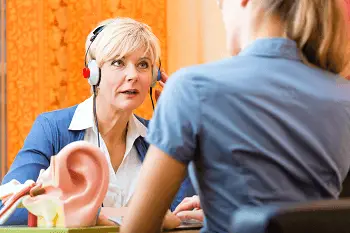 Miracle-Ear offers hearing aid gadgets that aren't always the cheapest available on the market. Most hearing aid brands have devices that will only cost $800 to $3,000, but as with everything else, what you pay is what you get.
Cheaper versions might come with big faults or might work poorly. An audiologist will give you the best tips when buying a hearing aid. Stay away from cheaper models that are sold by people with no medical expertise.
As said above, Miracle-Ear accepts health insurance from several major providers. Get in touch with Miracle-Ear either by phone, through the official website, or by visiting a Miracle-Ear location close to you to see whether you can use your health insurance plan to cover the costs of a hearing aid device. Many of the local Miracle-Ear hearing centers also offer some types of financing options.
There is also the Miracle-Ear Foundation, which was founded to help people with limited income and resources to get their hands on hearing aids through the program called Our Gift of Sound.
This not only offers free hearing aids but also provides the needed accompanying services to individuals who wouldn't manage to afford them in normal circumstances. If you're interested in taking advantage of this program and the services provided by the Miracle-Ear Foundation, then you will have to meet specific criteria and pay a non-refundable fee of $150 to qualify for this program.
Miracle-Ear Hearing Aid Price List
| Miracle-Ear Hearing Solution | Cost of Hearing Aids (USD) |
| --- | --- |
| Miracle-EarMINI™ | $1,000 – $3,500 |
| Miracle-EarCONNECT™ | $1,000 – $4,200 |
| Miracle-EarENERGY™ | $1,000 – $4,500 |
| Miracle-EarEASY™ | $1,000 – $4,800 |
| Miracle-EarBLISS™ | $1,000 – $5,000 |
Discounts
The first thing you can do is get in contact with Miracle Ear directly and ask them if they offer any discounts or coupons. As they are a big company, they should have discounts available within certain conditions.
For free hearing tests and cheap audiology services, you should contact the American Speech-Language-Hearing Association, which is known to help people of all ages, that have hearing disabilities. 
There are a few organizations that offer discounts for hearing aids, including Miracle-Ear. If you have a child with hearing problems, then the Early Childhood Learning and Knowledge Center should be able to help you financially with an important part of the final price of your hearing aid.
You could also turn to some non-governmental organizations for financial help. Among the most helpful will be your state's vocational rehabilitation programs. 
Miracle-Ear Review
Although Miracle-Ear isn't officially accredited by the Better Business Bureau (BBB), its stellar rating still keeps it with an A+ grade. The BBB consumer reviews grade, on the other hand, is just 1.33 out of 5, so there are quite a few customers who have something against these products.
Among the most common complaints out of the negative reviews, most complaints are related to issues with whistling-like feedback in the hearing aids not long after purchasing them.
Their US Facebook page has a rating of 3/5 from 13 reviews. This makes it really hard to get a clear idea of whether the product does the wonders it advertises or not.
A website where Miracle-Ear maintains a great average customer rating is Consumer Affairs, where it has 4.7 out of five stars out of 3,070 reviews. Still, keep in mind that the brand is considered an authorized partner of this website, which could potentially affect the way in which it receives these reviews.
The Cost of a Hearing Test

Before you even consider getting a hearing aid, you should first talk to a doctor. The hearing test is usually required to see the level of hearing loss you're experiencing. The test will measure the number of decibels that you can hear and at what point will the sounds be too low to be picked up by your ear.
This type of testing is covered 100% by most basic health insurance plans, which means that if you have insurance, it will be free of charge.
Without insurance, these tests will set you back $200 or slightly more. They will give you a clear answer on whether or not you should buy a hearing aid device.
All hearing helper devices need to be checked at least twice a year and every time you notice a malfunction, to ensure they work properly. A broken hearing device might do more harm than good.
Need Hearing Health Insurance? Be Ready To Spend This Much
The Cost of Other Types of Hearing Aids

This Device Will Replace Ugly Braces. Check It Out
If Miracle Ear isn't for you, then you have other choices on the market. Some of them use the technology known as BTE (or behind the ear). These types of devices cost anywhere from $300 to $6,000.
Cheaper brands that have only the basic feature might be available for around $250. In terms of competition, a similar quality product to Miracle Ear is Resound Azure, which has a lot of additional features, like long-lasting battery life and volume control. Resound Azure devices cost a little over $2,500.
There are also smaller-sized devices that are inserted directly into your year. They can cost anywhere from $450 to $6,000. As these are inserted directly into your ear canal, it is very important that you buy them new and avoid used devices even if they look brand new. This is to make sure everything works and you won't damage your ear. The most common device that is inserted into your ear canal is a Micropod, with a price of around $1,000.
Should the average working Joe get a hearing aid device?
If you have a hearing problem, then a hearing aid will greatly improve the quality of your life. It might even save your life at some point, as it will help you hear objects and people moving behind your back or warning sounds. If you don't have the money for a new Miracle ear, then ask your audiologist for a cheaper but reliable brand, rather than trying to get a second-hand device. Overall this is a great device that will help you have a normal life if you're suffering from hearing loss.
https://www.thepricer.org/wp-content/uploads/2017/03/miracle-ear-price.jpg
380
610
Alec Pow
https://www.thepricer.org/wp-content/uploads/2023/04/thepricerlogobig.png
Alec Pow
2017-03-12 00:49:19
2023-10-29 11:53:20
How Much Does Miracle Ear Cost? – Is It Worth the Price?