Norwegian Forest Cat Cost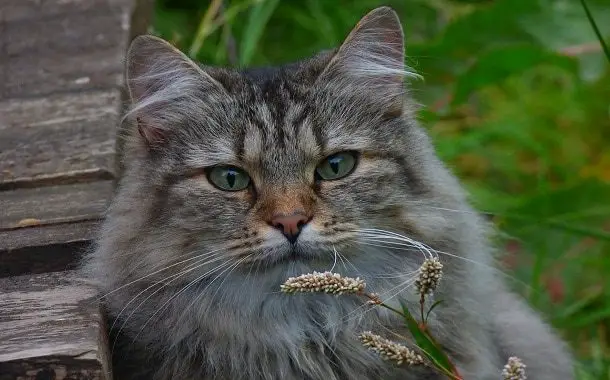 Only a handful of felines on the planet have a history as interesting and rich as the Norwegian Forest Cat's. This long-haired breed was thought to have actually been given to Norway from Great Britain by Vikings more than a thousand years ago.
The Norwegian Forest Cat even fits in Norse folklore; being referred to as a huge mountain-dwelling fairy cat that had the capability to climb up a large cliff and even pulled the chariot of the goddess Freya into fights.
Known in the regional language as "Norsk skogkatt", it is presently the 5th most popular feline in France.
You might also like our articles about the cost of a Savannah Cat, Cheetoh Cat, or Tonkinese Cat.
Purchasing Your Own Legendary Forest Cat
Norwegian Forest Cat breeders in The United States and Canada aren't all that common. However, there are a couple of reputed ones registered with the Cat Fanciers' Association (CFA).
Feline breeding season typically starts around February and March. The gestation period is 9 weeks and cats can be taken home after a minimum of 10 weeks from birth.
Forestdolls is a registered cattery that comes from Central Wisconsin that currently provides Norwegian Forest Cat or "Wegie" kitties for $700 to $900 each. The cost of a kitty depends upon its age, gender, color, and the expected adult size.
The Norwegian Forest Cat cost should cover a health warranty, a 1-year replacement guarantee if the kitty gets any disease, a copy of the parents' pedigree, health records, and care guidelines.
A $100 deposit will usually have to be made to have your kitty reserved. Bought kitties can be picked up straight at the breeder's cattery or at the airport.
The Fanciers Breeder Recommendation List offers info about many other registered Wegie breeders in numerous US states. Do not hesitate to call it to find out if a breeder near you has any available litters and just how much its asking costs are.
In case you are unfortunate and can't find any good breeder or it just isn't the best season, you can try adopting a Norwegian Forest Cat if your heart is set on it. Adopt-a-Pet is a great website where you can check for shelters and rescue centers, and their adoption cost averages from $25 to $125.
Shelters usually provide veterinarian tests, spaying or neutering, vaccinations, cracking, and other services which might vary in value from $425 to $880, so it is certainly affordable to adopt instead of buying a newborn kitty.
Other Related Expenses
As Norwegian Forest Cats are incredibly popular in Scandinavian nations such as Sweden, Finland, Denmark, and Norway, you might have the ability to get one easier from a global seller. Bear in mind, nevertheless, that kitties can't take travel until they reach a specific age and you should also be ready to pay more in shipping charges.
International animal shipping can quickly reach prices of $300 to $2,000 and even higher sometimes.
Although this breed is strong and resilient, it isn't immune to all illnesses. A particular genetic defect referred to as GSD IV can impact a small number of Norwegian Forest Cats in particular.
GSD IV is a genetically inherited condition that causes a feline to store irregular amounts of glycogen in its body, rapidly causing organ failure and ultimately death. The Veterinary Genetics Lab provides GSD IV tests for $40 per pet.
Repeating Expenses for Norwegian Forest Cats
Owning a family pet isn't low-cost and all the more so for these big cats. Plenty of expenses are waiting on the road ahead of you, with a few of the more noteworthy ones being veterinarian expenditures and travel expenditures, in addition to food, medication, and toys.
While you will not need to spend any money on a shelter for your feline as you would for a normal pet dog, a great carrier will come in useful when traveling by airplane.
An excellent carrier must be durable and reliable, have enough ventilation, and personal privacy. It also has to be big enough for your feline to fit easily but small enough to take in an aircraft cabin, and should not weigh all that much.
The Sherpa Travel Original Deluxe Airline Approved Pet Carrier fulfills these requirements and will only cost about $73. It's certainly a great financial investment for your Wegie.
Depending upon the airline company that you have actually chosen to fly with, a health certificate valid within a specific time period will need to be provided. All shots need to be up-to-date too.
A USDA-approved health certificate will cost somewhere between $121 and $173, while vaccinations and extra services at a clinic like the Hayden Meadows Pet Center in Oregon are as follows:
Oral (usually) – $585.00
Feline Leukemia Virus Infection (FeLV) test – $32.00
Feline Immunodeficiency Virus Infection (FIV) test – $32.00
FeLV test/ FIV test – $65.00
Complete examination – $38.00
Feline Viral Rhinotracheitis, Calicivirus, & Panleukopenia (FVRCP) – $32.00
Home Again chip – $76.00
Sterilization – $250.00
Pre-Op bloodwork – $59.00
Rabies – $29.00
Spay – $265.00
Stool/Fecal test – $40.00
Toe Nail trim – $27.00
In order for your city to effectively track your Norwegian Forest Cat, it'll have to be tagged, registered, and licensed. According to officials from Pierce County in Washington, the license charge for a neutered feline is $12, while for an unneutered feline is $55.
As your kitty continues to grow larger and check the world around it, health issues will undoubtedly happen. Heart murmur is something pretty common amongst all breeds of felines, in addition to hip dysplasia – a kind of unusual hip joint illness.
Getting a yearly or by-yearly health test is useful in making you always know the state of your Wegie's health. The expense of such a health or wellness test at the Heartland Veterinary Center in Virginia will vary from about $36 to $52.
To keep your new family pet healthy and growing strong, you'll require an ample supply of kibble. The specific quantity of food that a Norwegian Forest Cat will consume depends upon its age, size, and just how much energy it wastes throughout the day.
Wegies in particular love to climb up and check their surroundings so you might wish to stockpile on additional food if your feline tends to be hyperactive throughout the day.
According to the College of Veterinary Medicine at Cornell University, kitties might need as much as 3 meals a day up till they're 6 months old. From that point onwards, 2 meals a day will normally be enough.
Dry feline food, combined with a lot of fresh water, is recommended for the most part. Purina Pro Plan Savor and Purina Pro Plan True Nature are exceptional starting options and go for around $36 per 16-lb. bag and $12 per 6-lb. bag, respectively.
Purchaser's Guide & General Care Tips
Acquiring and owning a legendary cat like the Norwegian Forest Cat certainly involves more than what you'd usually do when searching online or looking for animals.
Here are a couple of things to bear in mind to guarantee that you're prepared in picking the best cat for you:
Take your time looking for a registered and reliable breeder.
Be wary if a cat is being provided at a rate that is way below what you'd expect.
Find out more about the kitty's parents and history before deciding.
If possible, check out the living conditions in the cattery to guarantee tidiness.
Watch out for possible character problems.
Ensure that you have all the best devices before you bring a new pet home.
Research regional veterinarians in the geographical area so that you know where to bring your cat during emergency situations.
Get ready mentally to handle the energy of a Norwegian Forest feline.
Purchase a good stainless-steel comb or brush to aid with day-to-day grooming.
Wegies are extremely particular about their health, so ensure the litter box is tidy at all times.
They also tend to wander outdoors, so keep a strong boundary in place.
https://www.thepricer.org/wp-content/uploads/2021/01/norwegian-forest-cat-cost.jpg
380
610
Alec Pow
https://www.thepricer.org/wp-content/uploads/2023/04/thepricerlogobig.png
Alec Pow
2021-01-13 12:08:57
2021-06-17 20:15:49
Norwegian Forest Cat Cost