Last Updated on December 23, 2022 | Written by CPA Alec Pow
First Published on October 18, 2020 | Content Reviewed by

CFA Alexander Popivker
Office cubicles are an integral and essential part of every office. They provide a simple way to offer employees their own area, while still enabling open interaction. And cubicles now are much better than ever, with a lot of modern-day designs that offer increased productivity and comfort.
Cubicle Summary
Office cubicles are a cost-effective way to offer your staff members a specific amount of personal privacy that also aids to reduce any distractions while still encouraging cooperation. There are numerous businesses that have actually opted for cubicles in lieu of (or as a replacement for) more standard workplaces and unpartitioned, shared areas.
Cubicles are available in 3 standard heights; low (about 42″ high), medium (about 54″ high), and high (60″ or bigger).
Low cubicle walls will help for much easier interaction between employees, along with making it much easier for managers to check on their teams.
Medium-sized walls offer more personal privacy, however, will still let employees stand to interact with one another.
High cubicle walls take full advantage of personal privacy and noise-reduction, however, they do come at a higher cost.
There are also cubicle packages that are available in tiles instead of finish walls. These provide you with better personalization alternatives in terms of sizes and designs.
You might also like our articles about the cost to start a business, to set up an LLC, and to rent an office trailer.
There is also a range of choices for cubicle colors and materials. Almost any color choice is possible, letting you match the coloring of your cubicles to the logo design of your business or the visual you are aiming to reach. The very same goes for materials, with desks offered in different types of fabric, formica, metal, or wood and walls readily available in fabric, glass, and wood.
Pros of Utilizing Cubicles
Office cubicles provide plenty of advantages to both workers and employers. A few of those advantages are these:
Increased efficiency: While cubicles do supply more personal privacy than an open office, they do not offer total personal privacy. When coworkers and supervisors have the ability to quickly see what others are working at, or not working at, staff members are less likely to slack off. This results in a decrease in non-work associated activities at the workplace and a boost in general performance
Improved insight: Unlike a personal office, cubicles put workers right next to each other and let them interact pretty easily. This enables workers to get various viewpoints on their projects, offering them the opportunity to see things in a new way. In addition, individuals from different departments are usually seated next to each other, which lets workers offer and get details from differing perspectives.
Individual expression: Some employees feel that cubicles remove their uniqueness and make them simply another name tag. The truth is that cubicles let staff members make use of desk and wall area to express themselves and make the workplace seem like a piece of their home.
Just how much Does an Office Cubicle Cost?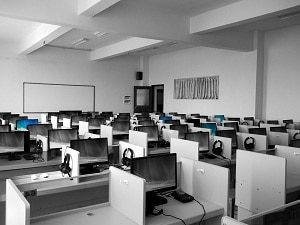 It is pretty hard to get an exact price for office cubicles, as the cost is affected by aspects such as added functions, the materials the cubicle is made from, and the number of cubicles required for your office. With that said, what follows is a basic price guide to get an idea of what you should be ready to spend on office cubicles.
New cubicles have a price that starts at $500, however, they can cost as much as $10,000 depending on the materials utilized.
A basic 8'x8′ cubicle will have a price anywhere between $1,500 and $2,500.
High-end cubicles can cost anywhere from $5,000 to $10,000 or even more.
For instance:
A mid-height space-saver cubicle with incorporated electrical plugs and a pedestal file from Cube Solutions has a typical price between $1,500 and $2,000.
A set of 4 of the very same cubicle from Cube Solutions will have a typical price between $5,000 and $6,000.
The Bush Furniture Office Computer Desk Cubicle set, made from high-end products such as slate and wood, has a typical price between $8,000 and $9,000.
Keep in mind that these rates won't include any shipment, setup, or fees. Be sure that the dealership you buy through offers a quote that will include all associated costs. Also know that the more cubicles you buy at a time, the lower the individual expense will be.
Extra Factors To Consider When Purchasing Office Cubicles
When buying office cubicles, there are a couple of things that are very important to remember.
Do not rush into buying. Take your time to research brand names, sizes, and designs.
Ask questions and check out as many dealerships as you can to ensure you get the very best fit for your company at the best cost.
You will also have to think about the expected growth of your business. If you believe you are going to expand in the next 5 years, take that into account when acquiring your cubicles.
https://www.thepricer.org/wp-content/uploads/2020/10/office-cubicles-cost.jpg
380
610
Alec Pow
https://www.thepricer.org/wp-content/uploads/2023/04/thepricerlogobig.png
Alec Pow
2020-10-18 23:39:27
2022-12-23 13:44:30
Office Cubicles Cost