Olympic Club Membership Cost
The Olympic Club is a San Francisco Bay Area institution. Established on May 6, 1860, as the "San Francisco Olympic Games and Athletic Association," it quickly became more than just an athletics club. Over time its memberships grew to include people from all walks of life who wanted access or influence within local politics.
It is the home of most national and international champions. With more than 5,000 active members competing in about 19 sports across three different associations (including Division I), it's no wonder that this club has been a breeding ground for so many top competitors over time.
How much does an Olympic Club membership cost?
The Olympic Club is one of the most exclusive clubs in America. The dues are said to be about $22,000 per year on average. They can vary depending upon your membership tier, with different initiation fees also being required before joining this prestigious society. You must first seek sponsorship by an existing member or purchase property outright if available where you live so they will consider admitting you into their ranks.
You might also like our articles about the cost of membership at the O2 Fitness Center, Equinox Center, or National Fitness Center.
In order to get a good sense of how much it costs to be a member of this club, we looked at an article from Examiner.com which said that the annual costs would be somewhere around $22,000.
Olympic Club membership details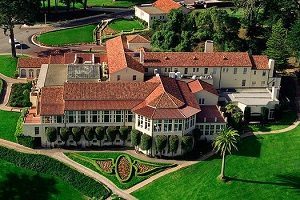 Members can enjoy the two clubhouses of The Olympic Club. One can be found in downtown San Francisco, and the other one is named Lakeside Clubhouse and features golf courses in southwest San Francisco, near the Pacific Ocean and Lake Merced. It offers spectacular views of the Golden Gate Bridge.
The US Open and other important golf tournaments have been played at the Lake Course, one of its 18-hole courses.
The Olympic Club is a haven for those who love playing golf and all that this sport has to offer. They have a long list of other sports as well, including handball, snowboarding, skiing, squash, basketball, rugby, cycling, lacrosse, water polo and swimming, tennis, fitness, triathlon, soccer, softball.
The fitness center is the place to be for those looking to get fit, with cardio machines and free weights. Personal trainers are also available if you're feeling overwhelmed by all of your options at the gym or want some one-on-one guidance. In addition, there are group classes that will keep people engaged throughout their workout.
The Olympic Club is a modern retreat with facilities for all your needs. Not only can you enjoy the traditional sports on offer, but there are also swimming pools and reading rooms/libraries in which to take refuge when it rains outside. Besides these, members can enjoy a wide variety of food and beverages facilities.
Playing at the Olympic Club is like stepping into a world of competition. Not only do you get to show what your skills are, but there's also an opportunity for awards and titles if they're won in any events that take place during these tournaments.
What are the extra costs?
There will be miscellaneous guest fees and guest green fees applied.
Also, there may be extra fees applied for the social events organized during the year.
Good to know
The Olympic Club is a private club that only allows members and their guests to play its golf courses or through tournaments hosted by them. You will also not be allowed inside without a membership and cannot participate in any other sports programs either.
The dress code at the Olympic Club is very strict. It's always a good idea to refer back to their website for any updates or changes, as you can never be too careful when it comes down to following all of those rules.
Cell phones are not allowed in the Olympic Club to ensure that visitors do not cause any distractions. Allowed exceptions are for emergencies or if they're used in specific areas like parking garages or parking lots.
According to GolfVacationInsider.com, if you are not a member and want to play a sport at the Olympic Club, you can do it by playing at a charity event.
https://www.thepricer.org/wp-content/uploads/2021/09/the-olympic-club-membership.jpg
380
610
Alec Pow
https://www.thepricer.org/wp-content/uploads/2022/01/thePricer.png
Alec Pow
2021-09-24 09:44:31
2021-09-24 09:44:31
Olympic Club Membership Cost