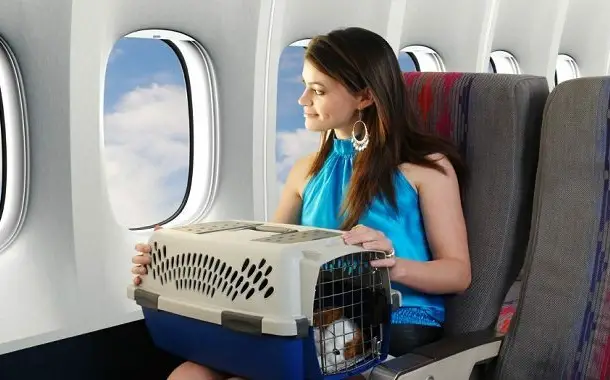 First you must inquire at the airline you travel with, before making your reservation, about the general pet travel conditions. So before you book your ticket, find and inform yourself on the company's website. It is recommended even to make a call before you book your ticket, the employees will confirm or not whether on the chosen flight you can take a pet because usually only a certain number of animals it is allowed per aircraft (around 2-3).
The average price for a small pet under the seat is about $70 – $175.
The average price for medium to large dogs air travel starts from $225 and can reach $1,000.
We must add that there are airlines that do not accept pets on board at all. You should check the websites, before you buy your ticket, on animal transport conditions.
Just Got a New Dog? Check Out How Much Does Dog Food Cost
For all the other airlines that accept pets on board, the procedure is pretty much the same, with small differences. We will explain in a general way because we do not know each airline's procedure, and those that are interested should study in particular, the website of the airline in question. The procedure also differs depending on the country you choose to go to (EU, Asia or any other continent or country) or on the animals' race, especially on dogs (many companies do not accept Rottweiler or pit bulldogs, for example!). Your pet can travel in the passenger cabin, if it does not exceed 5-10 kg, including the cage (again, the weight depends on the airline, for some the maximum may be 5 kg for others 10 kg), or in the hold, in a special compartment (not at the luggage compartment!), ventilated and heated.
In order to leave the country your pet will need:
Up-to-date health card; if you use to travel with your pet it is recommended that you have pet health insurance, which costs from $15 to $30 per month, depending on your pet;
International or European – travel passport certified by a veterinarian;
Identification microchip;
All vaccines to date, plus the mandatory vaccines according to access requirements of the destination's country territory. For example, across the EU the rabies vaccine is needed;
To be healthy, clean and not pregnant;
There are certain companies or countries (but not all of them!) that require a health certificate issued by a veterinarian,, with a certain number of days before boarding. Usually, the veterinary visit costs around $100;
Kennels or carriers are the same thing and cost from $50 up to $200. Take into account that your pet should have space to turn around in it and to stand up.
Does Your Dog Know Any Tricks? Here's How Much Does Dog Training Cost
Typical costs
Depending on the distance traveled and the pet's size, an airplane pet ticket costs from $70 up to $1,000.
If you have a small pet like a cat or a small dog you can keep it under your seat and the ticket's price costs from $70 to $175.
In the case of medium and large dogs, the tickets cost go from $225 to $1,000, depending, of course on the pet's weight, airline, and the traveled distance.
So should the average working Joe take his pet while traveling?
Although it might seem like a lot of hassle to be able to take your pet with you while you travel, take into account that you will surely miss it if you don`t. So if you have the necessary funds, try to go the extra mile and take your pet with you. Before you give up, just think about all those precious moments spent with your cute best friend, trust us, it's worth it.
https://www.thepricer.org/wp-content/uploads/2015/06/pets-on-a-plane.jpg
380
615
Alec Pow
https://www.thepricer.org/wp-content/uploads/2023/04/thepricerlogobig.png
Alec Pow
2015-06-25 01:15:12
2022-12-23 14:39:48
Pet Air Travel Cost