Physical Therapy School Cost
Although the job of a physical therapist is quite popular, many people still do not know exactly what this profession entails and what are the duties of a person working in this field.
A physical therapist is a specialist who benefits from specialized studies and deals with the treatment of certain conditions, injuries, and pains of his patients.
If you have decided to pursue this profession, you can find out below the advantages of such a profession and some lesser-known details about a career in physical therapy.
How Much Does Physical Therapy School Cost?
In general, the cost of going to school for physical therapy will be greatly affected by the school you choose, for example, if it is a private or public college, and the location. Also, the cost will depend on the payment method and whether you are paying out-of-state tuition fees or in-state fees. You will find below the average costs involved with getting a physical therapy degree:
private colleges: $28,500 to $43,000 per year;
board and room: $11,000 to $15,500;
out-of-state public college: $22,000 to $27,500;
in-state public college: $8,500 to $13,500 per year;
liability insurance associated in general with physical therapy school, lab fees, and cost of books: $2,500 to $5,500.
The advantages of being a physical therapist
The job of physiotherapist is one that can bring you many benefits, both financially and psychologically. In this job you have the opportunity to work closely with people, to observe their progress in therapy and to rejoice with the patient when he is cured.
You might also like our articles about the cost of becoming an ultrasound technician, chiropractor, or esthetician.
And the financial factor is a reason to choose the profession of physical therapist. The recent statistics show that the next sums of money are the reported percentile earnings regarding the actual annual physical therapy salary:
10%- $52,170 ($25.08 per hour);
25%- $62,270 ($29.94 per hour);
50%-median salary- $74,480 ($35.81);
75%- $87,940 ($42.28 per hour);
90%- $105,900 ($50.92 per hour).
How can I pay for my physical therapy studies?
As you can see, the physical therapist profession has great earning potential, but until you are licensed in this field you need to pay for your education process. There are some options when it comes to paying for physical therapy school:
National and local scholarships and grants;
Federally funded government grants and scholarships.
Physical therapy schooling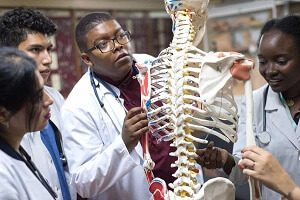 The job of a physical therapist is one that requires specialized training, and to get to this position it is necessary to attend the courses of a physical therapy school and successfully pass the final exam.
Accreditation: the accrediting body of the American Physical Therapy Association (APTA) is the Commission on Accreditation of Physical Therapy (CAPTE). This provides the seal of approval which accredits entry-level academic programs in the physical therapy profession. CAPTE makes sure that every schooling program respects certain educational standards.
Licensure: the practice of physical therapy is regulated by all states and the eligibility requirements depend on the state. In general, physical therapy education require to go through the following:
graduate from an accredited physical therapy education program;
pass the national physical therapy examination and state licensing exam;
fulfill the state requirements like the jurisprudence exams.
It is important to mention that many states require you to continue your studies as a condition to maintain your license.
Lesser-known things about the profession of physical therapist
There are many myths created around the profession of a physical therapist, but many of them are, as the name suggests, just plain myths. In reality, this job is an extremely complex one, which does not consist only of providing support to people who need to recover. In fact, a professional physiotherapist is able to change a person's life and give them their right to a normal life back.
Unlike a doctor, who gives consultations only from his office or from the unit where he works, a physical therapist will often have to travel to the patient's home, in order to give them the necessary assistance. Thus, if you are not a fan of office work and like to travel, this job is the right one for you.
Also, as a physical therapist, you will often be put in the position of choosing the most appropriate treatment for your patient, based strictly on your knowledge and experience. Thus, the satisfaction you will have when you see that the patient has recovered thanks to your professionalism will be wonderful.
Final thoughts
Choose the profession of a physical therapist with confidence if you want a stable job, with many benefits and which offers you multiple possibilities for career advancement. If you pay attention to detail, enjoy working with people, and traveling during your schedule isn't a problem for you, then you'll do great and have a prolific career.
https://www.thepricer.org/wp-content/uploads/2022/09/Physical-therapy-schooling-cost.jpg
380
610
Alec Pow
https://www.thepricer.org/wp-content/uploads/2023/04/thepricerlogobig.png
Alec Pow
2022-09-15 08:13:17
2022-09-15 08:13:44
Physical Therapy School Cost