Pizza Hut Wingstreet Menu Prices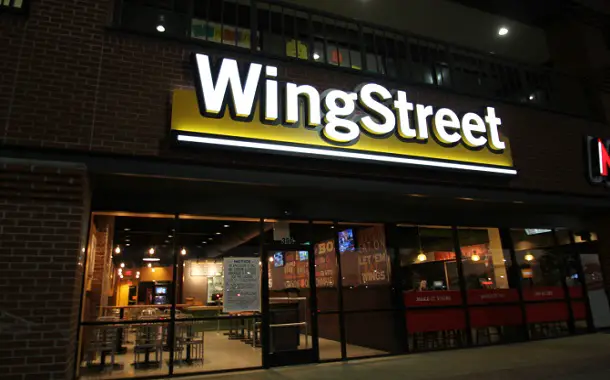 WingStreet is a multinational restaurant chain best known for serving chicken wings, loaded fries, desserts, sides, beverages, and dips. For less than $80 you can have most of these food items. Also, they offer delivery and take-out services. WingStreet works together with its sister company, Pizza Hut.
In the table below you will find the latest WingStreet menu prices, so you can get an idea about how much you should budget for some authentic chicken wings.
WingStreet menu prices
Item
Price
12 Wings Traditional Bone In
$29.67
16 Wings Boneless
$20.69
32pc Crew Pack
$38.64
8 Wings Boneless
$11.71
Cheese Fries
$4.82

Specialty Double Sauced Wings

Medium 8pc Boneless Wing Combo
$18.63
Medium 6pc Traditional Wing Combo
$20.69
Loaded Feast Meal Deal
$48.29
Large 16pc Boneless Wing Comboz
$27.59
Large 12pc Traditional Wing Combo
$34.49
Double Sauced 8 Boneless Wings
$13.10
Double Sauced 16 Boneless Wings
$22.07

Wings

12 Wings Traditional Bone In
$29.67
16 Wings Boneless
$20.69
18 Wings – Traditional Bone In
$42.77
24 Wings Boneless
$28.97
36 Wings Traditional Bone In
$81.33
48 Wings Boneless
$51.05
6 Wings Traditional Bone In
$15.18
8 Spicy Wings Boneless
$11.71
Cauliflower Wings
$12.42

Fries

Beyond Chicken Tenders
$11.04
Cajun Fries
$4.82
Cheddar Cheese Curds
$11.18
Cheese Fries
$4.82
Chicken Tenders
$10.70
Crispy Green Beans
$9.88
Fried Pickles
$15.80
Fried Ravioli
$15.07
Lemon Pepper Fries
$4.82
Mac & Cheese Bites
$17.52
Regular Fries
$3.44

Loaded Fries

32pc Crew Pack
$38.64
48pc Crew Pack
$63.77
64pc Party Pack
$89.70
Bacon & Cheese Loaded Fries
$6.20
Buffalo Chicken Loaded Fries
$8.97
Garlic Parmesan Loaded Fries
$9.66
Wing Group Party Packs

Dips

Ranch
$1.04
Blue Cheese
$1.04
BBQ
$1.04
Honey Mustard
$1.04

Beverages

Diet Pepsi
$2.61
Pepsi
$2.61
Sierra Mist
$2.61
Water
$2.61

Dessert

Hot Cinnamon Apple Pies
$6.89
Brand history
The WingStreet fast food was founded in 2003 by Yum! Brands as a combo unit with an existing Pizza Hut pizza franchise. Actually, WingStreet restaurants are always co-located with Pizza Hut. Yum! Brands also owns famous fast-food restaurant chains such as KFC and Taco Bell.
WingStreet/Pizza Hut opened their 1000th location in 2007. Between 2007 and 2008 there were opened another one thousand locations, and in 2010 there were more than four thousand WingStreet restaurants.
This company has locations all over the world, in countries such as Egypt, Mexico, Canada, Macau, Japan, Myanmar, India, South Korea, Bangladesh, Taiwan, Pakistan, Hong Kong, Sri Lanka, Brunei, China, Indonesia, Saudi Arabia, Singapore, United Arab Emirates, Malaysia, United Kingdom, Thailand, European Union, Qatar, Vietnam, and the Philippines.
Currently, there are around five thousand WingStreet restaurants in the United States of America and Canada.
WingStreet Pizza Hut Franchising Cost
WingStreet has around five thousand locations and plans to expand further. If you want to own a WingStreet franchise, you should consider the following costs:
Royalty fee: 3%
Initial franchise fee: $15,100 to $25,100
Initial investment: $266,000 to $1 million
Our order review
ChickenWings menu consists mainly of chicken wings, that can be enjoyed with different types of sauces such as marinara, Hawaiian teriyaki, blue cheese, garlic parm, honey BBQ, and others. You can choose your favorite flavor, between Cajun-style dry rub, mild buffalo sauce, naked, lemon pepper dry rub, or others.
As for the dips, which cost $1 each, you can choose between garlic dip and blue cheese. For desserts and sides, you can order apple pies, fried cheese sticks, and fries. The apple pies are sweet and loaded with fried mini apples spiced up with cinnamon. At certain locations, you can also find onion rings, curly fries, and jalapeno poppers. The side items are priced from $10 to $16.
Also, WingStreet offers combos. Their traditional wings combo includes a side of your choice, six saucy traditional wings, and a cold beverage. These cost around $18. A traditional wings meal for two includes a side of your choice, two beverages, and twelve traditional wings. You will have to pay for it almost $30.
If you have to organize a party and want to serve your guests with WingStreet food, you can order one of their Wing Group Party Pack, which costs anywhere between $35 and $80, depending on the number of chicken wings.
The beverage menu includes drinks such as Diet Pepsi, Pepsi, water, and Sierra Mist. Each of these costs around $2.5.
WingStreet frequently asked questions
At what time does WingStreet open?
Most WingStreet restaurants open at 10:00 a.m. Monday through Sunday. Though, it may vary from one location to another, so you should visit the company's official website to see which are the opening hours of the location you are interested in.
At what time does WingStreet close?
In general, WingStreet units close at 10:00 p.m. every day. But again, it depends on the location and the day of the week. You should verify this information on their official website.
Which are the most famous food items at WingStreet?
WingStreet offers many delicious food items, but the most famous are chicken tenders, fried pickles, crispy green beans, mac & cheese bites, cheddar cheese curds, and fried ravioli.
How many WingStreet locations are in the United States of America?
There are more than one thousand WingStreet restaurants in the United States of America.
How can I order from WingStreet online?
If you want to order from WingStreet online, you can do it through their official website. Also, you can use some of the leading food delivery services apps such as Uber Eats, Doordash, Postmates, Grubhub, and Seamless.
When was WingStreet founded?
WingStreet was founded twenty years ago, in 2003.
Does WingStreet offer gift cards?
Yes, WingStreet offers gift cards, which are the ideal gift for any occasion.
https://www.thepricer.org/wp-content/uploads/2023/06/wingstreet-menu-prices.jpg
380
610
Alec Pow
https://www.thepricer.org/wp-content/uploads/2023/04/thepricerlogobig.png
Alec Pow
2023-07-04 06:17:08
2023-06-30 12:04:16
Pizza Hut Wingstreet Menu Prices