Quick Weight Loss Center Cost
Last Updated on December 12, 2022 | Written by CPA Alec Pow
First Published on January 26, 2021 | Content Reviewed by

CFA Alexander Popivker
Launched in 2001, the Quick Weight Loss Centers provide individualized weight reduction treatment, aiding you to drop weight, all without working out or removing from the foods you take pleasure in from your diet, with their own line of diet plan foods and supplements.
Frequently heard throughout the Rush Limbaugh radio program, a popular radio host who lost 80 pounds in 2009, this Florida-based business has actually aided hundreds to drop weight.
You might also like our articles about the cost of Nutrimost or NJ Diet.
As of today, the business only has a restricted few physical centers situated throughout Florida and Texas, but for those who do not live close, they can benefit from an online-only program, which is developed to assist anybody around the world to utilize the program from the convenience of your own house.
Just how much does the Quick Weight-loss Center cost?
The expenses of the Quick Weight Loss Center significantly depend upon the kind of meals you buy for your plan as all the bundles will differ. If you look at the site, you will notice that they state you can begin for just $9 weekly, however, when you look at the small print, it will say that you will have to include the expenses of the supplements, making many people who tried the program upset about this marketing claim.
From our research online, the supplements, when added to the total, can be closer to $70 weekly or about $300 a month. These costs would cover the supplements and the customized assistance, NOT the food needed to go through your diet plan, and from what we were able to find, these will be required to see the full results of the program. For instance, one article found online breaks down the costs of the business's supplements and registration charges from somebody who took a photo of the book inside the center.
The at-home program, according to the DietChoices website will cost about $449 for a six-week supply. You can also take a look at the rate of the supplements and other associated items on the main site.
With numerous individuals sharing their experiences and expenses online, we figured we would break down all of the info we discovered online and include it in the list below:
Costs reported online:
Someone lost 6 pounds in 1 week and paid about $70/week for supplements only
An individual lost about 15 pounds and was priced $72/week for the pills and protein bars
Someone paid $2,500 for the "platinum" plan (they didn't specify how long this lasts)
Someone paid $379 to enlist + $35 for supplements and was asked to pay $1,400 to commit for the whole year
Someone was given an estimate of $1,050, however, the sale brought the rate to $607 for the 6 weeks
Someone was given a quote of $4,437 for 23 weeks' worth of products + the consult
For someone, the complete weight loss plan averaged at $233 a pound
Another quote was for $1,500 for 14 weeks
Someone Signed up for $195 and paid about $35 a week for the "quick snacks"
Averaged about $60 a pound after they were done with the program
On one Yelp evaluation for the Houston, Texas center, someone noted that the tv business they saw, marketing 20 pounds for $20 was a "rip-off". When they got the quote, the total surpassed $500, saying that they felt as if it was a program to just sell the business's supplements. Another customer on the page noted they were dissatisfied to find out that they can buy the exact same supplements online, for as much as $25 less, as the business was offering.
How does the program work?
The online-based program lasts 6 weeks and is created to enable you to get assistance from their certified weight-loss professionals by means of e-mail or phone, all while following a particular diet plan and supplement routine. If you join a physical location, nevertheless, then you will be able to meet personally to discuss your expected results and objectives as you take part in the program 3 times a week.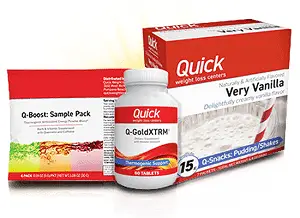 As soon as you register, you will start working with the center's specialist in order to develop a customized meal plan made particularly for your body. Taking in approximately 1,500 calories a day, depending upon your body profile, you will have to purchase the foods according to the recommendations, which, according to our research online, can vary from pancakes for breakfast to turkey and seafood for supper. They also provide their own line of protein bars, shakes, and tablets, all of which they try to push to you to get. DietChoices broke down most of the foods found from the main recipe book.
When it comes to the food you will be able to eat, the site does not go into too much detail as to what you will have inside your diet, however, digging around online, we were able to find that the plan tends to be a low-calorie, low-fat ingesting plan that caps out at about 1,500 calories a day. Members are motivated to utilize the business's line of supplements and food, however, it is not required; nevertheless, many do report it will increase your success with the program. Many people noted that you might save approximately 75% if you were to use Amazon.com or an associated product when you know what supplements you need to take.
Similar to other diet plans, there are a host of other guidelines, however, this will significantly depend upon your customized diet as they are all personalized to each person's requirements. One customer on a Yelp page noted that you can not combine proteins, and you should refrain from duplicate specific products, for instance. Others note that you can not consume any alcohol, fried foods, or refined flours or sugars.
The business notes that if you follow your tailored meal plan carefully, you can lose as much as 7 pounds weekly.
Members are pushed to work out, however, this isn't a necessity.
Quick Weight Loss Center reviews
On one Yelp evaluation page for the Houston, Texas place, there were more than 14 accepted reviews and 20 other evaluations that were not recommended, with a cumulative average of 2 out of 5 stars.
The main Facebook page had more than 100 votes, with a 4.3 out of the 5-star average.
The pros
The personnel, for the most part, seems to be accommodating and really friendly in most centers.
A lot of support throughout the program, aiding you to reach your weight-loss objectives as you do need to come in 3 times a week.
The diet plan is really healthy and can aid you to lose more than just weight; it also aids to drop your high blood pressure and cholesterol, among other things.
The plan, or most of it, seems to be practical and you can see fantastic results if the program is followed.
The cons
The menu is really limiting and typically assumes you eat just food in your home, not out at restaurants, although the business notes that you can "eat in restaurants".
The supplements and program are really pricey and won't be worth the weight loss.
Really misleading television/radio ads. Many people say to not succumb to the ads as they are not real; you will pay far more than the promo amount.
No medical professionals, nurses, or informed individuals on the website – just the typical employee with minimal experience and/or education.
No cheating or reward days, so be prepared to stay with the diet plan 24/7.
No cash back guarantee.
KEEP IN MIND: All of these benefits and drawbacks were sourced from third-party evaluation sites and are not conclusions of our own.
Tips you need to keep in mind
The business, based on its Frequently Asked Questions, will give you a guarantee, specifying that as long as you follow the plan based on the guidelines provided, they will enable you to continue the program at no charge till you have actually lost the right amount of weight; nevertheless, this will not include the supplements or other weight loss products that you might need.
In many cases, your medical insurance provider could cover this program if it's considered a medical need.
https://www.thepricer.org/wp-content/uploads/2021/01/quick-weight-loss-centers-cost.jpg
380
610
Alec Pow
https://www.thepricer.org/wp-content/uploads/2023/04/thepricerlogobig.png
Alec Pow
2021-01-26 07:56:43
2022-12-12 08:24:45
Quick Weight Loss Center Cost