Saw Cutting Concrete Cost
The concrete cutting process can be difficult and requires a lot of patience, and safety, but also a well-mastered technique. To ensure that the work you are going to do will be completed successfully, and the end result is in line with your expectations, you need to choose a good contractor.
The concrete saw cutting operation is fully supervised and controlled by the specialized and authorized operators in concrete cutting. The teams of specialists are certified and trained in the use of advanced technologies, and the protection equipment ensures the full safety of the people and the structure of the building and determines that the work is carried out according to the specific norms of these types of works.
How Much Does Saw Cutting Concrete Cost?
The amount of money you are going to spend for saw cutting a concrete slab will be greatly influenced by the location/condition of the wall and the size of the slab surface. In general, this process involves more activities and each of these are charged differently. Also, the cost of saw cutting concrete is influenced by the depth per linear foot.
You might also like our articles on the cost to remove concrete and the price of crushed concrete or precast concrete.
Expect to pay around $1.25 per linear foot for the outdoor surfaces with a depth of 1 to 1.5 inches, while the cost for indoor surfaces would be around $1.75 per linear foot. The higher the depth of a surface, the higher will be the costs. For example, the outdoor cost for a concrete slab with a depth of 16 inches will be around $7 per linear foot, while the indoor cost would be almost $10 per linear foot. The average depth of a block of concrete will be 4 inches. Though, concrete walls can have a depth of 6 to 16 inches.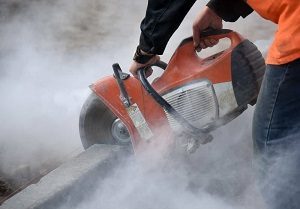 For instance, according to some websites, the cost for saw-cutting concrete would be anywhere between $1.25 and $10 per linear foot, depending on the size and depth of the concrete surface.
On the other hand, for wall sawing you should plan on spending anywhere between $12 and $60 per linear foot, depending on the depth of the wall.
Before even starting the job, all contractors will charge a minimum service fee which is anywhere between $55 and $160. For example, according to their official pricing list, Limited Access company has a minimum fee of $155, and for the 4-inch-deep concrete slabs, they will charge $6 per linear foot.
According to a member of the DIY Chat Room online forum, the expenses to cut a trench across 25 feet of a patio in order to reroute a drain line, would be around $740.
Taking into consideration that there are so many variables that will influence the cost of saw-cutting concrete, try to find price offers from multiple contractors in your area.
Concrete saw cutting details
When talking about concrete saw cutting there are three popular methods to perform this job.
Flat sawing, that is also known as slab sawing, involves the cutting of the upper area of concrete in order to create an even plane, with a depth of up to 24 inches. This method is used for providing control joints, leveling out damaged pavement, or helping lay underground wires.
As its name says, wall sawing is made for creating a precise cut in horizontal or vertical concrete slab walls. For example, this may include a window opening, HVAC opening, or a door well. In order to minimize the damage when removing concrete, these wall saws use low vibration and most of them can cut up to 35 inches in depth, depending on the type of saw.
Hand sawing uses a diamond blade to provide more options and flexibility to make a cut. Diamond cutting concrete is a technique for cutting concrete used to remove massive sections of the structure, such as beams and columns, foundations, walls, floors, oversized structures, or stairs. This technique is applied in all cases where the other cuts cannot be made and also if the space is limited and the reinforcements are very strong.
Because it is very strong, no reinforced concrete structure will withstand the path of the diamond wire, being a widely used technique, especially in controlled demolition works.
This cutting technique will always be done only by professionals in the field and will always be supervised and controlled. Because the diamond wire has very high strength and its breaking is impossible, cuts of any kind, both wet and dry, can be made with the utmost ease, regardless of the thickness and strength of the structures.
The average saw can cut up to 70 square inches per minute, depending on the presence of reinforced steel, concrete strength, and size of the job. This means that an average contractor can cut up to 240 feet in one day or 40 feet in an hour if the concrete is 5 inches thick.
What are the extra costs?
After cutting the concrete this has to be removed and hauled away. Expect to spend anywhere between $18 and $35 per square foot for this job.
The costs may increase for the hard-to-reach areas that involve more effort.
Also, the costs will increase for the complex areas filled with plumbing and/or wiring.
In case the contractor will have to travel outside his normal radius, then you will have to pay for his travel costs.
https://www.thepricer.org/wp-content/uploads/2022/05/Saw-Cutting-Concrete-cost.jpg
380
610
Alec Pow
https://www.thepricer.org/wp-content/uploads/2023/04/thepricerlogobig.png
Alec Pow
2022-05-06 06:02:57
2022-05-04 23:02:08
Saw Cutting Concrete Cost