How Much Does Crushed Concrete Cost?
Last Updated on September 21, 2023 | Written by CPA Alec Pow
First Published on April 10, 2021 | Content Reviewed by

CFA Alexander Popivker
When concrete structures are either demolished or renovated, the resulting debris can be recycled and is called crushed concrete.
In the past, these materials would just fill landfills for disposal but nowadays, more and more people choose to have them recycled, especially as people become more environmentally aware and environmental laws become stricter.
As cement uses thousands of gallons of water to be made, crushing concrete and reusing it in new buildings will not only help the environment but will also reduce the costs of new construction.
How Much Does Crushed Concrete Cost Per Yard?
Crushed concrete costs somewhere between $11 and $55 per ton. Many companies will choose to sell crushed concrete by the cubic yard and the costs per yard are somewhere between $16 and $80. As with most materials, the bigger the quantity you buy, the lower the price will be, regardless of whether you're buying by the yard or by the ton.
Usually, when you get crushed concrete, its cost is influenced by factors such as where you purchase it, the market conditions, and the type of concrete you're getting.
You might also like our articles about the cost of a ton of sand, gravel, and building a house.
A live market example is Mainslandscapesupply.com, which sells different types of crushed concrete for prices between $30.95 to $32.95 per cubic yard, depending on how much you buy.
Another company ceiling concrete is Hafners.com. It is located in Cincinnati, Ohio, and has number two recycled concrete priced at around $15, while number 67 recycled concrete costs at $21.
A discussion on NewAGTalk.com revealed prices of crushed concrete in the area of the participating members. Some responses pointed out that the prices were somewhere around $340 for a 20-ton load, or around $17 per ton delivered to the worksite.
Crushed Concrete Driveway Costs
There are quite a few blog posts and YouTube videos all around the internet showing off beautiful crushed concrete driveways. Most of these posts and videos note that cost the crushed concrete material will vary quite significantly from one week to another. Most people said that a small 50 ft crushed concrete driveway costs $1,000 or more, depending on the market price of the material.
A blog post on LadyLeesHome.com talked about the price of crushed concrete for a new driveway. According to this article, the customer had paid $6 per ton of crushed concrete, although the article itself was several years old.
Crushed concrete description and details

You will find that most companies require that you place a minimum order to have the material delivered. For Mainland Aggregates, for example, the minimum order requirement is 20 bulk bags or a 1 x 8 wheeler loose load. To better understand and calculate how much crushed concrete you have to buy, you should know that at this company, a bulk bag weighs about a ton, while the 1×8 wheeler load contains 17 to 20 tons of 75-40 mm crushed concrete.
When you need drainage layers or sub-bases for a horse racing showground, the 75-40 mm crushed concrete stone is the best choice.
Most companies that sell recycle concrete will add the prices next to the grades of each material type.
For example, the 311 grade is more suitable for general filling and pipe bedding.
304 on the other hand, should be placed under concrete or asphalt or can even be left as it is, as it has been crushed to under 1.5 inches.
Grade 67 can be used behind retaining walls as a backfill.
57 is great for wall backfill and is 1 inch to 1.5 inches in size.
Lastly, the number two grade is two to three inches in diameter. It should be used under the crushed aggregate as a main base.
Crushed concrete is similar to normal concrete in color, a type of gray.  One yard of crushed rock should cover roughly 80-100 square ft with a 2-inch depth.
Extra costs related to the delivery

The prices estimated above don't include delivery to your worksite. This, depending on the distance from can be up to 30% of the total cost.
Additional information and material review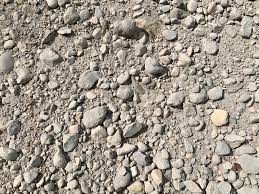 Surprisingly enough, crushed concrete that has been recycled can be as strong or even stronger than original concrete.
When properly set in place, crushed concrete will look just like the original one and there's almost no way of telling the difference.
Crushed concrete can be successfully used as pavements in different types of landscapes, on gutters, curbs, bridges, sidewalks, and even highways. It can also work as a foundation for those paving projects that use either asphalt or concrete. It can be laid down and leveled as a steady base for all kinds of projects.
Crushed concrete shouldn't be confused with gravel. Although they might look the same, they come from completely different materials. While gravel comes from actual rocks that have been collected, crushed concrete is concrete finely crushed to the size of gravel. Depending on where you get it, recycled concrete will most likely be cheaper than gravel.
How can I save on concrete price?

Check websites and brick and mortar shops of suppliers in your area and ask for quotes.
There are a few places that give out crushed concrete for free, as long as you take on the responsibility of picking it up with a truck and taking it to your location.
https://www.thepricer.org/wp-content/uploads/2021/04/crushed-concrete-cost.jpg
380
610
Alec Pow
https://www.thepricer.org/wp-content/uploads/2023/04/thepricerlogobig.png
Alec Pow
2021-04-10 10:11:06
2023-09-21 11:03:20
How Much Does Crushed Concrete Cost?