Sherwood Country Club Membership Cost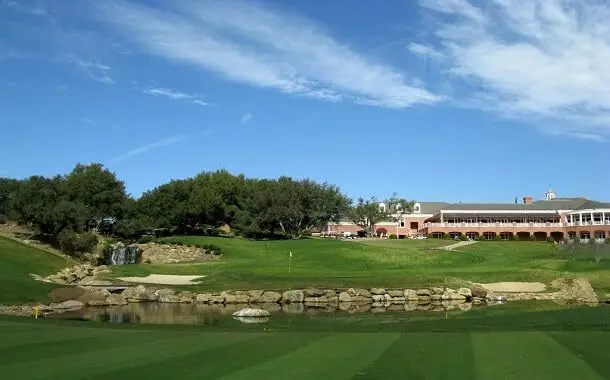 The Sherwood Country Club, situated on the edge of Ventura County in Southern California is a destination for golfers from all over. From its Jack Nicklaus signature 18-hole course to luxurious accommodations and amenities, it has something for everyone.
People come here to play golf or just enjoy the views with their family while staying at one of the many deluxe suites available all year round.
This golf club is situated on a sprawling, oak-tree dotted site at the foot of the Santa Barbara Mountain range in Southern California. Celebrities come here to play and relax among friends since it's one of their favorite courses nearby Los Angeles.
The Golden Club is just 35 miles west of Los Angeles. The club has an interesting and exclusive location that includes 1,900 acres inside a gated community where members enjoy their privacy.
How much does a Sherwood Country Club membership cost?
Few people can afford the $300,000 initiation fee to join Sherwood Country Club. If a member buys property in Sherwood, then it becomes easier for them to get into this exclusive club with an initiation fee of only $200,000. In order to join this club though you must follow certain protocols and get an invitation from one of the current members.
According to Forbes magazine, a member will pay around $7,300 for the annual dues and, as mentioned above, a $200,000 initiation fee if he or she has a property in the area.
On the other hand, VCStar.com claims that the annual dues are $10,000 and the initiation fees start at $200,000 and can go up to $300,000.
Sherwood Country Club details
The club's gymnasium is a place where you can work out, get in shape or just chill. It has everything from fitness classes to personal trainers so that anyone of any fitness level can enjoy it. Classes are kept small, so your workouts will feel more personalized and you'll be able to get the most out of them. This club offers two large areas, one being a 50,000 square foot clubhouse for members and another 14,000 square foot clubhouse that is perfect for family members.
You might also like our articles about the cost of membership at La Canada Flintridge Country Club, Hershey Country Club, or Porter Valley Country Club.
The Tennis clubhouse offers men's and women's locker rooms for members and their guests alike in order to make them feel at home.
The club is a great place to go for dinner and drinks with friends. Diners can choose between the formal dining room or the more casual bar area, both offering an excellent menu that will suit all appetites. Club representatives say that "Golf members and their guests may enjoy breakfast, lunch, and dinner in the Golfer's Grille Room, the Vista Grille, the Green Room, and the Terrace overlooking the golf course.  The Golf Club is open for dining Tuesday through Sunday.  All members and their guests may enjoy lunch and dinner in the Dining Room, Social Lounge, and Terrace of the Tennis Clubhouse overlooking the courts and the waterfall.  The Tennis Club is open for dining Wednesday through Sunday.  On Sundays, breakfast is served in the Dining Room.  Robin's Pub is open at the dinner hour, Wednesday through Sunday, for cocktails, snacks, or meal service."
The Sherwood Spa has treatments for every part of your body from head to toe. Their staff is skilled in providing therapeutic massages or microdermabrasion which could improve blood circulation. They provide services such as full manicures, pedicures, hair removals, all tailored specifically according to what would be most beneficial for each guest.
The club has a designated Kid Zone with video games, puzzles, and board games for the youngsters to enjoy. There's also a huge pool perfect for little ones who are just learning how to swim.
The club organizes a variety of activities, like sporting and social events, for members and their families throughout the year.
What are the extra costs?
There is an extra cost for the spa services, summer camps, classes, and dining as well.
Also, you should take into consideration the cost of a personal trainer or tennis coach if you want to hire one.
The Sherwood Country Club offers the possibility to rent parts of it so you can have an unforgettable wedding day or other memorable events.
Important things to consider
Being a member of the Sherwood Country Club does not require you to be an actual resident. If you're a non-resident, you will just have to pay more than someone who is living in that town for the same membership.
If you want to take a tour around the club and its facilities before deciding if it's something for you, you can schedule an appointment. When visiting for a quick tour of the grounds, be sure that you have your driver's license is in order to receive access at the gate.
The dress code is very strict, and members are not allowed to wear denim. They must also have a collared shirt on at all times. Be sure to refer to their official website for more information about the rules before visiting.
This golf club is a private sanctuary for members and their guests, but if you're not one of the fortunate few to be granted access then it's best that you join up with someone who is.
How can I save money?
Seeing that the membership fee is over $200,000, if you want to spend less, you should consider checking out other clubs around. This spot was recently noted as one of America's most expensive golf clubs.
https://www.thepricer.org/wp-content/uploads/2021/08/Sherwood-country-club-cost.jpg
380
610
Alec Pow
https://www.thepricer.org/wp-content/uploads/2023/04/thepricerlogobig.png
Alec Pow
2021-08-24 07:00:47
2022-12-25 09:59:00
Sherwood Country Club Membership Cost