Splash pads are a great way for kids to cool down in the summer. They're basically playgrounds that incorporate water, which means there's tons of fun without any risk involved.
There are few features to choose from when building a splash pad and each one can be programmed differently. Ground nozzles will spray either freshwater or treated water upwards out of the rain deck, depending on your preferences, while sensors and timers will work with these nozzles in order to control their jet timing. Splash pads may also include different types of showers as well other various features like moving ground-level jets among many others.
How much does a splash pad cost?
Taking into account the setup you will want to have, the actual costs of installing a splash pad for your backyard will be anywhere from $4,500 to $40,000, if not slightly more. This range shouldn't scare you, seeing that you will usually get all of the features you will want for your residential splash pads for under $12,000. The final cost will ultimately depend on the surface, its size, features, and other necessities like any electric work or excavation.
The average residential splash pad can cost anywhere from $8,000-$20,000 depending on size and features while small commercial options typically range between $30,000-$40,000, according to MySplashPad.
If this price point is scaring you and you feel that you'd rather just visit a splash park instead, then you will usually have to pay an admission fee of just under $5 per person. There are a bunch of splash pads that can be rented by the day. For example, the Columbia City Parks and Recreation enable you to use their splash pads during the summer months for free. This only happens for certain days within the summer, so make sure you check their schedule before going. You can also rent the splash pad during weekdays for around $50.
You might also like our articles about the cost of water massage beds, above-ground pools, or saunas.
Commercial splash pads can cost anywhere from $41 to as much as $61 per square foot. If you want a DIY project, try purchasing one of the many pre-made kits online for about $1,900-$3,000. These come with no installation included, so make sure you will know what you will have to do before paying for a kit like this.
Splash pad details
Splash pads can be integrated into any location of your choosing, from a small backyard to an expansive area in the park. Residential play areas are around 150 square feet and include sprayers for kids' delight.
Splash pads are a great way to make your backyard an aquatic playground for kids of all ages. These water-oriented heavens can be modified in hundreds of different ways, from adding climbing walls and plants to creating the feel of a waterfall or grotto with manmade rocks. All splash pads come equipped with a non-slip material so that you don't have to worry about any accidents while enjoying this new addition.
The variety of features that splash pads offer makes them a fun option for summer. Splash pads can have multiple fixtures, such as streams and sprays that shoot water in different directions which can be activated by people running or timed to go off every so often.
These facilities are built with the whole family in mind, so they have something for kids of all ages and abilities. Young children can run around on playgrounds or explore different features such as a squirting gun. Older kids may be more interested in running through an obstacle course or exploring water fountains to cool off during those hot summer days.
Water safety is especially important for toddlers, which is why splash pads with separate areas are a great idea. This way they can have their own safe space and kids of all ages can enjoy the water without worrying about smaller children. Splash pads that recycle water also help save on your bill while still being environmentally conscious.
Any additional expenses to consider?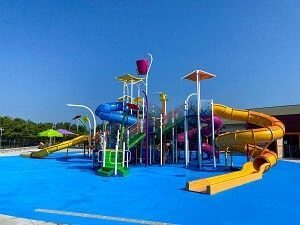 It is true that running a splash pad can incur additional charges on your water and electricity consumption. But keep in mind, it's relatively minimal when compared to the costs of running a swimming pool. The average person would be spending about an extra $30 per month if they were to run their splash pad six hours each day.
Splash pads are great for all ages. They require less maintenance than swimming pools. They just need regular maintenance, like winterization in October and start-up around April in some regions.
Facilities renting out these amenities would typically require nominal cost donations.
Regular cleaning and checking can be requested every year in order to keep the splash pad in good condition and this, of course, will come with an additional fee.
The increase you will notice on your electricity bill will be somewhere between 5% and 10%, depending on how complex the actual setup is.
There are a number of add-ons that can be added, but they will bring the price up. These include UV-resistant surfaces, waterfalls, and pools.
To build a perfect splash pad, it will usually be necessary to have permits on hand. Before construction begins, an electrician may also need to be hired for a hook-up that runs from the pump back into your building's fuse box.
Is there any way to spend less?
if you're short on space or budget, renting one is an excellent option. Online forums and websites can offer discounts and promos such as free or cheap rentals. If all else fails there's always friends – they might know of local places with splash pads for a good price.
If renting isn't your thing and you really want to have one installed in your backyard, try to get as many quotes as possible from insured and licensed contractors.
City splash pads are a great place to take your kids during the hot summer months. Though they can be expensive, there oftentimes are discounted rates available for city residents or even free admission on some days.
https://www.thepricer.org/wp-content/uploads/2021/07/splash-pad-cost.jpg
380
610
Alec Pow
https://www.thepricer.org/wp-content/uploads/2023/04/thepricerlogobig.png
Alec Pow
2021-07-27 05:58:39
2021-12-09 12:59:21
Splash Pad Cost