A water massage bed, also known as a hydrotherapy table or sometimes just referred to by the common term "waterbed," is becoming increasingly popular. As it's been shown that many people are stressed out from their demanding lifestyles and tense work environments – these beds provide an easy way for them to release some of this stress in the comfort of their own home.
How much does a water massage bed cost?
The most expensive water massage beds can be upwards of $30,000 but for those on a budget, you'll find models that range anywhere from less than $3,000 to just under $8,000.
For example, there is the Dry Water Jet Massager from Hammacher.com. It's a full-body water massage table that only costs $36,000 and it doesn't get you wet. The bed comes complete with aromatherapy for your sense of smell; as well as soothing audio/video to soothe your senses.
You might also like our articles about the cost of sauna installation, the price of an Alaskan king bed, or the cost of the perfect chair.
Elements that will influence the price
The technology
The water massage bed uses high pressure and heat to work out knots in the body's muscles. The hydro jets can produce a range of sensations, from calm waves to intense muscle massages. These machines are usually equipped with heating systems for personalized comfort levels and built-in radiators that protect against overheating by cooling down both the bed itself as well as its components and other items close by. Some water jet massagers, like the premium The Hammacher Schlemmer for example, are made of durable fiberglass and come equipped with microprocessors that control the pulsating to provide a range of massage techniques.
The features
Some water massage beds have hydro jets, a thermostat, timer, and pressure controller. These features typically include an adjustable water release system that can be customized to various settings like the hardness of the jet stream or strength on a scale from 1-10 for ultimate relaxation. Highly sought-after models also come with amenities such as Bose headphones and integrated LCD screens with DVD players, as well as an aroma diffuser.
The massage technique
There are various water massage beds that function differently. Some use jets to produce a soothing stream of bubbles, which can be used for therapeutic purposes or just recreational fun! Others have the capability of penetrating deep into your muscles and soft tissues with their pressure patterns. The more expensive units offer an option for shiatsu-style finger massages as well – so you don't need to go anywhere else but home when it comes time for relaxation and relief from stress.
Aqua massage bed details
The water massage bed is a self-contained, user-operated bed that can be used in order to give yourself an intense spa experience from the comfort of your home. The jets constantly pulse and move up and down across the whole body or specific areas only depending on what you need at any time. You can control or stop the water jets in specific locations to fix muscle spams or push important trigger points. The bed is usually the perfect place to recharge your batteries after a long day, but it's also surprisingly versatile. For instance, you can set its timer and cooling system so that no matter how hot or cold the temperature outside gets, you'll always be comfortable when using it.
The bed can be adjusted in various ways to suit the needs of anyone. There are different modes for heat, pressure, and duration as well as target treatments for a variety of ailments.
Newer designers of water beds are taking the experience to a new level by including an LCD panel, an LCD player, and headphones that can be used with iPod or CD players. They also have integrated aromatherapy diffusers emitting subtle fragrances for enhanced relaxation while using their beds.
Any extra expenses to consider?
Massage table warming pads are essential for comfort during hydrotherapy sessions, as they eliminate cold spots and produce therapeutic heat. Massage table warming pads can range in price from $30 to over $300 depending on the quality and brand.
Important tips to remember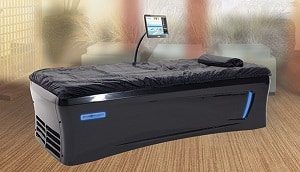 Water massage beds are an easy and convenient way to get a luxurious, spa-like experience in the comfort of your own home. The built-in reservoir needs only be filled with water before it's plugged into any nearby AC outlet. No plumbing will be required. Some manufacturers offer in-home setup for equipment installation as well as the removal of packing materials following delivery so you can enjoy your new bed within hours.
Make sure to ask about the weight capacity before buying your water massage bed. Especially if you're a really heavy person, it is important that they can support your total body weight so you don't get hurt while using them.
Before making a buying decision, you should be sure to ask the dealer about any and all resources that come with your water massage bed. Installation is often necessary before it can go into production for use in businesses; make sure to get training on how best to operate this new equipment if need be.
Inquire about the warranty options if possible, as some units come with a 3-year warranty on your tub and frame. Additionally, parts usually have an extended 2-year lifespan while labor is guaranteed for 90 days of service.
What should you ask the retailer?
Will I need to pay for maintenance for the bed? If so, how much and how often?
How much time should I keep the water before changing it?
Will I be able to install the bed myself?
Can I engage other treatment forms along with the water massage bed?
How do I start the bed and make it work?
Is there a maximum amount of time to sit on the bed?
Will the bed only enable me to use it in some positions?
How often should the water be changed?
Is there any way to spend less?
If you are starting your own business and need to purchase more than one water massage bed, be sure to inquire about discounts for bulk deals. Some manufacturers offer these discounts with the addition of a few other items on their list.
You can also ask about any forms of financing when purchasing. For more expensive beds, these are usually available.
https://www.thepricer.org/wp-content/uploads/2021/06/water-massage-bed-cost.jpg
380
610
Alec Pow
https://www.thepricer.org/wp-content/uploads/2023/04/thepricerlogobig.png
Alec Pow
2021-06-08 11:49:45
2021-06-08 11:49:45
Water Massage Bed Cost