Last Updated on April 6, 2021 | Written by CPA Alec Pow
First Published on April 6, 2021 | Content Reviewed by

CFA Alexander Popivker
The sunflower is an annual flower, belonging to America.
The name "sunflower" was a simple pick given that the flower considerably looks like the sun.
Sunflowers are known to be the symbols of radiance and durability.
Just how much do sunflowers cost?
Typically, the price of one sunflower will vary anywhere from $1 to about $4.50 per stem. Nevertheless, the more you acquire at the same time as wholesale, the more you will be able to save per stem.
For example, at Wholeblossoms.com, the costs for 25 stems are $80, while 300 stems will cost as much as $500.
You might also like our articles about the cost of a rose, a winter plant, or a corsage.
At Sam's Club, the expenses can be anywhere from $0.65 per stem if you were to acquire 100 to as much as $1.25 each for 40 stems.
Those who wish to buy the seeds should be ready to pay around $1 to $6 per package of 100 seeds.
For instance, at Amazon.com, sunflower seeds can cost $1.35 to $5.40 per package.
A bouquet acquired from a local flower shop can cost around $40 to $75 depending upon what is in the bouquet or centerpiece. This cost will normally be for a vase and a variety of other flowers.
For a wedding event, a lot of couples reported paying somewhere close to $3 per stem at a wholesale cost.
| Quantity/Size | Price per Stem |
| --- | --- |
| 25 Extra Large Stems | $4 |
| 25 Large Stems | $3 |
| 30 Medium Stems | $2.50 |
| 40 Extra Large Stems | $2.50 |
| 50 Large Stems | $1.75 |
| 60 Medium Stems | $1.50 |
| 75 Large Stems | $1.65 |
| 80 Extra Large Stems | $2.50 |
| 100 Large Stems | $1.50 |
| 120 Medium Stems | $1.25 |
| 250 Large Stems | $1.50 |
| 250 Medium Stems | $1 |
Details on sunflowers
Sunflowers can be bought as either an adult plant or in seed type. Sunflowers can be found in various sizes such as mini, small, medium, big, and giant.
Some seed packages include certified natural sunflower seeds grown in the U.S.A. for more than twenty years and have actually been cultivated to be free of chemicals, pesticides, and genetically modified organisms. Some brand names have also been checked to ensure great germination rates and to fulfill requirements set by federal policies.
There are sunflower varieties that can grow from 10 to 14 feet high, with flowers spanning 12 to 14 inches, while some sunflower types are cultivated for their colors and are used in a bouquet.
Colors can be yellow, which is the most common, red and brown, two-tone red and yellow, and almost every shade of yellow.
What are the additional expenses to expect?
Purchasing sunflowers online, whatever their state might be, normally means shipping charges. As an example, shipping and handling through first class mail for orders up to $10 can sustain a shipping fee of $5 while orders of more than $150 can mean costs of 10 percent of the order overall.
When growing sunflowers, fertilizer and soil mix will also be required to aid with their development. There are many items offered online or at Home Depot shops. The rates will typically depend upon the kind of fertilizer or mix, the size and amount.
Any tips to keep in mind?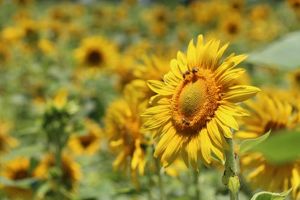 When purchasing sunflower arrangements, try to utilize clean fresh water when arranging the flowers utilizing the flower preservative that normally comes with the order. Follow the directions on the recommended dosage. Excessive preservative can be disadvantageous considering that the flowers can be sensitive to sugar.
Keep in mind that sunflowers need a great deal of sun to grow correctly. They also grow towards the sun, so this has to be considered when trying to plant the flowers.
Feeding and watering of the sunflowers has to be done routinely. You should avoid putting fertilizer onto the stems to prevent decomposition. Organic fertilizer, like accurately diluted fish emulsion, or other liquid natural fertilizers can be utilized. If you have a dog, you can just utilize its manure to fertilize the plants.
Heavy winds can trigger the sunflowers to fall down and have their roots ripped out. If you live in an area with high winds, you might want to reconsider planting sunflowers.
Farms can provide year-round sunflowers, however, some colors or varieties might not always be readily available.
Is there any way to save some money?
Some sunflower providers will offer totally free shipping with minimum orders. Take advantage from this deal to prevent delivery charges.
Purchase sunflowers wholesale at bulk dealers and get substantial cost savings as a result of the reduced costs they provide.
Go to your local farmers markets as this is the very best place to find sunflowers and in some cases the least expensive bouquets.
https://www.thepricer.org/wp-content/uploads/2021/04/sunflower-cost.jpeg
380
610
Alec Pow
https://www.thepricer.org/wp-content/uploads/2023/04/thepricerlogobig.png
Alec Pow
2021-04-06 12:38:13
2021-04-06 12:38:13
Sunflowers Cost