How Much do Corsages Cost?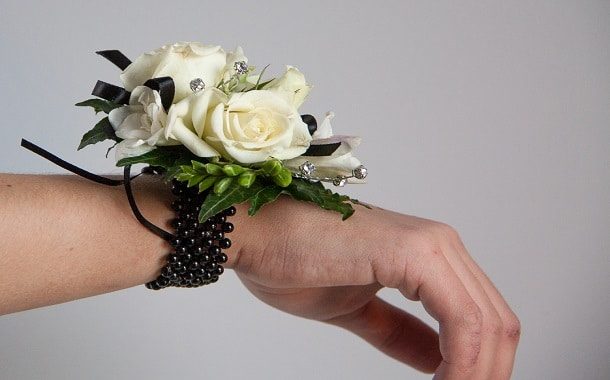 Corsages are accessories that can be fixed to a clothing piece or worn on the wrist and are made of a small group of flowers in a beautiful design. Although most people associate corsages with wedding events, they are also worn for occasions like official dinners, dances, proms, or other events.
A corsage should be made in a way to blend with the overall colors and style of the occasion. One example is high school dances, where it isn't unusual for one partner to get a corsage that matches their gown or jacket and their partner's outfit as well. When it comes to weddings, groomsmen will usually wear corsages while bridesmaids will have bouquets. Both corsages and bouquets should match the coloring and overall theme of the wedding, being made of the same flowers and following a similar pattern.
How Much Do Corsages Cost?
The cost of corsages will usually vary based on several important factors, like the flower shop you pick, your location, the chosen style, and the flowers it is made of. For example, a fresh flower pin-on corsage has an average cost of somewhere between $5 to $65.
Including more accessories and personalizing the corsage will likely cause the price to go up. Some event planning websites say that you shouldn't spend more than 5% to 15% of the total price of the dress when buying a nice corsage.
If you like around-the-wrist corsages more, then be prepared to spend roughly $5 to $25 more on each than you would on pin-on corsages. The reason for this is accessories that go around the wrist are also somewhat bigger than pin-on corsages.
Obviously, the flowers used for the corsage will influence its final price. Using roses or other expensive types of flowers for the corsage will make it more expensive than the ones made with cheap flowers like carnations. Expect to spend around $40 to $50 for a beautiful rose or orchid corsage.
Read also our articles about the cost of a wedding tiara, wedding shoes, and wedding rings.
You can also buy silk flowers for prices between $10 and $30.
One of the more popular flower designers you can find online has an excellent choice of corsages that vary anywhere from $25 to $65. Their White Calla corsage, for instance, retails for $25, while their Poetry(TM) bundle is going to cost $65.
Some family blogs have tried to break down the costs of attending prom, one of them being the corsage price, which is between $40 and $50.
Corsage details
Corsages can have anywhere from one flower to six or more, and the more flowers they have, the bigger they are. Along with the main flower or flowers, corsages can also feature baby's breath and green plants.
Although when fitted on men's jackets they are called boutonnieres, these are just pin-on corsages. The boutonniere will be fixed to the jacket by its stem and pin and the boutonniere flowers should match the flowers on the partner's corsage.
If the corsage doesn't have a pin, it will likely have a flexible strap instead, so that it can be placed around the wrist.
It is not unusual for some corsage styles to feature multicolored bows or ribbons, and their colors should match those of the clothes and the flowers.
Additional costs related to corsages and boutonnieres
Don't leave buying things like corsages for the last minute. When buying in a rush you might end up spending a lot more than you should as the prices can double when you need them in a hurry. Try to buy corsages at least 4 weeks before your big event just to be safe, and if you want fresh flowers for these accessories, try to book the corsage in advance even when having it made closer to the big day.
Expect to be charged a shipping fee when buying them online. This fee will vary based on the distance between you and the seller, as well as their shipping policy.
Tips to remember
A corsage can typically be bought at any local flower shop, online, and even at local supermarkets inside the floral design department.
Although you should book the corsage in advance, if possible, pick it up from the shop on the day of your event. This is because the flower designer will know a lot better how it should be kept to stay fresh and this lowers any possibility for the flower to lose its beautiful look until your event.
Most florists will usually have corsages readily available and on display that you can get on the spot. If you're willing to go for a standard design, you'll surely be able to save both time and money. Nevertheless, this will not ensure that you will be able to find one to match the colors of the occasion or your clothing.
If this corsage is for an event like the senior prom, ensure that you know what type of gown your partner is using. Strapless dresses work best with wrist corsages, while one with a strap can feature a pin-on. It is at the same time a smart idea to have the corsage match the gown color.
You can dry out the corsage in the very same way as an arrangement of flowers. This will help you to keep the corsage as a cute memory of the occasion.
Etiquette dictates that you place the wrist corsage on the left hand.
If you're not sure which colors will mix better with the corsage, an experienced flower shop worker can help you to choose if you can bring a photo of the gown you plan to wear.
How can I save some money?
When planning to use the corsage for a wedding, look around for any wedding arrangement offers. You should notice that lots of flower shops already include the arrangement, bridesmaids arrangement, and a lot more in their packages. If they don't include these, you can try to negotiate for them, as they will be among the cheaper items needed for the occasion. These offers can save you more than 20%.
Depending upon the season, flowers will greatly differ in cost. Ask the flower shop worker what flowers are of that season so you can get the least expensive and best flower combination possible.
For those that are imaginative, try thinking your own type of corsage.
Thrifty people say it's a good idea to take a look at your local supermarket. While these shops will not work with expert flower shops, you can get a corsage here for around half the rates detailed above. For instance, a popular supermarket chain from the south can charge about $14 for a corsage.
https://www.thepricer.org/wp-content/uploads/2020/09/corsage-cost.jpg
380
610
Alec Pow
https://www.thepricer.org/wp-content/uploads/2023/04/thepricerlogobig.png
Alec Pow
2020-09-09 07:54:50
2023-03-29 06:51:17
How Much do Corsages Cost?