Last Updated on March 13, 2022 | Written by CPA Alec Pow
First Published on November 10, 2020 | Content Reviewed by

CFA Alexander Popivker
The rose is the most bought and popular flower for individuals to offer to loved ones. Although a huge bouquet of roses is a popular flower arrangement, lots of people want to give their loved ones a single rose due to the peaceful beauty it radiates. A single red rose is known to say "I love you."
Just how much does a rose cost?
Normally, single roses that are sold at different flower stores can cost $2 per stem or about $10 to $85 for a bouquet of 12, depending upon the variables discussed below.
An individual on Quora addressed exactly this question, and they noted that the expenses will depend upon the time of the year, the grade, color, freshness, farm quality, and where you purchase them from. A stem, usually, can cost $3.50 per stem, whereas a bouquet of 12 can cost about $60 if you were to purchase a vase and some filler.
Judy's Flowers and Gifts, a flower shop in Southern Oregon, for instance, provides single roses in a bud vase for the small price of $15.
Mr. Roses Farms, a seller of long stem roses, offers a box of 200 16-inch single roses separately covered in cellophane for $197.99 ($0.99 for each). Colors have to be defined for every pack of 50 roses. Readily available colors are cream, yellow, pink, hot pink, bi-color yellow and orange, and red.
You might also like our articles about the cost of a boutonniere, a corsage, or a smart garden.
Wholesale, the expenses can be lower. At Sam's Club, for example, a set of 125 stems can retail for something closer to $85.
Elements that impact the rate
The size
The size and length of the rose add to the cost. Super-long roses, like those of 6 feet in height, can cost about $260, for example, while a single-stem four-foot rose can cost $70. The standard 18-inch stem will be the most affordable.
The celebration or occasion
Unique celebrations where customers buy more flowers than usual can lead to a substantial boost in costs. Valentine's Day, for instance, is among the most popular dates for offering flowers, with roses being the most bought of all flowers. Rose costs increase throughout this time due to the fact that roses will be in such high need. The expense of roses is generally over 50% less than what flower stores charge around this time of the year.
The arrangement or bouquet
The rate of the rose can change depending upon the bouquet you go for. Roses that are just covered in a paper will be more affordable than those in a vase.
The colors
Yes, roses can be more than just a strong red. While red roses are popular, white roses can cost more throughout the wedding season, for example.
Production/quality
Unique variety roses grown in unique conditions typically cost more. For instance, enormous roses cultivated in Ecuador's volcanic soil are generally left on the stem for around 4 months. In contrast, common roses take just 2 months.
Climate conditions
Production of flowers on farms can be impacted by weather condition patterns. Variations in the weather conditions can cause a modification in the rates of flowers offered.
Where you purchase
A supermarket chain can offer roses for a more affordable fee, however, this is because of the purchasing power they have as they are usually able to purchase in volume, basically decreasing the expense for the customer. Plus, unlike a local flower shop, a supermarket does not need to boost the costs to get decent earnings.
What should be included in the purchase?
With numerous flower shops, single rose purchases could include the needed product packaging and a free individualized gift message.
The majority of flower shops will provide various bundles, such as something as simple as a single rose in basic wrapping to something more complex like a big stem and rose in an ornamental vase with matching decors.
Depending upon the floral shop, service fees might be included in the rate of the single rose package. Charges for orders made through phone might be more when compared to orders made online.
A lot of flower purchases will include some kind of care guidelines in addition to a package of "flower food" that must be blended in water. This will aid the flower to stay fresh for longer periods of time.
What are the additional expenses?
Online floral shops charge a service fee for orders placed online or by phone.
If you buy a simple rose, you might have to purchase a vase in which your loved one to keep the rose.
If you want to have a single rose delivered to your loved one at home or work, you will need to pay shipping charges.
Tips to keep in mind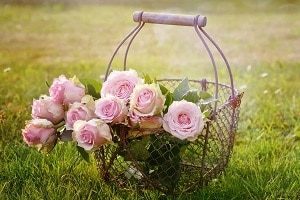 Purchase from sources that deliver straight from the farm and utilize overnight shipment.
If buying from rose farms, a minimum number of days prior to the chosen shipment date might be needed.
After buying roses, cut the stems at a 45-degree angle by a couple of centimeters to keep them from wilting faster. Cutting them while they are underwater is also a recommendation.
When sending out the rose, it is recommended to have the flower hand-delivered instead of sent out in a box. This does not just add a unique touch, but it will also protect the flower from getting damage. Nevertheless, this can be a lot more pricey.
How can you save some money?
Ask about any free shipping. Some rose sellers will deliver totally free on some pre-established days.
It is typically more affordable to purchase and get roses throughout the off-season.
Purchase wholesale to get considerable discount rates on rose purchases. Browse wholesale sites for current offers and deals. Amazon, Costco, and eBay are also great sources for discovering bulk roses priced at wholesale rates.
If purchasing from any flower shop or seller online, search for unique voucher codes prior to making your purchase.
The supermarket is usually the least expensive alternative.
Keep it as simple as possible. Anytime you include the fillers, vase, and unneeded accessories, this can double and even triple your expenses.
https://www.thepricer.org/wp-content/uploads/2020/11/rose-cost.jpg
380
610
Alec Pow
https://www.thepricer.org/wp-content/uploads/2023/04/thepricerlogobig.png
Alec Pow
2020-11-10 12:38:23
2022-03-13 23:21:46
The Cost of a Rose