How Much Does it Cost to Tape and Mud Drywall?
Last Updated on May 20, 2023 | Written by CPA Alec Pow
First Published on November 10, 2020 | Content Reviewed by

CFA Alexander Popivker
After the drywall is hung, the next procedure to follow is called drywall taping. Following the taping of the drywall, it will be mudded and then sanded down, until it can be primed and then painted with the final color.
Even if you consider yourself a professional at hanging drywall, you should know that taping and mudding require quite the skill, which is why if you're unsure of your skills, you should leave this job to a professional.
As for the cost, it will depend on several very important factors, like the drywall contractor you work with to perform the job, the complexity of your room, the height of the ceiling, the size of the job, as well as your location.
The average cost to tape and mud drywall
The average drywall tape and mud job costs somewhere between $0.40 and $1.00 per square foot when done by a professional. The average costs will cover the taping, mudding, and sanding of the drywall, which will prep it to later be painted. The job can be easier or more complicated, which will depend on the drywall finish and texture you want to target.
So based on these calculations, a 500-square-foot room will cost somewhere between $200 and $500 for a professional to tape and finish the drywall process. This price won't include the paint or the primer but will include the labor costs.
You might also like our articles about the cost to replace galvanized pipes, install hardwood stairs, and add Tamko shingles.
If you think you're up for a project of this complexity and you want to tape the drywall yourself, you will still have to pay between $0.10 and $0.40 per square foot to complete the job alone. A pack of drywall tape can cost anywhere from $5 to $13.
Fixr.com has an article about this where they state you will have to prepare for about $5 per 150 feet of drywall that you have to tape.
A contractor from Minnesota called Baumer Drywall LLC, states that it charges around $0.40 per square foot as long as you can meet their 1,000 square foot minimum. For smaller rooms that are just under 500 square feet, they charge $1.00 per square foot instead.
A forum thread on DSLReports.com talked about professionals charging anywhere between $0.20 and $0.50 for mud and tape.
Taping and mudding drywall details
The professional you hire will have to go through the job and make any appropriate measurements before the job so that they can give you an estimate. Most contractors will have some requirements before they can commit to a certain job. They might refuse your job or they might overcharge you if you can't meet their requirements.
When the contractor starts the job, they will remove the loose material in the butt joints and the drywall seams. They will also use joint compound to fill any gaps or voids they fan that are larger than one-sixteenth of an inch. This is also the time when any screws that are above the surface of the drywall will have to be re-set.
They will then go ahead and tape everything from interior angles, and butt joints, to seams using drywall sheet tape. When the taping part is complete, they will move on to the taping compound, which involves three to four coats of mud. It will be applied to screw heads, tape, and corner beads.
As a final step, the surface area will have to be sanded until it has a smooth finish that can be painted properly.  After the job is done, a professional contractor will sweep and vacuum around so that everything is left as clean as possible.
What are the extra costs?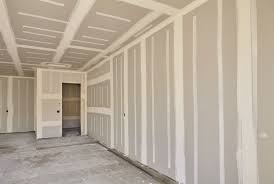 The mudding, taping, and sanding parts are just some of the steps required in the drywall process. Any painting when the contractor is done or installing the drywall won't be included in the prices we have pointed out above.
Most contractors will even charge you to cover any items lying around your house. This includes big items like toilets and couches. If you're charged to have these items covered, expect a price of around $5 per item.
If you want to cut down the drywall costs, then keep in mind that standard residential tape will be 30% to 50% cheaper than commercial brand drywall tape.
If you have vaulted ceilings and corners or any other type of complex layout, then this will increase the price. For vaulted ceilings, you will surely need scaffolding.
Supplies will be charged separately by most professionals.
You will also spend an additional $1 or so per square foot if you need texturing drywall.
How to tape drywall
How can you save some money?
Although taping might seem pretty simple, it is, for the most part, complicated. If you have no previous experience but still want to do this job yourself, you might end up not making the tape disappear properly. In the end, it might be easier for you to just pay the additional cost to hire someone with experience.
If you've decided on working with a specialist but don't have anyone in mind, don't be afraid to ask around. Google can help you get several mudding quotes from professionals around you for free.
The bigger your space is, the lower the total cost per square foot the specialists will charge for the whole process of drywall installation, most of the time.
https://www.thepricer.org/wp-content/uploads/2020/11/Tape-and-Mud-Drywall-cost.jpg
380
610
Alec Pow
https://www.thepricer.org/wp-content/uploads/2023/04/thepricerlogobig.png
Alec Pow
2020-11-10 13:36:05
2023-05-20 23:05:18
How Much Does it Cost to Tape and Mud Drywall?