Last Updated on December 23, 2022 | Written by CPA Alec Pow
First Published on May 5, 2021 | Content Reviewed by

CFA Alexander Popivker
Before you can enjoy a permanent home-court advantage, there's a lot of work to be done. Building your own tennis court is an expensive and complex project that needs careful planning beforehand so as not to end up costing more over time. If the construction isn't well-planned in advance, you will have a lot more work to maintain it than you should. This buying guide will help you learn about some of the basics when it comes to building a tennis court such as pricing, materials, and labor needed.
Tennis Court Considerations
There are many different ways to design a tennis court, and each one has its own price tag. Here is what you need to know before starting to build:
Building materials: Tennis players refer to a court as being either "hard" (asphalt or concrete) or "soft" (clay or grass). Courts can also be cushioned with polypropylene installed over asphalt. While softer courts have slower ball speeds and are easier on the body, they require significantly more upkeep than hard courts which cost more upfront but incur fewer maintenance costs over time.
You might also like our article about the cost of a Top Golf franchise.
Its area: Building a tennis court is no easy task. There are certain measurements that need to be met in order for it to qualify as a "regulation standard". For instance, the standard size of regulation doubles courts should measure up at 60ft by 120ft and singles courts 55 ft x 115 feet long. But what about space? You also have to make sure you leave room for drainage, landscaping, fencing. If you want something more than just an average-sized court with rudimentary amenities, then prepare yourself because even MORE space will be needed.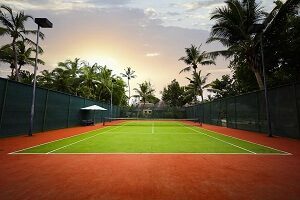 Site preparation: Site preparation is the most important step in building a tennis court. Construction on uneven land, swampy land, or rocky soil can get expensive and even threaten to ruin the surface of the court. Expansive soils, organic material (peat), or high groundwater levels can also damage the newly-built tennis court. A preliminary analysis of your site's subsurface condition will help you take preventative measures against water problems that could jeopardize your investment in this project before it starts by uncovering sensitive areas.
You can create a drainage system for your tennis court to prevent surface flooding and make it easier on your athletes. This could mean installing stone or an underground drainage system like French drains, depending on the site's conditions. The American Sports Builders Association website has articles on the topic.
Orientation: If you live above the 38th parallel, a true north-south court orientation is recommended for good playing conditions during mid to late afternoon of the summer months. Below this line, though location and sun angle considerations come into play. If you plan on playing tennis at night then it's less important what your court orientation is. There are many guidelines available that will help optimize how much light reaches your court's surface. When building them make sure to consult these before construction begins.
Amenities: Add-ons for tennis courts serve a variety of purposes. Lighting, fencing, windscreens, and backboards are all popular additions to the court area that can be wired up with electricity. Shade structures offer players comfort during hot days while scorekeeping units help keep track of games won and lost. Landscape design aspects such as decorative perimeter walls also provide aesthetic appeal to any facility built around this sport.
Tennis Court Costs
A basic tennis court can cost $25,000 to build; more upscale courts might cost up to as much as $200,000. Clearing the site and leveling it may be an additional expense of around $15,000-$30,000 depending on how big your space is. Hard courts are typically priced at about $25,000-$75,000 with post-tensioned concrete costing substantially more but being highly recommended for stability and low maintenance.
Grass courts are the most expensive and come with a hefty price tag of up to $200,000 or more. Clay court costs can range from as low as $25,0000 on average all the way up to about 60 grand if you want it cushioned which is another added cost that ranges around just shy of five thousand dollars. Maintenance for either type will run anywhere between $1,000-$3,000 per year depending on the surface area but fencing adds an additional $10,000 to $15,000.
https://www.thepricer.org/wp-content/uploads/2021/05/tennis-court-cost.jpg
380
610
Alec Pow
https://www.thepricer.org/wp-content/uploads/2023/04/thepricerlogobig.png
Alec Pow
2021-05-05 05:43:11
2022-12-23 14:31:01
Tennis Court Cost