Last Updated on February 9, 2021 | Written by CPA Alec Pow
First Published on September 8, 2020 | Content Reviewed by

CFA Alexander Popivker
When thinking about buying a small pup, nobody likes being made a fool of, paying more than they should, or being pressed to purchase as fast as possible.
On the other side, buying a young puppy for cheap just to, later on, see yourself getting attached to a pet with a lot more health and/or behavioral issues than you anticipated isn't very enjoyable either.
Let's be real for a second: what do you see yourself spending for a well-bred, healthy Maltipoo from a respectable breeder?
Just how much Does a Maltipoo cost?
Maltipoo costs can vary from $500 to more than $2,500 though a price between $800 – $1,000 is usually what you will get. Aspects such as a breeder's credibility and location; a pup's age, size, and pedigree; and the overall demand can all affect the rate.
In the following article, we'll help you understand what makes the price go up or down for Maltipoos, teach you what to be on the lookout for in a quality breeder, tell you how to notice a bad breeder, and give you some suggestions on finding older Maltipoos that are looking for a new home.
Real Maltipoo Prices around the US
To offer you a reasonable idea of real-world costs, have a look at the rates from Maltipoo breeders all around the United States.
Place and Cost
Illinois – around $1,800
Georgia $650 – $850
Iowa $950 – $1,100
California – $875
Florida – $2,000 – $2,500
Keep in mind: Some breeders will also ship your pup upon demand, but you should know that you are accountable for all associated expenses.
On the other hand, other breeders won't agree to ship puppies to spare them unnecessary stress. You should ask about this upfront before you are convinced to buy a specific pup.
10 Elements That Will Affect The Price Of Maltipoos
So are there any reasons or factors that influence the Maltipoo price, especially seeing that the difference between a cheap one and an expensive one is quite noticeable? Well, no always. There are a few reasons why a puppy would cost considerably more than another, and we'll list them below. However, remember that some breeders, especially unethical ones, will go as far as charging inflated costs for normal, or even crossbred puppies.
1. Breeder Credibility
Experienced Maltipoo breeders who aim to regularly produce the greatest quality and healthiest pups, and who are committed to reaching breed standards with the hopes of one day seeing official acknowledgment for the breed by the American Kennel Club (AKC) and other similar institutions, will generally charge more for their pups.
2. How old is the Puppy
Many prospective dog owners are aiming to purchase pups as quickly as they are offered for sale so that they will not lose out on the crucial socialization window. The older a pup grows, the fewer people tend to be interested, so the cost is usually decreased, in some cases by quite a lot.
3. Breed's Popularity
If a breed, or in this case, a crossbreed, is experiencing an abrupt rise in popularity, rates typically skyrocket also. When interest decreases, costs typically drop.
4. Registration
A puppy's cost can be very different if its parents or the litter are registered and known with groups like the AKC. But can a crossbred dog be registered? As a matter of fact, yes. Crossbreeds can now be registered, they get an ID number, and can take part in many dog competitions like obedience and dexterity tests.
5. Genetic and Health Tests
Quality breeders will check the dog's parents before breeding to dismiss the possibility of genetic health conditions being passed on throughout the litter.
Also check out other breeds like the Yorkie Poo, the Goldendoodle, and the Norwich terrier.
Many vet consultations are common after breeding too to ensure that the pregnancy is going in a normal direction and the resulting litter is healthy and growing nicely. The associated expenses easily accumulate and cause more costly pups.
6. Coat Type and/or Color
Some breeders will charge more for a pup with a specific hair type or color that turns out to be very demanded.
7. Size
Dogs who turn out to be very small for their age when completely grown (less than 5 pounds) normally cost a fair bit more than pups who are anticipated to fall within the regular weight for Maltipoos (typical 7 -14 pounds).
8. Generation
F1 generation puppies are frequently the least costly as just one Maltese and one Poodle are needed to make them. If a stud service or manual insemination is utilized, the breeder might just ask to keep one pup on their premises, though utilizing an outer source for sperm can be pricey and raise the puppy's cost.
Generations that are F2 and beyond need far more time to produce as the breeder needs to wait up until their F1 pets are old enough to reproduce, then wait again for the next generation to develop before they can be reproduced.
This will also require the breeder to raise, feed, and look after a few (in some cases quite a lot) dogs to make sure that their litters are not inbred. All of this additional time and work drive the cost up for multi-generational puppies.
9. Pedigree
If one or both of the Maltipoo pup's parents have actually positioned high in the show ring in the past, the record of their championships will be added on the puppy's pedigree and shown in its cost.
10. The Breeder's Location
You might notice that breeders that live in or near big cities charge considerably bigger rates. This is because of the fact that they are marketing to a bigger audience who tends to make far bigger salaries than rural residents do.
How To Know The Difference Between An Excellent Breeder And A Lousy One
Browsing through the world of pet breeders can be frustrating and complicated. Understanding how to properly distinguish between a quality breeder and those only seeking to make a fast buck can conserve you time and avoid needless headaches.
Quality Breeders
Trustworthy breeders really care about their puppies and will evaluate all possible buyers to see whether the puppy will be well taken care of or not. In addition:
Their dogs and breeding stock will be healthy, tidy, well-fed, and friendly.
The dog houses will be heat/cold controlled, hygienic, and odor-free.
Health screening will be regularly carried out and results will be readily available.
Informing the purchaser on the breed as a standard, on how to take care of a new puppy, vaccinations, and possible health concerns will be a must.
There will be an agreement signed by both the breeder and purchaser detailing the pup's care by the breeder and the purchaser's obligations.
Look out for These Warnings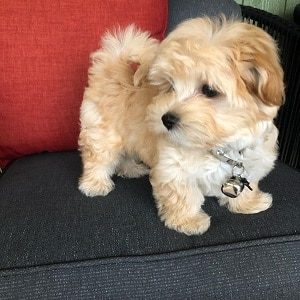 Poor quality breeders are generally pretty easy to recognize. Problems such as not acting in a professional way or having more pet dogs on-site than can be effectively taken care of are very obvious indications that something is off.
Likewise, keep an eye out for:
Dirt and bad smell in the facility
Failure to medically check the pets prior to breeding for genetic and inherited conditions
Pups who have actually not yet been consulted by a vet and given a clean bill of health
Pet dogs who are ill, afraid, shy, hostile, or aggressive
Hurried sales
Lack of connection with the breeder and time invested in education
Hesitation to reveal purchasers where the pups are kept
Is Adopting a Real Alternative?
Wanting to adopt a Maltipoo who needs a stable, caring home is certainly admirable, however, Maltipoos are such loving, lively household animals that they are rarely set up for adoption. Do not lose hope though. Contact each of the following:
Shelters
Due to unfavorable situations or plain bad luck, in some cases, these sweet little pets do end up in animal shelters or in the care of a rescue group. Start by contacting your local shelter and those in surrounding neighborhoods. If none are offered, ask to be put on a waiting list.
Online Adoption Centers
Websites like Adopt-a-Pet dot com and Petfinder are amazing locations to look for Maltipoos that need a new home. If you want to take a trip to get yourself a new dog, broaden your search radius to include big cities nearby.
Do not ignore the powers of social networks when looking for an adoptable Maltipoo. Get in touch with Maltipoo owners you can find and groups of breeders to get the word out that you wish to adopt. Maltipoo Facebook Groups are perfect for this.
Rescue Groups
Talk to rescue groups like the American Maltese Association Rescue, Southern Comfort Maltese Rescue, and Poo Mix Rescue that rescue dogs like Maltese and Poodles. Groups of this kind typically take in crossbreeds like Maltipoos along with pure-blooded pets.
https://www.thepricer.org/wp-content/uploads/2020/09/maltipoo-breed-cost.jpg
380
610
Alec Pow
https://www.thepricer.org/wp-content/uploads/2023/04/thepricerlogobig.png
Alec Pow
2020-09-08 07:40:54
2021-02-09 08:20:34
The Cost of a Maltipoo