Asthma and COPD can be treated with Advair, a medication that forces the decrease of inflammation and the opening of the airways in the lungs. This medicine can be purchased only by prescription and at the time this article was written there were no generics available.
If you don't have a health insurance plan, this popularly prescribed inhaler may be quite expensive for you.
How Much Does Advair Cost?
Like any other prescription medicine, the price of Advair will be influenced by some factors such as the pharmacy you buy it from, the dosage you choose, and your health insurance plan. As there is a wide variety of dosage options to choose from, we called some pharmacies and asked about the cost without insurance. In the table below you will find the price estimates for different Advair dosages.
Dosage
Price (without health insurance)
100mcg/50mcg DISKUS

180 dose – $1,200
120 dose – $800
60 dose – $400

250mcg/50mcg DISKUS

180 dose – $1,500
120 dose – $1,000
60 dose – $500

500mcg/50mcg DISKUS

180 dose – $1,800
120 dose – $1,200
60 dose – $600
How did we get these estimates?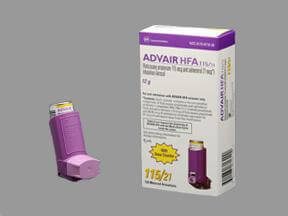 We called Sam's Club, Walmart, CVS, and Walgreens and used the official Costco drug directory, and after that, we calculated an average cost. It must be said that these estimates are for those who don't have health insurance and the costs may be much lower if you were to use your health insurance plan or one of the ways we are going to present below.
When talking about health insurance policies, it does appear that the majority of these, including Medicare, do cover the Advair prescription. In this situation, the costs would be anywhere between $35 and more than $360. However, it may be difficult to offer an exact price because there are hundreds of policies and each of them is different. It is recommended to call your health insurance company and ask about what is covered.
You might also like our articles about the cost of a chest ray, Albuterol inhaler, or Nebulizer machine.
How can I save money on Advair?
Check with your health insurance company
If you have health insurance, it is recommended to call the insurance company and ask which inhaler you can get to be able to save the most. Even though, most of the health insurance policies available on the market cover Advair, you could save more money on an alternative inhaler. Anyway, you should know that the prices of the inhalers with similar active ingredients to that of Advair, will be the same. The only exception would be the generics.
Patient assistance program
GlaxoSmithKline, the official manufacturer of Advair, offers assistance programs to its customers known as GSK for You, which are made to help you cover the costs of the medication if you meet their monthly income requirements. If you want to see if you are qualified for this program, you should access their official website and fill out a form.
Longer supply
You may be able to save almost 20% of your entire bill if you choose to purchase more doses at once. You can ask your doctor to prescribe you a longer supply if you know that you will need this medicine for longer than 30 days.
Manufacturer coupon
GlaxoSmithKline also offers a manufacturer coupon known as Advair Savings Offer. All you have to do to see if you are qualified for this savings program and get this coupon is to browse their official website and fill out a form. You can use the coupon at your nearest pharmacy. However, if you are enrolled in a government plan like Medicaid or you are not a United States resident, you can not take advantage of this coupon.
Prescription coupons
Regardless of your situation, you may be able to save money with the free online prescription coupons you can find on websites like GoodRx. It is very easy to use these websites. All the information required is the dosage prescribed and the pharmacy you want to use. After that, you can print the coupon and go get the medicine from the pharmacy noted on the website. In case you are going for this option, you should know that you can only use the website coupon or your private insurance. These two can not be combined. Sometimes it may be much cheaper to use one of these coupons instead of using your health insurance. So, make sure you make a comparison first and see how much you would save.
Is there a generic of Advair available?
In 2019 the U.S. FDA approved the first generic version of Advair for maintenance treatment and prevention of exacerbations in chronic obstructive pulmonary disease (COPD), and also for asthma maintenance treatment in patients aged 4 and up.
This generic version will be called Wixela Inhub and is developed by Mylan company, now part of Viartis.
https://www.thepricer.org/wp-content/uploads/2022/04/advair-cost.jpg
380
610
Alec Pow
https://www.thepricer.org/wp-content/uploads/2023/04/thepricerlogobig.png
Alec Pow
2022-04-07 06:33:38
2022-04-06 06:03:43
The Cost of Advair