Last Updated on September 27, 2023 | Written by CPA Alec Pow
First Published on September 29, 2021 | Content Reviewed by

CFA Alexander Popivker
The alpaca is a domesticated animal that is also called a pako. It is native to the Cordillera Andes (southern Peru, western Bolivia, Ecuador, and northern Chile), at altitudes between 3,500 and 5,000 meters. It feeds on grass and is related to the camel that is part of the Camelidae family.
Alpaca is different from the llama, which is used for different jobs. It is bred for high-quality wool, distinguishing two types: Huacaya alpaca and Suri alpaca. The first one has a finer and more uniform wool thread.
The Incas highly prized these gentle and sociable animals: clothes woven from alpaca fibers being vital for survival during frosty winters at over 3000 m altitude.
Alpaca wool is light, soft, and warm and has over twenty gorgeous natural shades, from deep black to chestnut and snow white.
Alpaca is also called "Fiber of the Gods"; only the members of the Inca royal house having the right to wear woven clothes made of this material. Ordinary people who dared to ignore this rule were severely punished.
How much does an alpaca cost?
The average cost of an alpaca can vary anywhere from $450 to $12,000, depending on the breed, bloodline/heritage, age, color, gender, and geographical area. Most purchases will fall in between the $2,500 and $5,500 range. The cost of owning an alpaca is dependent on the reason you want one.  Also, the heavy demand for a certain color, the way the back legs are separated, how is the bone density or teeth structure all will influence the cost.
Thinking about buying an alpaca? It would help if you considered your new acquisition's initial costs and potential profits before making any decisions. A non-breeding fiber stock will be near the lower end, while high-quality breeding can reach up into higher animal kingdom classes and are seen as an investment.
You might also like our articles about the cost of an Akhal-Teke horse, an emu bird, or a llama.
The Island Alpaca Company is an enjoyable site for those seeking to buy alpacas. They offer free financing, including three months waiting period before interest payments are charged. They also provide transportation within 150 miles of their location at no additional charge if you purchase more than one animal from them. So, if you want to buy an alpaca from this company expect to pay somewhere between $1,700 and $6,000.
According to a Modern Farmer article, it is recommended to purchase more than one alpaca at once because these animals like to have company. The prices will depend greatly on the purpose, rather than the breed. The cost of one pet starts at $200, and the price of a nonbreeding male with okay fibers is anywhere between $500 and $1,200. Expect to pay a higher price, somewhere between $3,200 and more than $8,500, for females that produce fiber and offspring. The amount of money paid for show-worthy herds is more than $30,000.
One of the most popular sites for purchasing rare and unique items, Open Herd features auctions where you can find an alpaca. They range from $800 to $6,500.
| Type of Alpaca | Average Price |
| --- | --- |
| Male as pet | $200 to $500 |
| Fiber or geldings | $250 to $800 |
| Non-breeding males with okay fiber | $400 to $1,000 |
| Stud quality males | $2,000 to $30,000+ |
| Breeding females older than 2 years | $2,000 to $10,000+ |
| Younger female | $2,000 to $15,000+ |
What is going to be included in the price?
When you buy from a well-known breeder, expect to receive your new pet with a vet checkup, all the medical history, a full health disclosure, and a health warranty.
You'll be able to enjoy some benefits with your new pet. Some breeders offer free boarding for a limited time while they wait on you and free delivery up to 100 miles. In addition, most will provide halters or leads as well if needed. After the order has been completed, trained staff will also offer support and answer any questions that might come up during training.
What are the extra costs?
Alpacas are herbivores, and they live on a diet primarily consisting of grass.  Alpaca herds can be quite small, and an acre could support up to 10 alpacas. In case you have more, then you will have to supplement their diet with hay. The annual cost for hay is anywhere between $220 and $450 per alpaca.
Alpacas are very healthy animals, but they do need some care. Monthly vaccinations and monthly worming are highly recommended to keep them safe from illness or pests. The alpaca pregnant females will require extra attention as well. After-birth blood work has been shown useful at checking on babies' health overall.
The lifespan of an alpaca is 15 to 20 years,
Depending on the geographical area where you are living, the shelter for alpaca can be three-sided with the appropriate protection from cold during winters or three-sided with misters for keeping the animals cool during summer. In order to protect the animals, besides the shelter, a mesh fence that is at least four feet tall must also be installed.
If you need to have your new pet shipped, it could cost you some hundred dollars, depending on the distance.
According to Dutch Hollow Acres, the caring costs for alpaca are around $220 per year. This cost includes vet visits, hay, heated water, mineral, grain, rabies, wormer, fans, teeth cleanings, and sheering. Starting costs like shelter, equipment, property, fencing, or fiber processing are not included.
Important things to consider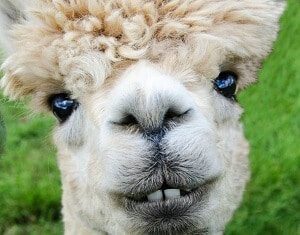 There are two types of alpaca: Suri and Huacaya. The first produces a long thread that gathers in the so-called "dreadlocks." As for Huacaya, it produces dense, curly wool, which makes it look much fluffier than it really is. About 90% of the existing alpacas in North America are Huacaya.
Alpacas are social herds, so it's a good idea to raise more than one – preferably two or three, if not more. The alpaca is 10 feet high and weighs between 150 and 200 pounds.
Alpacas are 100% herbivorous, eat only plants, and love grass, this being most of their natural diet. They also enjoy leaves, hay, wood, bark, and stems, which they easily digest due to their three-chambered stomach, very similar to cattle and sheep. They especially like carrots, apples, broccoli stalks, sugar beets, and turnips, but you have to cut them into small pieces to prevent the animals from suffocating.
Alpacas occasionally spit on other alpacas or humans. For example, if an alpaca tries to steal food from another, it may be spit on. They will rarely spit on people, usually if they are forced to do something they do not want to do.
Baby alpaca is the finest alpaca fiber, being the result of the first haircut. This wool is superior to cashmere, being finer, softer, and more resistant.
In the USA, alpaca meat is currently sold only at cooperatives or in local markets and through online networks. Because the US authorities do not recognize the alpaca as a meat animal, the sale of this meat falls under the jurisdiction of the FDA (Food and Drug Administration) and local state authorities. Farmers say they face a deadlock in the domestic market because they cannot market a product that does not have the quality seal to be transported from one state to another.
How can I save money?
If you can not afford the full payment at once, you can benefit from the financing options some breeders are offering. Consider talking with them about a payment plan.
Just like dogs or cats, alpacas may be found in a rescue shelter. Check if there is one in your area and better adopt an alpaca.
https://www.thepricer.org/wp-content/uploads/2021/09/alpaca-cost.jpg
380
610
Alec Pow
https://www.thepricer.org/wp-content/uploads/2023/04/thepricerlogobig.png
Alec Pow
2021-09-29 11:40:54
2023-09-27 21:30:10
The Cost of an Alpaca