Whether you want to eat after a restaurant closes, you want to try new flavors, or you just don't feel like cooking, it's good to know that you always have a good source of food. In this regard, the phone will not let you down.
If you want a pizza, a burger, or even something extravagant, turn to food delivery with confidence. Each restaurant has a rating so you will know whether you will get good food or you have to avoid a certain restaurant.
There are many food delivery services you can choose from and one of the most common is DoorDash.
How Much Does DoorDash Cost?
The cost of DoorDash will be greatly influenced by the distance from the restaurant to your location and the cost of your food. Also, other fees such as taxes, delivery fees, and service fees will be included. You will get a breakdown of the total cost once you order the food through this app.
So, you are not only going to order and buy food, but you are going to purchase their delivery and service. Here are the types of charges and fees you will have to pay for your DoorDash orders:
cost of the food;
service;
tax;
delivery fee;
tip (optional).
Of course, you will have to pay a subscription fee as well when you sign up for the DashPass service through the app. You can get your food delivered for free if you pay a monthly fee.
DoorDash delivery fee
The cost of DooDash delivery varies from one restaurant to another. In general, the fee is anywhere between $2 and $6. Though, the cost may go down if there is a discount or rise if there is a busy day.
You can get free delivery for orders that have a value of more than $12 if you buy a $10 DashPass monthly subscription.
DoorDash service fee
The cost of the DoorDash service depends on the market demand and your location, but usually, the fee would be 10% to 11% of your subtotal.
In case your order values less than $8 to $10, you will have to pay a $2 Small Order Fee.
DoorDash overview
DoorDash is a food delivery service app created by four Stanford graduates. It was launched in 2013 as PauloAltoDelivery.com. The service was a real success by June that year and so it was incorporated as DoorDash. Today it is the second-largest food delivery service in the United States.
You might also like our articles about the cost of Qdoba catering, a personal chef, or Sonic Drive-In menu items.
With DoorDash you can order food from the restaurants this app has partnerships with. This is the easiest way to get your favorite food at your doorstep while you can do anything else.
DoorDash payment method
The DoorDash payment method is very easy to use and it is recommended to add it to your account information when you sign up. You can pay for your orders with the help of either PayPal, or your debit/credit card.
How does DoorDash work?
Nowadays DoorDash is one of the most popular food delivery services in the United States, holding more than 36% of the food delivery market. The demand for home-delivered food service increased once the pandemic began, and it helped the DoorDash business develop.
Below you will find the way in which the DoorDash app is working.
Sign up
First of all, you will have to download the app from the DoorDash website or from the Play Store or Apple Store. After that, you can sign up by filling in all the required information.
Browse Food Sources

You may crave different types of good food at different times. With DooDash you can order whatever you would like, whether it is sushi or pizza. Use the search bar in the app to find your favorite food.
Add to cart and order
Once you find your favorite food, add it to the cart. Tap on the items to add or remove the food orders. Before confirming your order double-check everything. After you place your order, you will have to make a transaction.
Track your order
You will be able to track your order from the moment the delivery driver picks it up from the restaurant and right up until they bring it to your door. You will be notified if there are any delays.
Receive your food and rate the dasher
Get your food once the delivery driver arrives at your address and tip him (optional).
How to sign up for DoorDash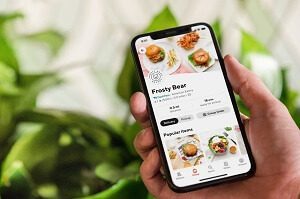 It is very easy to sign up for DoorDash. You can create an account in only a few minutes, but first, you will have to download the app on your mobile device.
Once you downloaded the app from Apple Store or Play Store, you will have to fill up the signup form with your personal information, like:
your first and last name;
phone number;
e-mail;
Payment information (PayPal, Credit Card, Debit Card).
Your DoorDash account will be activated once the signing-up process is complete.
How to get fast delivery of your DoorDash
If you don't want to wait too long for your food, you should:
order from short distance restaurants;
give clear instructions on your location, so the driver knows exactly where to bring your food;
meet the delivery driver outside if necessary.
DoorDash charges for restaurants
If you own a restaurant and want to allow your customers to order their favorite food through DoorDash, you will have to be a partner of DoorDash. You will have to fill up a form with information regarding the name of the restaurant, location, method of taking orders, and location.
It is said that DoorDash charges 15% to 30% of the order's value for the restaurants using this service.
Doordash FAQs
Does DoorDash take cash?
No, DoorDash does not accept cash payments. You will have to pay for your order through the app using a credit/debit card or PayPal account card. Though, you can tip de delivery driver in cash.
Can I cancel my DoorDash order?
Yes, you can cancel your order as long as the restaurant has not started preparing your food or the delivery is not on route.
Can I deactivate my DoorDash account?
Yes, you can deactivate your DoorDash account whenever you want. In order to do it, you will have to go to their website and fill out a cancellation request.
Conclusion
DoordDash is a food delivery service that made our lives easier during the pandemic. You could get your favorite food at your doorstep by simply using their app.
DoorDash comes at an affordable cost and is worth every penny as you don't have to put too much effort into getting a tasty meal.
https://www.thepricer.org/wp-content/uploads/2022/06/doordash-cost.jpg
380
610
Alec Pow
https://www.thepricer.org/wp-content/uploads/2023/04/thepricerlogobig.png
Alec Pow
2022-06-04 08:01:58
2022-06-02 06:42:25
The Cost of DoorDash