The iFly company was founded in 1998 and now has more than 50 locations all over the world. Its mission is to make your dream to fly real by offering you "wings" you can use in a safe environment. Practically, they allow you to skydive indoors.
How Much Does iFly Cost?
The cost of an iFly session is affected by a few factors such as the package you purchase and the number of sessions you buy at once. Obviously, the more you buy, the more you will be able to save. The prices are also affected by your location. Expect to pay at least $65 for a first-time flyer package, while for a package of five flights you will have to pay more than $160. To get an accurate cost for your location, you should visit the company's official website and choose your location, the number of flyers, and the package you want.
However, these prices can be even lower if you are able to find a promo code or coupon online before you register for a flight. For instance, in the table below you will find the average prices of different types of packages offered by iFly.
| | |
| --- | --- |
| Package | Average Price |
| 30-minute block | $600 |
| 15-minute block | $320 |
| 10-minute block | $220 |
| 4 flights (returning customers) | $120 |
| 2 flights (returning customers) | $85 |
| 2 flights for a group of 6+ (first timers) | $380 |
| 5 flights (first timers) | $150 |
| 4 flights (first timers) | $130 |
| 3 flights (first timers) | $100 |
| 2 flights (first timers) | $80 |
Note: These estimates are based on our online research and we recommend that you visit the iFly official website to know exactly how much you would have to pay at your location.
You might also like our articles on the cost of skydiving, parasailing, and parachutes.
For example, at the Denver location, you will have to pay around $85 for two flights and almost $160 for five flights.
What are the extra costs?
High Flight Option: With this option, at the end of the final flight, you will be able to fly faster and higher than you would fly on your own for almost 15 to 20 seconds. Expect to pay $15 for this experience.
Video/Photos: According to the iFly website, the company will make you a video and take pictures of you during your flight, that you can buy at the end of the flight.
iFly experience overview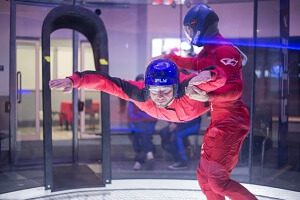 According to the company, the whole flight experience would take anywhere between 90 and 120 minutes, from the beginning to the end, with every "flight" equivalent to 1.5 skydives.
You have to show up at the location 15 minutes earlier before your flight because you will have to check in with the staff and complete a flight waiver. Though, you can sign a flight waiver online in order to save time. Once you checked in, the staff will help put on your wristband and will lead you to the Flight Deck, where you will meet your instructor and watch other flyers.
When it's time to fly, you will be greeted by your certified and trained instructor. Their instructors are certified by the International Bodyflight Association, known as the IBA. If you have any questions about this experience, now is time to ask the instructor because he will be able to give you all the answers you need. Also, he will show you the hand signals to use during the flight and the proper body positioning.
Once you feel prepared to fly, you will be conducted to the "Gear Up" counter, where you will receive your flight suit, goggles, and helmet to wear during your flight.
Finally, the instructor will come with you to the chamber to assist you with entering, flying, and finishing the flight.
iFly United States locations
Arizona: Phoenix
California: Hollywood, Ontario, SF Bay, Sacramento, San Diego
Colorado: Denver, Colorado Springs
Florida: Fort Lauderdale, Jacksonville, Orlando, Tampa
Georgia: Atlanta
Illinois: Chicago
Kansas: Kansas City
Maryland: Montgomery, Baltimore
Michigan: Detroit
Minnesota: Minneapolis
Nevada: Spring Valley
Missouri: St Louis
New Jersey: Paramus
New York: Westchester
North Carolina: Charlotte
Ohio: Cincinnati
Oklahoma: Oklahoma City
Oregon: Portland
Pennsylvania: King of Prussia
Texas: Austin, Dallas, El Paso, Forth Worth, Houston, San Antonio
Virginia: Loudoun, Virginia Beach
Washington: Seattle
iFly international locations
United Kingdom: Manchester, Milton Keynes, and Basingstoke
New Zealand: Queenstown
France: Paris, Marseille, Lyon
Belarus: Minsk
Australia: Melbourne, Brisbane
Important things to consider
You can improve your flight skills through different training levels if you like this experience and want to continue to jump.
According to the company website, all the flyers must be less than 300 pounds, should have no heart, neck, or back problems, and can not be pregnant. It is recommended to ask your doctor's advice before flying. If you have a weight of 260 to 300 pounds, you must bring this to the company's attention as additional restrictions will apply.
There is no maximum age limit for the flyers, but the minimum age is three years old.
You should wear well-fitted clothes, running shoes or lace-up sneakers, but also casual clothes like non-collar shirts and pants.
https://www.thepricer.org/wp-content/uploads/2022/07/iFLY-cost.jpg
380
610
Alec Pow
https://www.thepricer.org/wp-content/uploads/2023/04/thepricerlogobig.png
Alec Pow
2022-07-04 06:27:53
2022-07-04 06:28:45
The Cost of iFly