Oatmeal is a traditional, healthy breakfast for those that want something fast and cost-effective. Prices vary based on the store you purchase it from or what brand you buy.
How much does oatmeal cost?
A box of oatmeal will cost you, on average, somewhere between $13 to as much as $30 per box. You should expect most boxes to have multi packets inside them.
A popular brand of cereal, such as Quaker oats will cost you anywhere from $14 to $25 for a box that usually contains about 52 packets. Other organic brands like Nature's Path will have prices of anywhere between $22 and $30 per six-pack.
Quick oats will have a price of about $2 per 42 ounces, while old-fashioned rolled oats can cost close to $3 for the same amount. Steel-cut oatmeal is a cheaper option that costs around $1 per pound.
Costco and other warehouse clubs have boxes of frozen oatmeal for a price that is, on average, between $3-$4 per 30-ounce container SolitaryRoad has an article arguing that one cup of oatmeal, when cooked, should cost you around 4,3 cents.
| Type | Cost |
| --- | --- |
| Jamba Juice Oatmeal Cost | $3.50 |
| Bob's Red Mill Gluten Free Oatmeal Cost | $2 per 2-ounce container |
| Quaker Instant Oatmeal Cost Per Pack (15 ounces) | $3 to $4 |
| Mcdonalds Oatmeal Cost | $2.99 |
| Sam's Club Oatmeal Cost | $8 for 40 packets |
| Quaker Oats Old Fashioned Oats (18 ounces) | $2.50 to $5 |
| Starbucks Oatmeal Cost | $3.99 |
---
Important things to consider
Instant oatmeal isn't quite the same thing as rolled oats – if used one instead of the other, you'll find your food becomes gummy and unappetizingly chewy, making it near impossible to eat with any semblance of enjoyment.
You might also like our articles about the cost of almond milk, fruit trays, or blueberries.
In addition to being found in bread, muffins, and granola; oatmeal is also used as an ingredient for more complicated dishes like meatloaf. It's an unlikely but delicious combination.
To create a thicker consistency flour, consider using oats in your food processor. The oat flour is known to enrich the texture of the bread.
The best place to store your oats is in a dark cupboard that stays relatively cool. Most brands of oatmeal can last up to six months if stored properly, so be sure you check the packaging for an expiration date.
Adding fruits to your morning oatmeal can make a healthy breakfast and add protein. For every 100 calories, you should serve at least one cup of fruit.
Consider getting the plain flavor oatmeal to get less sugar. The flavors that come with most of these packs have a lot of sugars and won't be as healthy as you might want them to be.
Eating oatmeal is never a bad idea, but beware of how you prepare it! Adding too much honey or brown sugar will increase the calories significantly. Instead try spices like cinnamon, vanilla extract, or cocoa powder to add flavor and for better health benefits. You should expect to get about 160 calories per cup of oatmeal.
What can be added to oatmeal to add some flavor?
Oatmeal goes great with ingredients like cocoa, whipped butter, whipped cream, mashed bananas, protein powder, peanut butter, chia seeds, egg whites, preserves, caramel, coconut, almonds, chocolate chips, yogurt, fresh fruit, dried fruit, walnuts, sunflower seeds, grains, pumpkin seeds, cinnamon, brown sugar, jelly, maple syrup, nutmeg, applesauce.
How should oatmeal be made?
Oatmeal is a well-known breakfast food and can be made in many different ways. However, we will show you the easiest way to make it in just a few simple steps.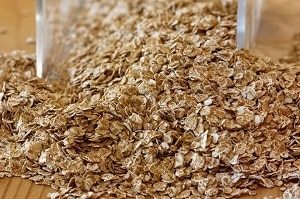 To make the perfect bowl of regular oats, you'll need a pot with boiling water and your favorite brand of oats. For every cup of water in the pot, add half a cup of oats to be cooked. Once it's at a boil, stir in the ingredients until they're fully incorporated into consistency. This simple recipe shouldn't take more than 15 minutes to make and it won't be half bad.
Adding salt, syrup, honey, or brown sugar can add a flavor to this particular recipe. Some enjoy adding real and/or dried fruits for additional taste.
Steel oats are a healthy breakfast that is packed with fiber. To cook steel oats, fill your pot halfway with water and bring it to a boil before adding 1/4 cup of steel powdered mix for every one cup of liquid present. Once you reach the boiling point again reduce heat if necessary and stir occasionally until they're ready – 20 minutes should do it.
You can add cinnamon or honey to this recipe as well to give it more flavor.
Instant oatmeal is a quick breakfast solution that requires little to no cleanup. The process starts by pouring the desired amount of water into an empty bowl, followed by opening and emptying the packet of instant oatmeal. Bring your kettle or microwave-heated water up to a boil before slowly adding the oats on top; stir with caution as you would if cooking rice or pasta for around two minutes in order to ensure even distribution across all oats grains. Let them sit and add any flavoring such as brown sugar syrup packets.
Usual oatmeal flavors
Original
Peaches and Cream
Raisins and Spice
Strawberries and Cream
Maple and Brown Sugar
Honey Bun
Fruit and Cream
Cinnamon Roll
Cinnamon and Spice
Chocolate Chip
Apples and Cinnamon
Apples and Cranberries
Is there any way to spend less?
Have you considered making your own oatmeal? The Simple Dollar has a tutorial on how to make it at home.
When it comes to oatmeal, buy in bulk and save more. The longer shelf life means you won't have to worry about buying it every other morning. This, combined with grocery store specials or discounts, can really help you get your oats for pennies.
Store brands are a great way to save money. They have the same ingredients as name-brand products but cost less because they won't come with advertising and fancy packaging like bigger companies do.
https://www.thepricer.org/wp-content/uploads/2021/06/oatmeal-cost.jpg
380
610
Alec Pow
https://www.thepricer.org/wp-content/uploads/2023/04/thepricerlogobig.png
Alec Pow
2021-06-30 19:25:04
2022-03-18 17:41:07
The Cost of Oatmeal