The Cost of Strawberries per Pound
With antibiotic, bactericidal, anti-inflammatory, tonic, nourishing, remineralizing, blood alkalizing, and cholesterol-lowering effects, strawberry is one of the most cultivated plants, also used for therapeutic purposes.
Fragaria is a plant of the Rosaceae family, known under the popular name of "strawberry".
There are over 20 species and hybrids of this plant, the best-known species being the garden strawberry (Fragaria x ananassa).
With a history of over 2,200 years, strawberries have been found since ancient times on both the European and American continents. They were officially discovered in Virginia by the first explorers in 1588.
How much do strawberries cost per pound?
The price of strawberries varies depending on the time of year, where you purchase them from, geographical location, and quantity. The cost per pound can range from $0.85 to $2.5 in the season when they are at their peak harvest level, which generally occurs during the summer months between May through September. Generally, during the whole year, the average cost is anywhere between $1.5 and $5 per pound.
You might also like our articles about the cost of blueberries, oranges, or pineapples.
Even in season, you may have to pay twice as much if the strawberries are provided by a farm located around 50 miles away. For instance, the cost of one flat, which is usually found at a local berry farm, is around $33, while half of it costs around $19. For one pint you will usually pay around $4 to $6, and three pints have an average price of less than $12.
A 16-ounce bag of frozen strawberries costs around $3, while the price for a 64-ounce one is almost $12.
The price at Trader Joe's varies based on region. For instance, a two-pound container costs $5.80 on the east coast but can be as high as $8 for Midwesterners, and even higher prices are seen in some Southern areas.
Walmart has some of the best prices on fresh fruits and vegetables, especially strawberries. The online grocery pickup price per pound for these delicious berries is only $2.25.
According to a USDA report from 2022, the average cost for one pound of fresh strawberries is $3 and frozen strawberries are $3.20 per pound or around $7 per kilogram.
Important things to consider
Both the leaves and the rhizome and fruits of the strawberry are used for therapeutic purposes. The plant and fruits are rich in vitamins (C, B1, B2, E), salicylic acid, ellagic and pantothenic acid, protein, potassium salts, phosphorus, calcium, magnesium, iron, sodium, protein, and sugars.
Thus, strawberries are recommended for the treatment of rheumatism, kidney disease, gout, constipation, hypertension, hepato-biliary disorders, eczema, insomnia, acne, obesity, and many other conditions.
With strawberries as an ingredient, you can make salads (they are wonderful combined with spinach leaves), soup (with mint, parmesan, and a little sour cream, all cold, blended), and dozens of cakes.
Moreover, the fruits can be pickled, retaining their aroma and taste. For this operation use fine vinegar, sugar, and strawberries as raw as possible.
According to the AmountandWeight.com website, you can expect to get 15-20 medium-sized strawberries or close to two cups in a pound of berries. When buying 1-pint containers, you'll get about 2 cups of sliced strawberries.
When buying strawberries from stores, choose bright, deep red fruits. Avoid those with signs of mold, cuts, or soft spots. Unripe berries have green or yellow spots on their surface. Because once harvested strawberries will stop ripening, they should be avoided because they are sour and of poor quality. As strawberries are perishable fruits, they should be purchased only a few days before they are eaten or even on the day you want to eat them.
Before storing them in the refrigerator, be sure to remove the damaged ones and those with traces of mold, so that they do not spoil the good fruits. Put them in a large bowl or spread on a plate covered with a paper towel, then cover with plastic wrap. They are kept fresh in the refrigerator for a day or two.
To wash the strawberries, soak them in cold water in a large bowl for a few seconds and rinse them a few times. This helps to remove any traces of sand or insecticide.
How can I save money?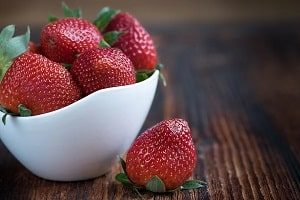 The best time to buy strawberries is during the summer as you can find them for just $1 per pound. Look in your local newspaper ads or compare prices from different grocery stores near where you live so that when one has a better deal than others you can take advantage of it.
Frozen strawberries are often cheaper than their fresh counterparts. However, it is important to be aware that the quality may not always be the same.
Locally grown strawberries are cheaper, better tasting, and more sustainable than shipping produce from far away. Local farmers markets are often the best option but don't forget about U-pick farms. You can get an amazing harvest of strawberries for $12 to $17 per 1-gallon bucket or one pound for less than $1.
When you buy in bulk at wholesale clubs like Costco and Sam's Club, the costs can be considerably lowered.
The best way to save money is by shopping at your local Aldi or 99 cent stores. Check out their selection of strawberries, which can be found for only a few dollars each.
If you're looking to save money in the long run, consider buying store-brand frozen strawberries. A recent study found that shoppers can save up to 30% off their grocery bill by opting for these less expensive brands.
https://www.thepricer.org/wp-content/uploads/2021/10/strawberry-cost.jpg
380
610
Alec Pow
https://www.thepricer.org/wp-content/uploads/2023/04/thepricerlogobig.png
Alec Pow
2021-10-15 05:31:29
2023-04-05 11:37:39
The Cost of Strawberries per Pound