How much do Tamales cost?
Last Updated on October 13, 2023 | Written by CPA Alec Pow
First Published on July 12, 2021 | Content Reviewed by

CFA Alexander Popivker
Dishes are very satisfying if they are tasty and healthy, and are enriched with nutritional values too. One of the many dishes which has all the ingredients and balance of taste is the tamale.
It is also known as tamal and is a classic Mesoamerican delicacy made of masa (starchy, corn-based dough) and cooked in a corn husk or banana leaf. It looks tempting, and before eating, the wrapper can be discarded or utilized as a platter.
It is a convenient combination where both the wrapper and the product have their own value. Tamales contain many ingredients, including meats, cheeses, fruits, vegetables, chilies, or any other flavor combination according to your taste. It might surprise you to know that both the filling and the cooking liquid can be flavored.
How much do Tamales cost?
A dozen tamales will set you back anywhere between $7 and $19. A single tamale can cost anywhere from $1 to $3 at a local restaurant or food truck, whereas a box of commercially produced tamales can cost anywhere from $3 to $6 per box. The cost differs based on the size of the dish itself and the place where you purchase it.
Most tamales are in packages of a dozen or occasionally in packs of eight; rarely sold individually. The cost also depends on the filling you choose. Tamales coming with meat fillings and cheese usually costs more than a vegetarian one.
An ingredient like jalapeno and capsicum, which come in an exotic range, can increase the cost. The quality of meat also determines the price of the dish.
A five-pound chili or salsa tamale might cost anywhere from $15 to $35. These are usually pre-mixed and packaged in a sealed container.
You might also like our articles about the cost of cheesecake, crepes, or Baklava.
Tamales are also available in packaged cans. Tamales in a can as comparable to canned macaroni or pasta can range in price from $1.50 to $2.50 for a 12-ounce can. La Preferida and Hormel are two popular brands.
Details on Tamales
The origin of this dish is dated long back. Tamales have their origin in Mesoamerica between 8000 and 5000 B.C. It got spread from Mexico, Guatemala, and then to the rest of Latin America. The word 'Tamale' comes from the Nahuatl word Tamal.
The preparation is tricky, but the taste is worth the hard work behind this dish. Tamales are often made with your choice of meat, processed maize, fillings, and a leaf or other wrappers. However, the quality of maize has changed over the years.
Thus the teosinte, which was the basis of the tamale, served as a predecessor for modern-day corn. The product was earlier used for the delicious stalks until people discovered the corn.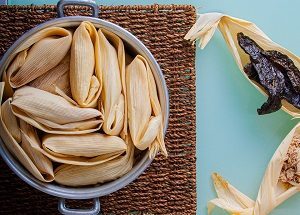 The dish is best enjoyed with family and friends as this mouth-watering product will blow everybody's minds away. Tamales nowadays are cooked and enjoyed on regular holidays, although, ages before popular belief, this dish was made to please the gods. Many families cook this food for special occasions such as Christmas.
The best part of tamales is that they will push your imagination and creativity. Tamales are available in a variety of shapes and sizes. They are typically filled with chicken, pork, or beans and seasoned with corn-based dough. They'll be bundled together in a leaf paper, such as a corn husk, with a string holding them together.
The preparation of the product is specific, and the contents should be in the proper portion. As in the Oaxacan style, there are 120 steps should you want the taste to be perfect.
The portioning of the masa and filling requires attention in the preparation of the dish. You need to be very careful while preparing Tamales. The portion mixed in an equal quantity will give the perfect results.
The popular fillings are chicken and pork, but you can change them according to your taste. The best part of this dish is that it can be made, as per the requirement and taste of the particular individual. The best part of this dish is its preservation.
It can be kept in the freezer for later usage. It can then be heated in the oven, and the taste should be the same, it shouldn't change a single bit. When bought, it should be kept in a sealed tight container, as the dough might catch moisture which will then ruin the recipe.
Additional costs related to the product
There are various ways of purchasing this interesting dish. If you buy tamales online, you might have to pay extra for shipping. These tamales will need dry ice to keep them from going bad. While purchasing, it is a good idea to double-check the shipping policies of the company.
If you buy tamales online or at a local market, the easiest way to cook them at home is to boil them in bags, steamers, or a tamale pot. These bags or steamers will be an additional expense, usually between $10 and $20
The majority of tamales are popular and sold quickly, as it is one of the more popular dishes. The additional components, as required for your recipe, can be purchased individually. Sour cream or salsa is one of them.
They should be already on the table as some people like to add a pinch to their tamales. Most people, on the other hand, like, to eat this food as it is.
How to spend less on Tamales
The cost of the dish can come down if you can purchase it in bulk. Most dealers will give you a discount if you buy a certain number of items. The best place to obtain the best pricing is usually at a local Mexican food market.
The shops near your area provide discounted coupons for the holidays. Some websites that sell this dish offer coupons if you subscribe to them. The easiest way to get it is when the festival is on as at that time grocery stores provide all types of discounts to lure customers.
Tamale is not just a dish, but also a tradition. This dish is liked by all as the food and holidays make a great combination. It can bring the family closer together, as the preparation can make all of the family members give their equal participation.
https://www.thepricer.org/wp-content/uploads/2021/07/tamale-cost.jpg
380
610
Alec Pow
https://www.thepricer.org/wp-content/uploads/2023/04/thepricerlogobig.png
Alec Pow
2021-07-12 06:52:38
2023-10-13 20:57:07
How much do Tamales cost?