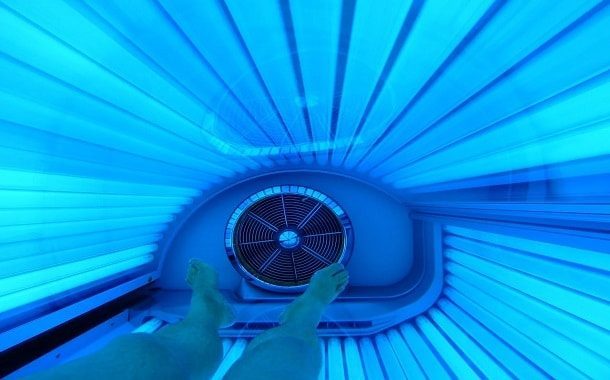 Tanning can take place with the help of a tanning bed, spray, and even by just rubbing a cream on your skin. Obviously, the most natural way is by the sun itself, however, a lot of people will opt for a tanning bed due to the speed, results, and convenience. The cost of tanning is going to depend upon the geographical location, the kind of tanning, length of session, and the company that provides the services.
Just how much does tanning cost?
Usually, a single session at a local tanning beauty salon can cost anywhere from $7 to $25 for a standard tan that should take no more than 7 to 20 minutes. This cost could be slightly higher if the beauty parlor utilizes a higher-end tanning bed.
Tanning salons might charge either by the month, which enables you to tan a limitless amount of times, or they could also include a bulk minute plan, where when your minutes are up, you will need to renew. Month-to-month tanning rates for a tanning bed can vary anywhere from $20 to as much as $125. Typically, the majority of people will spend somewhere between $20 and $55 a month.
Zoom Tan, a popular tanning salon, for example, charges $12 per session or $59 monthly for limitless tans.
Bulk sessions can also be bought and something like this can cost anywhere from $15 to $60 for 3 sessions to $45 to $200 for 15 sessions.
Spray tanning can cost anywhere from $20 to $65 per session depending upon how it's done. A session using a machine will cost about $25 to $50 per session, while an airbrush job can cost approximately $75.
Tanning creams that do not require a bed can cost anywhere from $15 to $75, depending upon the brand name.
Sol Sis Tanning, situated in Wisconsin, charges $8 to $20 for a one-time tan, depending upon the level of tanning you need. Its unrestricted tanning subscriptions can cost anywhere from $30 to $70, once again, depending upon the level you need.
You might also like our articles about the cost of manicures and pedicures, gel nails, and acne treatment.
Tanning beds can typically be found at fitness centers too. While some franchises, such as World Fitness, might include it in their subscriptions, other fitness centers, such as Anytime Fitness, can charge an extra $20 each month. However, this all depends upon the fitness center's rules as everyone has different price guidelines it follows.
Tanning summary
Tanning beauty salons will typically offer you 2 choices: either pay as you go or a month-to-month subscription. Pay as you go is exactly what it says – you pay each time you need to get a tan. Regular monthly subscriptions, on the other hand, will have either a set number of minutes or it can offer unrestricted tanning.
The most usual way to get a tan is by utilizing a special bed, however, another popular technique is done by spray tanning. As a great alternative to utilizing the bed, spray tanning will take a couple of minutes and can either be done using a machine or it can be done by an expert utilizing an airbrush.
If it's the first time you're getting a tan, a staff member will show you where the beds can be found, and also explain where are the sterilizing products and how will the bed. A lot of tanning beds will be connected to a computer system and will be automated, which means that the bed will switch on and off automatically, with a set timer.
The majority of the tanning sessions are going to last approximately 20 minutes.
What are the additional expenses?
Tanning bed cream is optional, however, many people will recommend you to use it. Creams can cost anywhere from $15 to as much as $80 depending upon the brand name you buy. A lot of beauty salons are going to have increased costs for these creams, so it might be a good idea to get one ahead of time from a local store.
Lots of beauty salons provide a VIP subscription that enables you to get unique advantages such as discount rates on products and services, front of the line advantages, unrestricted tans, and more. These membership cards can cost a couple of dollars more on top of the month-to-month subscription cost.
If you tan a lot, tanning safety goggles are extremely recommended.
Tips to keep in mind
Bear in mind that the tanning beauty salon has a small number of beds; you might need to wait if you go during busy times or seasons. Some tanning salons might let you set a booking ahead of time.
Some beauty parlors might not let you enter without tanning cream. While some might provide a small sample package, others might make you buy it.
While spray tanning might look like a great idea, it has actually failed in the past, as some websites point out.
To get ready for a spray tan, exfoliate your body to eliminate any dry/rough spots. Next, shave any undesirable hair seeing that excessive hair can typically prevent the spray tan from adhering to your skin. Finally, wear loose clothes that you don't care for as much since some sprays might rub off on your clothes when you leave the salon.
How can you save some money?
Tanning is not essential and obviously, is for cosmetic reasons only. When thinking about tanning, you should also know about the risks of doing it.
Tanning creams work just as great as the bed. Purchase a higher quality cream and the results might be the same if not much better and it will cost you a lot less in the end.
If you think about going to a local beauty salon, consider searching for vouchers and promos in the local newspapers. Seeing that this is a competitive market, a lot of salons will have a discount rate for those who buy bundles upfront in bulk.
If you just want to go a couple of times, buy the minutes package instead of an unrestricted pass. Depending upon the beauty parlor, these minutes should be more than enough and you can spread them out over a couple of months.
https://www.thepricer.org/wp-content/uploads/2020/10/tanning-cost.jpg
380
610
Alec Pow
https://www.thepricer.org/wp-content/uploads/2023/04/thepricerlogobig.png
Alec Pow
2020-10-16 10:10:20
2020-10-16 10:10:20
The Cost of Tanning