How Much Does a Spray Tan Cost?
Spray tans are a safe and convenient choice compared to sunbathing or using tanning beds. For the best results, you should always consider the few necessary preparatory steps. Proper preparation not only guarantees a uniform tan but also extends its duration. We've consulted with skincare experts to provide you with all the essential details about spray tanning and the cost of these services.
How Much Does a Spray Tan Cost?
The cost of a spray tan is between $50 and $75 for that all-over temporary glow, although the price will vary depending on your location, the salon, and if it's done at your home.
Spray Tan prices for different package types
Five Star Skincare: The average cost for one spray tanning session is between $20 and $50. This varies based on the salon, type of spray tan, and available discounts or promotions. Spray tanning can be done using a machine or airbrush, with the latter typically being more expensive. DIY spray tanning is an option, but it may require more skill and equipment.
Be Bronzed Custom Spray Tanning offers a variety of packages and services:
Organic Solution: $55 for a session, recommending 8+ hours to overnight before showering.
Rapid Spray Solution: $65, allowing showering as early as 4 hours after the session.
Event Ready Package: $134 for 2 custom sessions and 1 Glow on the Go spray.
Individual Packages: Ranging from $108 for 3 sessions to $300 for 10 sessions.
Glow on the Go (GOTG): $40 for a micro-mist spray ideal for face, hands, and feet.
Hydrating Skin Extender: $40 for a super-hydrating lotion with antioxidants, botanicals, and DHA​
Good Looking Tan reports that:

Average salon spray tan session: About $40, with a range from $18 to $100 per session.
Spray Tanning Machine Costs: Around $25-$35 per session, varying with the machine's quality.
Airbrush Costs: $30-$80 for an airbrush spray tanning session, with the price depending on location, technician skill, and specific service requests.
Mobile Tanning Costs: Ranges from $60 to $150, depending on the service, distance from the salon, and location​
​​​​​​According to Luxe and Luminous, the cost of a spray tan at a salon varies considerably, with an average cost of around $40. The price depends on the tanning salon's reputation, location, type of spray tan, and the specific service offered.
Full-body spray tans typically cost more than half-body ones, with specialty tans like competition spray tanning requiring a higher fee for the expertise involved. Mobile tanning services are more expensive due to the convenience they offer, costing anywhere between $50 and $120 or more. The cost of a home spray tan setup can be high initially but becomes cost-effective over time, especially for regular sessions.
Additional costs to consider
When considering getting a spray tan, it's important to be aware of various additional costs beyond the basic session fee. These can include:
Pre-Tan Preparation: Before a spray tan, preparing your skin with exfoliation and moisturization is recommended. These prep steps can add about $20-$30 to the overall cost​
Post-Tan Products: To maintain your tan and ensure its longevity, specific aftercare products are usually required. These can cost an additional $20-$30​
Tipping: It's customary to tip the technician who performs your spray tan. A standard tip is typically around 20% of the session cost​
Type of Tanning Solution and Tools: The cost of sunless tanning can vary depending on the tanning solution used and any additional products or tools you might need. So for example, if you're going for a higher-quality solution or an airbrush tan, this might come at an additional cost. If you need to buy specialized makeup remover products to remove residual bronzer, this is another cost to consider​
What's in Spray Tan Solutions?
You might also like our articles about the cost of tanning, manicures, or spa days.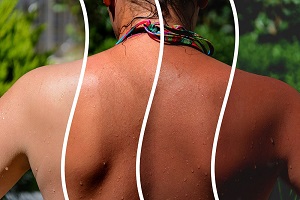 Wondering what's behind spray tans? DHA is the key ingredient, according to skin experts. It interacts with your skin's amino acids to mimic a natural tan. DHA comes in various types, including organic, which people believe offers the best results.
Pre-Tan Moisturizing
Be careful with lotions before your spray tan appointment. Skin tanners advise against heavy lotions on the day of your tan as they are known to hinder its development. However, it's still very important to moisturize dry areas like elbows and knees to prevent patchy results.
Hair Removal Before Spray Tanning
Before your spray tan session, it is a good idea to plan hair removal. If you're looking for a smooth finish, then you can go for waxing 24 hours before your tanning booth appointment. Forgot to shave? Do it right before your appointment but skip the shaving oil to avoid barriers to the tan.
Makeup and Deodorant: A No-Go for Spray Tans
Ensure your skin is free from makeup, fragrance, or any products before your spray tan. This helps in achieving a flawless application.
Dressing for am Airbrush Spray Tan
To prevent tan transfer, wear dark, loose clothing post-tan. This avoids marks or streaks from tight clothing.
Sunless Tan Life
A spray tan will usually last between five to ten days. Some factors can affect its duration, like lifestyle, skincare routines, and post-tan, according to Alexandra DiMarchi. As lighter applications may fade faster, the depth of the tan has an important role as well.
Hormonal changes can impact how well your skin absorbs the tan. Specialists have noticed variations in tan uptake during certain times of the menstrual cycle.
To remove a tan, it's best to let it fade naturally. For quicker removal, experts suggest using toner or micellar water, particularly for sensitive skin.
Post-Tan Care and Showering
Wait about four to six hours after your tan before showering. Avoid sweating, water contact, or applying products during this time. Keeping your skin hydrated is key to maintaining the tan longer.
Maintaining Your Tan at Home
To keep the tan fresh, Von Hep recommends regular self-tanning and moisturizing. He suggests using specific products like Isle of Paradise's Self Tan Drops to maintain facial tan. DiMarchi recommends switching to a gradual self-tanning lotion after five days for prolonged effects.
Dealing with Streaks
To prevent streaks, apply self-tan products generously. If you encounter streaks, experts suggest using baby oil and exfoliation for correction. For tanning mishaps on hands, immediate wiping post-application and a warm shower later can help remove excess tan.
By following these guidelines, you can enjoy a beautiful and long-lasting spray tan.
https://www.thepricer.org/wp-content/uploads/2023/11/how-much-does-a-spray-tan-cost.jpg
380
610
Alec Pow
https://www.thepricer.org/wp-content/uploads/2023/04/thepricerlogobig.png
Alec Pow
2023-11-21 08:18:45
2023-11-19 13:39:34
How Much Does a Spray Tan Cost?