Tire Pressure Sensor Replacement Cost
Last Updated on September 20, 2021 | Written by CPA Alec Pow
First Published on September 20, 2021 | Content Reviewed by

CFA Alexander Popivker
Your tire pressure is important to keep in check, and if your TMPS light pops up on the dashboard, it may mean that one or more of your tires is low. If the "Service Tire Monitor System" light is blinking instead, then a pressure sensor replacement may be necessary soon.
Tires are more important than ever to your car's safe working. That is why all vehicles manufactured after 2007 must be equipped with a Tire Pressure Monitoring System (TPMS). This battery-powered sensor will tell you if there has been any significant change in pressure and if you need new tires before it's too late.
How much does a tire pressure sensor cost?
Regardless of whether you choose to have your tire pressure sensor replaced by a dealership or a private mechanic, the price of this operation would be influenced by factors like the geographical location and the type of vehicle.
Because this job usually takes less than one hour to be performed, the majority of the professionals will apply a minimum fee plus the components. Often, the components cost less than $30, and the total cost of replacing the sensor would be somewhere between $80 and $130 per wheel, depending on the place you live.
The average cost for a pressure sensor replacement in the US is around $80. On YourMechanic.com, visitors were quoted anywhere from $78 to $140, with luxury brands like Mercedes being the most expensive to fix.
You might also like our articles about the cost of a run-flat tire, tire valve stem replacement, or tire installation at Walmart.
Pep Boys charges an affordable price for its TPMS sensor replacement service. The cost starts at $20 per sensor but increases by an extra $17 if you have a hybrid vehicle.
Steve Jenkins found that replacing four tire pressure sensors at his local dealership would cost more than $800. Anyway, he replaced them at the cost of only $30 each, plus $20 at his local Discount Tire.
According to a member of the BogleHeads.org forum, the price of replacing a tire pressure sensor at Costco is $70, while rebuilding one is much cheaper, at the cost of only $15 per tire.
What's included in this estimate?
The mechanic will first test your vehicle's TPMS sensors to see which one needs to be replaced. They'll take out the tire, split it into its individual components and install a new sensor or adjust an old one if necessary. After that, the professional will balance them correctly so that they are at specifications for safety purposes and check the pressure all over again.
How does the tire pressure sensor work?
The principle of operation is quite simple. An internal or external sensor mounted on the wheel measures the temperature and pressure of the tire. The specified sensor has a built-in short-range radio transmitter that transmits the received information to the main unit. Such a unit is installed in the passenger compartment and next to the driver.
The main unit is engaged in processing the information received from the wheel sensor according to the parameters set by the driver himself. Summary information is displayed. If there is a deviation from the set parameters, TPMS will immediately send an alarm signaling the need for action.
How can I save money?
In many cases, your dealership will cover a replacement part if it's still under warranty. This can help you save money and time by not having to go through the hassle of looking for another one in stock. From our research, we found that many big-name tire centers like Discount Tire or Belle Tire will install a new one at the cost of $14 – $18 per wheel.
The aftermarket suppliers that work with more than 100+ OEM parts are a great way to get replacement sensors for your car. These universal sensors can be much less expensive and just as reliable as the original equipment like any third-party part.
In order to save money and time, it may be worth contacting a few tire centers in your area. They can install the new sensors for you if the parts are purchased on your own.
Important things to consider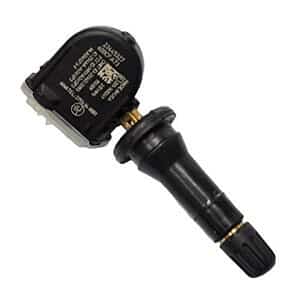 There are two types of TPMS systems, direct and indirect. The direct system is based on mounting the sensor inside the wheel, thus measuring the pressure directly from it. It is usually mounted next to the rubber inflation valve, being quite easy to detect.
The indirect system is integrated into the ABS sensor, hence the indirect measurement of tire pressure. In this case, the TPMS sensor will detect any abnormality when braking or when the wheel diameter is smaller during rotation.
At each regular tire replacement, it is recommended to check all the individual elements of the system.
The sensor consists of two components: the plastic unit with an integrated battery and the valve – most often made of aluminum or rubber and metal. Both parts, when damaged, can only be replaced with new ones. The sensors themselves do not fail, and their replacement with new ones will be done after 5-8 years – which is equivalent to the estimated life of the batteries installed inside them.
On the other hand, sensors damaged during a non-professional tire replacement must be replaced immediately. Therefore users must remember to check the tires equipped with the TPMS system only at service points with the appropriate equipment and qualified technicians.
What's the biggest cause of a tire sensor failure? Corrosion at its base, exposure to salt, and moisture can weaken it over time. In addition, potholes or extreme weather play havoc with sensors too.
Using TPMS, you can save up to 4% on fuel, improve road safety and reduce wear on tires, wheels, and car suspension parts. In the US and EU countries, the presence of such a system is mandatory.
US studies show that TPMS reduces the risk of fatal accidents by up to 70%, caused by a perforated wheel and subsequent disassembly or overheating the tire that causes it to explode.
https://www.thepricer.org/wp-content/uploads/2021/09/tire-pressure-sensor-replacement.jpg
380
610
Alec Pow
https://www.thepricer.org/wp-content/uploads/2023/04/thepricerlogobig.png
Alec Pow
2021-09-20 07:37:11
2021-09-20 07:37:11
Tire Pressure Sensor Replacement Cost