Calligraphy is an advanced form of writing, seen all around us, especially at weddings, from table seating cards to program booklets and wedding invitations. We call calligraphers artists that can produce elegant scripts on all kinds of papers, by hand, and the more elaborate the writing the pricier it will get.
How Much Will Calligraphy Cost?
You'll usually pay around $2 to $5 per invitation just for calligraphy. This will include the outer and inner envelopes, but not the actual text creation. There are some companies offering a discount of around 20% – 30%, but will only address outer envelopes at that price.
Expect fees to be higher, around 35% – 50% more, for more elaborate styles of scripts. Before picking a calligrapher, take a look at his portfolio, to see other projects they worked on. Most people don't use calligraphy just for invitations; it can also be used for table seating cards, place cards, and so on, costing around 50 cents to $3 each.
If you want to have a wedding program custom made for you, with calligraphy included, be prepared to pay around $140, if not more for it. Some people are interested in complex artwork, which means writing and images combined, but it can be quite expensive, around $60 – $90 per hour. If you want artwork on your invitations or wedding program but don't want to overspend, then only get something similar to a logo on the first or main page, or even on the envelope, something like the floral design.
Looking For a Wedding Planner? Here's How Much One Will Cost
What should you get for your money
Before you pick a calligrapher be sure that they have a big portfolio and are able to produce many types of writings, so you have where to pick from. You should first do your due diligence and make sure he or she will only have positive reviews and happy customers. You should get as many revisions as needed until you get exactly what you paid for. Don't sign a contract until you fully read it and discuss everything that will be included, like the number of words or lines you'll get, inner and outer envelopes, and everything else. Have a clear final date for the addresses, names, and invitations to be provided and give a firm and clear date for the calligraphy to be completed.
Be prepared for additional costs
You will spend around 50 cents to $1 for every extra line of text, if the contract doesn't specify something else. You will usually need to purchase an extra line if you send an invitation to a couple or two people with complete names. A logo or symbol, if not bought separately, will usually cost between 50 cents and $2 per envelope.
Although metallic or custom colors might cost 10% more, be sure the calligrapher has them or is able to get them in time for your wedding. You can negotiate a flat rate with some companies if you use anything else than black ink, a fee of around 50 cents per envelope or invitation. Some types of papers need to be treated before you can write on them, especially shiny paper, which means you'll probably have to pay around 50 cents more per invitation for calligraphy.
Here's a Great Article About The Price of Wedding Dresses
If you need the calligrapher to stamp, seal and then send the wedding invitations himself by mail, you'll probably pay more, at least 50 cents per invitation. If you can mail the envelopes yourself, then you should do so, because this way you will be able to proofread them first. If you choose to send the envelopes yourself, you'll pay the standard shipping cost of $10 – $25 per batch.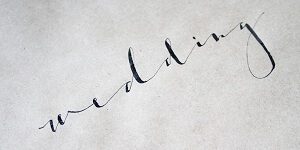 How to get discounts:
If you can't seem to get a good price locally, try to look online. You can find freelancers on websites like Fiverr and Freelancer.com. Even if you find a great price, check reviews and past work, because cheaper isn't always better.
Should the average working couple get custom calligraphy for their wedding?
If you want a perfect wedding, then you can't have any loose ends. Even if it doesn't seem all that important to have nice writing on your invitations, wedding program, and everything else, when you look back, you'll want to remember the perfect wedding, not one where you handed out ugly invitations to avoid spending $2 more.
https://www.thepricer.org/wp-content/uploads/2016/06/wedding-calligraphy-cost.jpg
380
610
Alec Pow
https://www.thepricer.org/wp-content/uploads/2023/04/thepricerlogobig.png
Alec Pow
2016-06-18 01:33:23
2020-08-15 21:18:41
Wedding Calligraphy Cost