How Much Does a Wellesley Country Club Membership Cost?
Last Updated on October 18, 2023 | Written by CPA Alec Pow
First Published on September 7, 2022 | Content Reviewed by

CFA Alexander Popivker
The Wellesley Country Club is one of the most famous country clubs in the Northeast area, located 12 miles west of Boston, Massachusetts.
This club celebrated its Centennial year in 2010 as it was founded in 1910.
 How Much Does a Wellesley Country Club Membership Cost?
The cost of a Full Golf Membership at Wellesley Country Club is about $100,000 in the first year when factoring in the initiation fee, dues, and minimums.
If you would like to become a golf member of the Wellesley Country Club, you should be prepared to pay around $70,000 for the membership initiation fee, while the monthly dues would be around $1,000 per month. Also, you will need to budget another $95 per month for the green fees.
A Full Membership, which provides access to all club amenities, comes with an annual due of $14,000. Senior Memberships, available at $10,000 per year, cater to those who meet specific age criteria. For younger members, the club offers Junior Memberships at a rate of $7,000 annually.
These types of membership allow individuals to enjoy the club's facilities and services according to their preferences and stage in life.
However, these prices are subject to change and you should contact the club directly to get an exact quote. As this is a private club, the membership is available only by invitation and you will need three members to sponsor you in order to join.
Wellesley Country Club short presentation
The Wellesley CC golf course has been designed by Donald Ross and provides five sets of tees starting from 5,473 and going up to 6,903 yards for all players, regardless of their level.
Besides the golf course, the Wellesley Country Club offers several other amenities as well, such as a golf pro shop equipped with an online tee time reservation system, a 15,000 square foot practice tee, a short game practice area, two putting greens, and an indoor practice facility. Also, all members, juniors, seniors, ladies, and men, are offered active golf programs.
You might also like our articles on the cost of membership at the Los Angeles Country Club, Ridglea Country Club, and Country Club of Virginia.
The club offers throughout the whole year, tennis options which include eight outdoor clay courts and two indoor courts. Also, tennis teams and programs are available for juniors, men, and women.
Some other benefits the members of the club may enjoy are the wide variety of children's programs, the fitness center, and the pool complex, which is open seasonally from Memorial Day until Labor Day.
What are the additional expenses?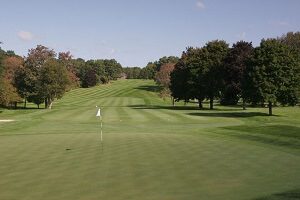 Members without privileges will have to pay guest fees and green fees.
Throughout the year various social events are organized and if you want to participate, you will have to pay a certain fee.
The food and beverage minimums also apply at this club, as with most country clubs.
According to the club's official website, when organizing an event there, you will have to pay a food minimum of at least $25 per guest from Tuesday until Thursday and on Sunday, and $50 per guest on Friday and Saturday evenings. Also, a cake/dessert handling fee may be applied of $2 per guest. Candy stations are allowed for another handling fee of $2 per guest.
The club has very strict rules regarding the dress code and there is a receptionist at every event who stays at the front door and makes sure that these rules are respected by both guests and event hosts. Be prepared to pay a fee of $125 for this service.
Other costs to take into consideration are those with the outings, lessons, tournaments, clinics, personal trainers, and group/private lessons, all of which are offered for swimming, tennis, and golf.
Waiting list, Golf tournaments, and Dress code
If you decide to become a member of the Wellesley CC, you should know that there is a 20-year waiting list, according to some sources. Those with references from current members may advance faster on the waitlist
This golf club also has a very strict dress code for all its members and guests as well. For instance, the facilities and golf course are "spikeless", so any type of metal cleats are strictly forbidden.
Proper golf attire, such as collared shirts and Bermuda shorts, is essential on the course. Men's shirts must have sleeves and remain tucked in, while jeans, cargo pants/shorts, and gym attire are not permitted. This dress code extends to various dining areas as well. For gentlemen visiting formal dining rooms, a jacket and tie are required to uphold the club's refined standards. But you can find more information about the rules golfers must follow on the official website of the club.
The Wellesley Country Club is dictated by its "Private status" and it is not open to the general public. So, all the events must be organized by invitation only, and public advertising for guest participation is forbidden.
Over time the club has been the host of many championships sponsored by the MGA and USGA. The most recent modification brought to the golf course was realized by Mark Mungeam in 2010 when he upgraded the layout for the Massachusetts Open.
The annual member-guest tournament held each August brings prestigious guests to the club. The Club Championship is conducted in a play format every September.
https://www.thepricer.org/wp-content/uploads/2022/09/Wellesley-Country-Club-cost.jpg
380
610
Alec Pow
https://www.thepricer.org/wp-content/uploads/2023/04/thepricerlogobig.png
Alec Pow
2022-09-07 06:23:38
2023-10-18 12:42:28
 How Much Does a Wellesley Country Club Membership Cost?