Last Updated on April 26, 2021 | Written by CPA Alec Pow
First Published on April 26, 2021 | Content Reviewed by

CFA Alexander Popivker
Wooden gates offer a lot of options to homeowners. They can match the fence paneling or stand out and add some flair, but they all have one thing in common: wood makes for an excellent gate material that will last you many years with proper care. This guide discusses what factors go into your decision on purchasing a new wooden gate as well as how much it costs so you know everything up front before making this investment.
Wood Gate Average Costs
Wood is a great material for fencing and gates because it can be used to create stylish, intricate designs that would not work in other materials. Some factors such as the local cost of labor and materials may affect the final price of your project.
You might also like our articles about the cost of a wooden split rail fence, wood or timber retaining wall, or wooden stockade privacy fence.
The complexity of the design you want will also have an impact on the final price you will spend for your wooden gate.
Basic wood gates are relatively affordable, at least in comparison to elaborate models. A basic gate can cost around $100 – $500 or more depending on the intricacy of design and materials used for construction. For a more complex design, be ready to spend anywhere between $500 and $1,500. An hour's worth of labor could only set you back between $35 -$75 per project if you hire a carpenter. Installation prices will depend on how many linear feet would stretch the gate for – costs vary from $4 to $8 per foot. This takes the cost of installation to about $20 – $60 for a single gate or $50 to $150 for a double gate.
Wood Fence Gate Overview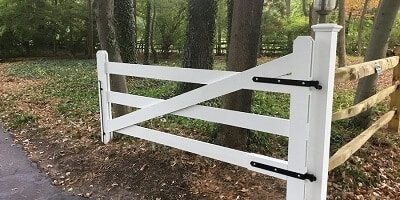 There are many different wood fence designs to choose from. You can go for picket, vertical board, or post and rail style for your new wooden fence gate- it's really up to you! But before you head out to the store, there are some things that will help guide your decision:
Double or single swing: There are two types of gates, the double and the single. The type you use is determined by your opening's width. For a gate with one half, it should be less than 8′, for a double gate it needs to have an opening that measures up to 16′ or even more in some cases. If not careful, exceeding these measurements can result in large structural problems which could lead to costly repairs later on down the road.
Safety concerns: Wooden gates are sturdy and generally hold up well against the elements, but they can be heavy. A wooden gate has a high risk of causing injury to children if it is not installed correctly or with safety measures in mind. Installing inside jams on the gate will ensure that small fingers cannot get caught between pinch points when opening and closing the door; windy conditions may also cause this type of wood-framed construction to slam shut unexpectedly without adequate air passage for ventilation purposes underneath each picket board panel.
Maintenance: Wood entry gates are obviously made of wood, and as such, they can sag over time. The hinges that connect the gate to its frame often wear out from use before any other part of the structure does. Luckily, repairing this is usually a minor task for anyone with basic do-it-yourself skills who likes taking on projects around their house.
https://www.thepricer.org/wp-content/uploads/2021/04/wood-gate-cost.jpg
380
610
Alec Pow
https://www.thepricer.org/wp-content/uploads/2023/04/thepricerlogobig.png
Alec Pow
2021-04-26 10:36:51
2021-04-26 10:36:51
Wood Gate Cost