ADP provides a comprehensive payroll service that accommodates any sized company. They handle everything from recording employee hours to calculating paychecks, benefits, and taxes – even incorporating time off into the mix.
How much does ADP payroll cost per employee?
The basic package is going to cost you $59 per month and another $4 per employee. A 25 person company will usually spend about $2,000 to $4,000 annually for this service. The more often you run payroll, the more expensive the plan will become. At the same time, an advanced payroll plan can cost you over $23 per employee, per month.
Businesses that have five employees can get a payroll service that costs $159 per month according to TopTenReviews.com. PCWorld.com calculated it would cost about $61 for 15 employees with the same kind of subscription and tax forms necessary. For Essential Payroll services or Enhanced Payroll, businesses will pay anywhere from between $284-$370 depending on the subscription type; at the same time, you will spend around $106 per month for the time management features.
FitSmallBusiness.com found that it could cost up to $3,079 yearly for 10 employees running bi-weekly payroll without discounts or as low as $2,098 per year with a discount of 20%. The setup fee will be just $25.
ADP payroll details
ADP's RUN platform is the perfect solution for business owners who are looking to outsource their payroll needs. The Basic plan includes all of your standard, required features like direct deposit, electronic reports, payroll delivery, a general ledger interface, W-2s, 1099s, new hire reporting, and electronic reporting while the Enhanced plan offers additional bells-and-whistles such as check signing, prepaid cards, state unemployment insurance, and more.
You might also like our articles about the cost of Paychex Payroll services, Ace Cash Express services, and the actual cost of business capital.
You will find below a comparison of the difference between just the HR features. For a full feature comparison between plans, check out their official comparison page.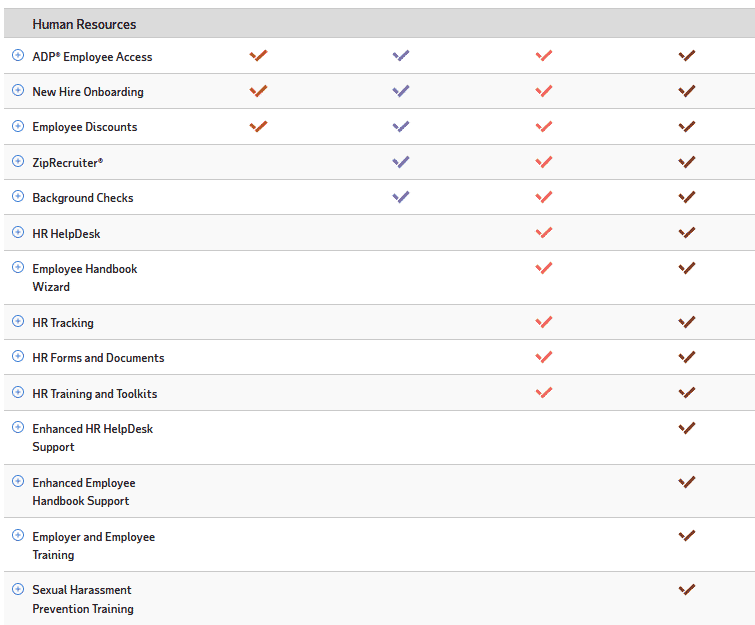 With ADP, employees can be paid by check, direct deposit, or card. If the employee is paid using cards then they will print checks for you too! You have access to payment features for hourly and salary workers as well as contract laborers. They can also send posters that follow local workforce laws.
Employees are able to access their employee portal and view a variety of things. They can see information about paystubs, paid time offs, and more by going through the company's online ADP portal. The employees can also get tax services such as W-2 processing for an additional fee. Everything processed through this system will be recorded so it is easy to find if you need anything in the future.
Any additional expenses to consider?
One-time setup fees may be applied whenever a new employee is added or an existing one changes their salary, payment type, etc. Depending on the package chosen these can range from $25 to upwards of $200+. The costs associated with setting up and processing for a 1099 or W-2 are typically low. However, in some cases, there is an additional $10 per employee for filing a 1099 and/or W-2.
Important things to remember
ADP is available to help 24/7 via phone, chat, emails, or through the contact form on its website. Be sure you get all the up-front pricing information before signing anything so there are no added charges when it comes time for your monthly fee. The ADP website does a great job of detailing what's included in your payment each month and how much it will cost depending on which package level you go for.
Some people would argue that this app is not as user-friendly because the options are diverse. It's best to compare it with other apps before committing since all have their pros and cons.
Other services ADP offers
Talent management. ADP advisors can help you hire the right person for your company. With a comprehensive assessment, they will be able to determine where employees are excelling and what positions need filling so that you have an efficient team at all times.
Benefits administration. ADP's benefits administration is focused on finding the best possible package for employees while saving you, as the employer, money. Having them do all of this work will save your time and headache when it comes to making decisions or filing paperwork, and managing employees.
Human resources. You can make your human resource paperwork a thing of the past with ADP's paperless service. Washington-based staff ensure that Health Care Reforms and other legislative changes are always up to date for clients, so they'll never have to worry about their records again.
Is there any way to spend less?
When it comes to payroll service providers, you should know what features are important for your company before blindly choosing a provider. For example, if time-tracking is not something that interests you then one of the cheaper services might be just right. Refer to their comparison guide on their website and see which ones fit with your business needs best. It's also a great idea to compare all of the other payroll processing services to make sure you go with the one that suits you the best. Other services are SurePayroll, Paychex, ONPAY, proPayroll, and Intuit.
Even though spending money on payroll services may seem like you are throwing money out the window, someone will have to take care of these tasks. Paying for ADP services could be considerably cheaper than paying an employee full-time and will also save the company time that they can use elsewhere.
Referring new customers could lead to potential bonuses which is always great for your budget.
If you're a smaller business owner with simpler needs, consider talking to an accountant in your neighborhood. They might be able to offer better rates than the big firms do. And when dealing with their salespeople to talk about joining fees, don't hesitate or feel silly for negotiating on prices.
If you're looking for a good deal, check out the company's website. They have plenty of special offers going on now and in the future! Right now they are offering two months free when you sign up with them – and some owners say once you get one discount, it'll be there for life.
https://www.thepricer.org/wp-content/uploads/2021/07/ADP-Payroll-services-cost.jpg
380
610
Alec Pow
https://www.thepricer.org/wp-content/uploads/2023/04/thepricerlogobig.png
Alec Pow
2021-07-30 07:16:05
2021-07-30 07:16:05
ADP Payroll Cost