Aqua-Tots Swim Lessons Cost
Last Updated on July 4, 2021 | Written by CPA Alec Pow
First Published on July 4, 2021 | Content Reviewed by

CFA Alexander Popivker
The Aqua-Tots program allows children to learn how to be comfortable in and around water. Through this program, they may learn how to implement skills that could save their life one day.
Aqua-Tots swim school offers young children the opportunity to take swimming lessons and enhance their results in water, in an environment that is warm, friendly, and very clean. They offer reasonably priced programs with small class sizes so you can be sure of high-quality instruction every time.
The schools offer a wide variety of classes to cater to all ages and abilities. The year-round swim courses are perfect for any aspiring swimmer, no matter the age or skill level.
How much do Aqua-Tots swim lessons cost?
A group swim lesson held once a week at Aqua-Tots is priced at about $70 to $85 per child per month, according to those who have attended. At the same time, two lessons per week will cost about $130 to $150 per month, on average. If you were to book three group lessons per week, the cost will be around $200 to $250 for the month.
The cost of lessons will vary depending on your location and how many you want to attend per week. This is just an estimate, as it can change based on the aforementioned factors.
When it comes to finding out about prices for lessons, most people turn to the official website and then go to their closest location's page. According to a recent post on a mom's blog, who went through just such an ordeal, you can expect a yearly registration fee of about $35, followed by monthly fees that range between $79-$100 for a number of four children taking lessons once per week.
You might also like our articles about the cost of swimming lessons with an independent instructor, swimming with the sharks, or the price of Kiddie Academy tuition.
The Aqua-Tots company offers many different pricing levels based on the frequency of lessons. To start, one lesson per week at the Troy, Michigan location is priced at $80 monthly and three weekly classes are set at a total cost of $223 after fees. A location near Mesa also provides its official pricing sheet with rates starting as low as $82.
Swim lesson types
Tadpoles — for toddlers that are 6 to 18 months old
Minnows — for children that are 18 months to 3 years old
Frogs — for bigger children, that are 30 months to 3 years old
Seahorses — for children 4 years+ old
Starfish — designed only for people that have mastered the skill of floating
Seals — it is designed for those people that can swim just one full width of the pool
Sharks — this is a program that is designed for people that can swim close to half the length of the pool
Stingrays — this is the highest tier and will be available to those who are more experienced swimmers and can perform various swim strokes without any help
Any additional costs to consider?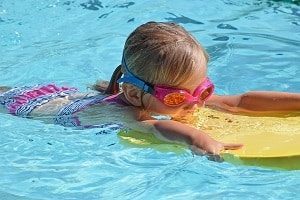 An annual registration fee per child is around $20 or around $30 for the whole family. If you feel your child needs individual attention, there are private lessons available at an additional cost that offer one-on-one instruction. There are some semi-private lessons available, with classes having a small number of children, for students that don't need one-on-one attention but still need to be held under strong supervision.
Aqua-Tots also offers swim teams where your child can compete professionally. Not only do they teach the four accepted swimming strokes and racing techniques, but there are different levels of competitive training. Parents can even keep up with their children through high school or college-level races.
Important things to consider
The school is family-friendly and open year-round, so no matter what the time of year you can enroll your child in a class. With only four children per lesson, this warm setting presents an ideal learning environment for kids to get started on their journey with swimming. Private or smaller group lessons are also available if that's more up your alley. Each session will last about 30 minutes which allows plenty of room for playtime too.
Is there any way to spend less?
Coupon websites like Groupon should be your go-to for deals on local goods and services near you. For example, the school offers monthly specials of around $34 to give them a shot if you're not sure if this type of class will be for you.
If you enroll more than one child, all of them after the first one will be enrolled for a discounted membership fee.
You can always check their official website to see available discounts because this company offers promotions pretty much always.
If you are looking for a swimming lesson program, Aqua-Tots is likely one of the many options in your area. Be sure to compare prices with local instructors or even other franchise-based schools before you commit to a place.
https://www.thepricer.org/wp-content/uploads/2021/07/Aqua-Tots-Swim-Lessons-Cost.jpg
380
610
Alec Pow
https://www.thepricer.org/wp-content/uploads/2023/04/thepricerlogobig.png
Alec Pow
2021-07-04 11:52:20
2021-07-04 11:52:20
Aqua-Tots Swim Lessons Cost