Last Updated on March 24, 2022 | Written by CPA Alec Pow
First Published on June 4, 2015 | Content Reviewed by

CFA Alexander Popivker
If by now you are still not familiar with the swimming techniques, you should know it's never too late to learn a few basic moves.
You will have the opportunity to discover a sport that will give you an enviable physical condition and excellent tone, along with the beneficial effects on your cardiovascular or respiratory system.
In addition, swimming can be practiced in many ways and can be adapted to the needs of each person. Anyone can learn, from the novice who has no idea how to swim to the potential competitor that wants to make performance in swimming, the exceptions are the people with health problems that have swimming contraindicated by a doctor.
Typical Costs:
A group swimming lesson costs from $20 up to $445 per session.
The price for an infant swimming lesson starts from $30 up to $174 per session.
If you are not a social person and you want a private swimming lesson you should know that the price starts from $54 and can go up to $330 per session.
Swimming is beneficial to the entire body, it is a great form of exercise, a provocative brain activity, but also a competitive sport. With professional help you can develop your swimming skills and if you or your child show real potential in this sport, you can be encouraged to compete.
This can be seen in any pool, with the advent of new activities, coordinated by professional coaches. They are quite different from the classic swimming classes and courses. Take for example the swimming lessons for babies, pregnant women, or the elderly.
You Already Know How To Swim? Some People Pay To Swim With Sharks!
If it comes to the benefits of this sport, these are not insignificant. Swimming brings an incredible cardio-pulmonary resistance, stimulates blood circulation, helps maintain a stable blood pressure, reduces the risk of cardiovascular disease, develops most muscle groups – tones gluteal and chest muscles, plays an important role in the harmonious development of the abdomen, chops and calves.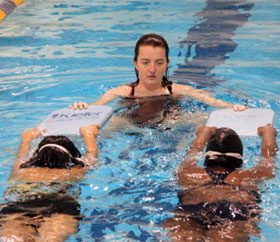 It also strengthens the joints, preventing possible injuries, develops flexibility, generates positive moods, is helpful in overcoming anxiety, and reduces depression symptoms. Practicing water exercises allows you to have clearness in movement that you won't be able to have out of the pool.
But no matter at what age you decide to take your kid swimming and what your reason is, whether you want your child to know how to swim properly or are pushed by the desire of performance, make sure you put them in the hands of some coaches that love this job and are easy to get along with. You'll see in time that the connection between the instructor and parent is extremely important.
Also Read How Much Does a Swimming Pool Cost!
It's never too late to start taking swimming lessons!
Unlike other sports, swimming is indicated even for adults because it helps them stay in shape without making undue effort.
It is known that after "a certain age", the heart, lungs, joints, muscles should not be put to a great effort. Swimming does not over-stresses the body, in fact it protects it. It is important to go swimming at least once a week.
And now get ready to have an enviable body and psyche alike. Also expect to have an increased spirit of initiative and your work desire to enhance, because that is what a swimming course will make for an adult, in fact, not only a swimming session, swimming practiced frequently as a free-time sport.
Should the average working Joe take swimming lessons ?
If you have some time to spare, it's always a good idea to learn how to swim. It is a great way to stay in shape and it could be helpful at some point in your life. As for the costs, they won't affect your budget too much, especially if you opt for group lessons. Overall getting swimming lessons for you or any of your children will prove to be a great experience.
https://www.thepricer.org/wp-content/uploads/2015/06/swimming-lessons-cost.jpg
380
615
Alec Pow
https://www.thepricer.org/wp-content/uploads/2023/04/thepricerlogobig.png
Alec Pow
2015-06-04 13:07:25
2022-03-24 18:17:17
Cost of Swimming Lessons