The Cost of Swimming With Sharks
The perfect vacation is not the same thing for everyone. Some see it lounging on an exotic beach with a cocktail in hand, while for others the perfect holiday means swimming with the sharks, while for the rest, the flight remains the most extreme part of their holidays.
So, where can the need for adrenaline and unique experiences take you? Would you go down into the depths of the ocean to swim alongside white sharks?
Some consider sinking into the ocean to swim with sharks foolhardiness, but with each year more and more adrenaline and thrill lovers go through such experiences. So how much does swimming with the sharks actually cost?
Open-water swims usually cost from $100 to $3,600.
The average cost for advanced dives is from $2,000 to $3,600 and more.
A multi-day adventure package costs from $2,950 to $3,900 and more.
South Ari Atoll from the Maldives is a protected area and a haven for whale sharks. Here, even those who are not professionals can try snorkeling, the only thing that matters is to know how to swim.
Cocos Island is in Costa Rica and is a kind of paradise on Earth because it is a national marine park. Here, you can adventure into waters full of hammerhead and tiger sharks. During the rainy season (June to December) the area is full of sharks, but the problem is low visibility.
The Bahamas is a popular destination for diving enthusiasts, and we recommend Bimini Island. Tiger Beach is the place where tiger sharks make their appearance for years, so it is perfect for this hobby. It is forbidden to swim alone and unprotected on the island's waters, so you need a special cage.
We go to Guadalupe Island, which is found in Mexico. This is the best area to swim with the great white sharks. Here, the water is extremely clear, which allows you to have your unique experience.
South Africa offers snorkeling enthusiasts the Seal Island, where you get to by boat – it's an hour away from Cape Town. The water from that area is not very clear, but be sure that great whites will make their presence felt.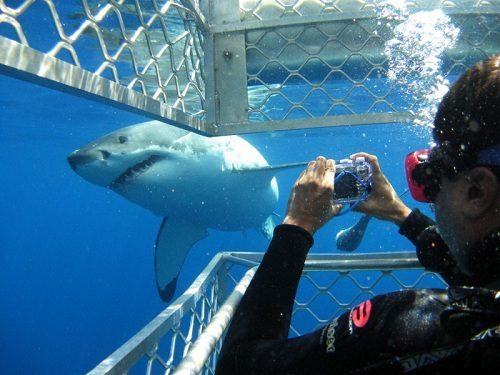 The waters around Hawaii contain over 40 species of sharks. Here, the snorkeling takes place freely or in cages. Hawaii Shark Encounters organize such trips which are also educational for the Oahu youth.
Typical costs:
Depending on the location and the dive number, open water swims (or cage-less) can cost from $100 to $3,600. For example, a day swim with the whale sharks on Isla Mujeres in Mexico will cost about $100 – $150. For the same amount of money, in the Bahamas, you can be surrounded in a two-tank dive by tiger sharks, reef sharks, or hammerhead ones during feeding, but you will need a diving certification with basic tank skills.
Experienced divers, the ones who have an Advanced Open Water Certification, usually want to swim in open waters with the larger species, for which they pay about $2,000 for a five day-package and about $3,600 for a nine days package.
If you want to try this experience with the great white shark or other large predators you will dive only in metal cages and only for 20 to 60 minutes. On Isla Guadalupe, you can find some packages for a 5 or 6-day adventure which includes meals, lodging, dives, and equipment for $2,950 – $3,450. For the Bahamas, the package prices go around $3,100- $3,900.
Looking for a place to go with your children? Check out how much will a trip to Legoland set you back
Additional costs:
If you don't have an Open Water Certification expect to pay about $120 for the registration and depending on the location the lessons cost from $400 to $960. When diving you have to be properly equipped, that's why a dive mask can go from $30 to $1,500, depending on the material.
No matter how accustomed you are to thrill, you'll have your heart leap into your mouth at the sight of a first fin that nicks the ocean. It is possible that you will feel shaky due to the excitement and not to the fear because these cages that go down are very safe and extremely durable. Down deep, in the dark water, you will see a large shadow heading for the prey, with rows of sharp teeth and a huge gray dorsal fin. You'd almost want to reach out through the bars to touch one of the most bloodthirsty killers on the planet. But you won`t do it if you still need fingers.
Most likely, the next spurt of adrenaline you will have when the Great White will open in a split second the mouth and will grab the prey. Certainly, your breathing will stop working normally in those moments.
Think this will be expensive? Then check out how much do trips to Dubai cost
Should the average working Joe try this experience?
Depending on the type of vacation you like to go on, if you`re a thrill-seeker, then this is something you will surely remember your whole life. If you are thinking of going on such a trip, be sure to set a clear budget for all your vacation days, because these exotic places make it very hard for most people not to overspend.
https://www.thepricer.org/wp-content/uploads/2015/02/cost-to-swim-with-the-sharks.jpg
380
615
Alec Pow
https://www.thepricer.org/wp-content/uploads/2023/04/thepricerlogobig.png
Alec Pow
2015-02-10 16:50:29
2020-08-15 15:03:55
The Cost of Swimming With Sharks