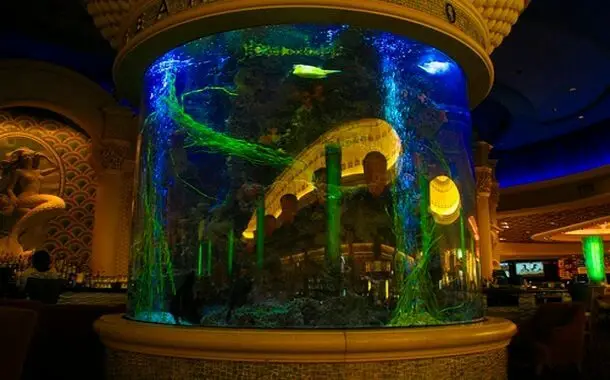 Acrylic Tank Manufacturing is the exclusive supplier of tanks for Tanked, an animal reality television show featured on Animal Planet. The company's acrylics are not only used to create fish habitats but also stand-alone water features that look like something straight out of Pirates Of The Caribbeans.
The customizable tanks are the perfect environment for some of your favorite fish. These unique designs allow you to make a tank that looks just like any other underwater scene.
How Much Do the ATM Tanks Cost?
It is difficult to give an exact price for an ATM tank as these tanks can be customized as you like and the possibilities are unlimited. However, Brett Raymer and Wayde King, the guys from TANKED on Animal Planet said in a post on Reddit.com that the cost could start at around $32,000 and go up to more than $305,000 for a brand-new ATM fish tank. Also, they said that they had made aquariums which cost even millions of dollars.
In case you are thinking of hiring these people to build you an ATM fish tank you should budget anywhere between $35,000 and $65,000 for a basic one. The cost will increase as you will add more features.
An individual writing on lasvegasbadger.blogspot.com said that he hired ATM to install an aquarium of 250 gallons inside of a wall and had to pay around $30,000 just for its installation.
According to the Times Union, the owner of the All Star Wine & Spirits television show paid around $105,000 for installing a fish tank of 650 gallons shaped like a wine bottle and taller than 17 feet.
According to a Tropical Fish Magazine article, the price of a fish tank that is 32 feet tall and has 11 feet in diameter is around $1.7 million. ATM company created this unique fish tank inside a private house, and actually, the house was built around the fish tank.
It is not easy to find out how much a star's at-home shark tank costs, but it has been reported that Tracy Morgan's was around $410,000 just for installation. Also, Dwight Howard and Marshawn Lynch had to pay around $62,000 to have a fish tank built for them.
Shaq, the musclebound former basketball star was said to have spent $51,000 on his customized aquarium. The custom build of this incredible piece is made of glass blocks that weigh around 3,000 pounds.
ATM fish tanks details
In the world of aquariums, Wayde is a company that offers "turnkey" service. This means they will provide everything from fish tanks, necessary woodwork, façade, and stands to pumps, filters, coral inserts, and even fish stocking.
You might also like our articles about the cost of pet seahorses, pufferfish, or a wedding at the Monterey Bay Aquarium.
The company is a global leader in the industry and will be installing custom-shaped fish tanks anywhere on Earth.
They have an in-house oven that can shape acrylic into whatever you desire. This unique and powerful tool enables them to make tanks as large or small as you need, in order to fit any space.
What are the extra costs?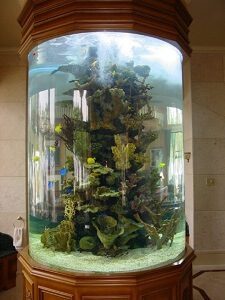 A tank is a great way to have something that never gets old. You get the satisfaction of watching your fish grow up and thrive in their habitat, or even see new ones join them. But as with any aquarium, there are upkeep tasks and costs involved like checking on equipment daily (water levels and temperatures) to make sure everything's working properly.
To keep your fish healthy and happy, you need to make sure that the water is clean. You will do this by wiping down exterior surfaces weekly with a cloth or paper towel and scraping off any algae from inside of glass each time before adding more plants (and changing it slightly if necessary). Plus, testing the pH, nitrate, ammonia, and nitrite monthly is mandatory.
If you are a professional fisherman and want to fill your tank with the fish you catch yourself, make sure you study what fish actually go along with each other, so you don't risk having them fight, or even worse, eat each other.
Also, you will have to clean or even replace the filters, light bulbs, tubing, and filter intake periodically. If you are thinking of hiring a professional in order to maintain your aquarium in good condition you should budget around $3 per gallon.
Electric bills will skyrocket if you have a tank that's able to store hundreds of gallons. For example, it could cost close to $30 per month for every 100 gallons.
It is important to consider stocking on fish, as time goes on because some may die.
https://www.thepricer.org/wp-content/uploads/2022/01/ATM-tanks-cost.jpg
380
610
Alec Pow
https://www.thepricer.org/wp-content/uploads/2023/04/thepricerlogobig.png
Alec Pow
2022-01-02 12:48:42
2022-01-02 12:48:42
ATM Tanks Cost